Raise awareness for

mindful living
Founded by Elizabeth Joy, Conscious Life & Style is a mindful digital media destination that creates resources to encourage a thoughtful lifestyle and supports pathways to personal, collective, and planetary well-being. Elizabeth and her team oversee three branches of her brand: Conscious Life & Style, Conscious Style Podcast, and Conscious Fashion Collective.
Conscious Life & Style is dedicated to educating people on sustainability and slow fashion including creating helpful resources, curating brand guides, and interviewing changemakers on their podcast. Their team is also committed to advocating for living wages and safe working conditions in the fashion industry. They also promote and raise awareness for fair-trade & ethical brands.
In order to spread the word about their meaningful causes, Conscious Life & Style relies heavily on social media. Prior to using Later, the team was doing a lot of manual work to manage their social media content & posts, including writing captions in the Notes app and manually sending photos & videos from their mobile phones to their desktop.
THE LATER SOLUTION
Manage more social on

the go
The Conscious Life & Style team started using Later — especially the Later mobile app — in 2021 to streamline their social media workflow across their three brands. The mobile app helps them keep their content calendar, editing, and scheduling all in one place, available on the go no matter where they are.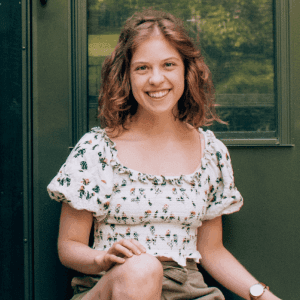 Here's how the Conscious Life & Style team used the Later mobile app:
Manage content across three brands
In order to manage three brands across their team, Conscious Life & Style uses Later's Access Groups which allow them to easily toggle between brands and have multiple Later users on their account. Plus, Elizabeth can go in to review & edit posts that her team creates to streamline approvals.
Learn more about Access Groups
Create & schedule content
The Conscious Life & Style team uses Later to create, edit, and schedule posts across social media channels for their three brands. Then they use the preview post feature to see what their posts will look like to their followers before scheduling.
They also write and edit captions and review them across their team to check for typos and accuracy. Plus, they can easily check in on the app to look at their calendar to see what's scheduled to post over the next few days and weeks.
Learn more about social media scheduling
Plan posting times for more engagement
Conscious Life & Style takes advantage of Later's Best Time to Post feature, which learns when their Instagram followers are most engaged and gives their team scheduling suggestions unique to their audience. All the Conscious Life & Style team has to do is schedule posts during the recommended time slots to get more reach & engagement on their posts.
Learn more about Best Time to Post
Link to their latest resources
The Conscious Life & Style team also uses Later's Linkin.bio tool to add links to their Instagram posts for Conscious Fashion Collective. With Linkin.bio, they can easily link out to their latest guides & articles, as well as to their website and podcast episodes from Instagram.
Learn more about Linkin.bio
THE RESULTS
More traffic & awareness to

their cause
Thanks to Later, the Conscious Life & Style team is able to drive a lot more awareness to their sustainability causes through social media marketing. They're also able to drive more traffic from their Instagram posts to their website and podcast episodes with Linkin.bio.
Increased follower & engagement growth
From March 2022 to March 2023, Later helped the Conscious Life & Style team increase their follower growth by 61%, as well as increase their engagement overall.
Minimized social media content creation time
Later also helped their team cut down workflow time by 20 minutes per social post. At three posts per week, that totals to one hour of time saved per week by posting with Later.
Save 20 minutes per social post by scheduling with Later