Founded by Amy Hall in 2016, Goldilocks Goods creates eco-friendly products with an emphasis on living a conscious and low-waste life – and doing it beautifully.
Amy first began her journey to a more environmentally conscious lifestyle while volunteering in the South Pacific, where she witnessed firsthand the devastation caused by plastic waste to marine life and the planet.
Returning home, she wanted to make changes but found that trying to go zero-waste was difficult and overwhelming. She then made it her mission to look for easy swaps for everyday items – starting out with beeswax wraps as an alternative to plastic wrap – and thus, Goldilocks was born.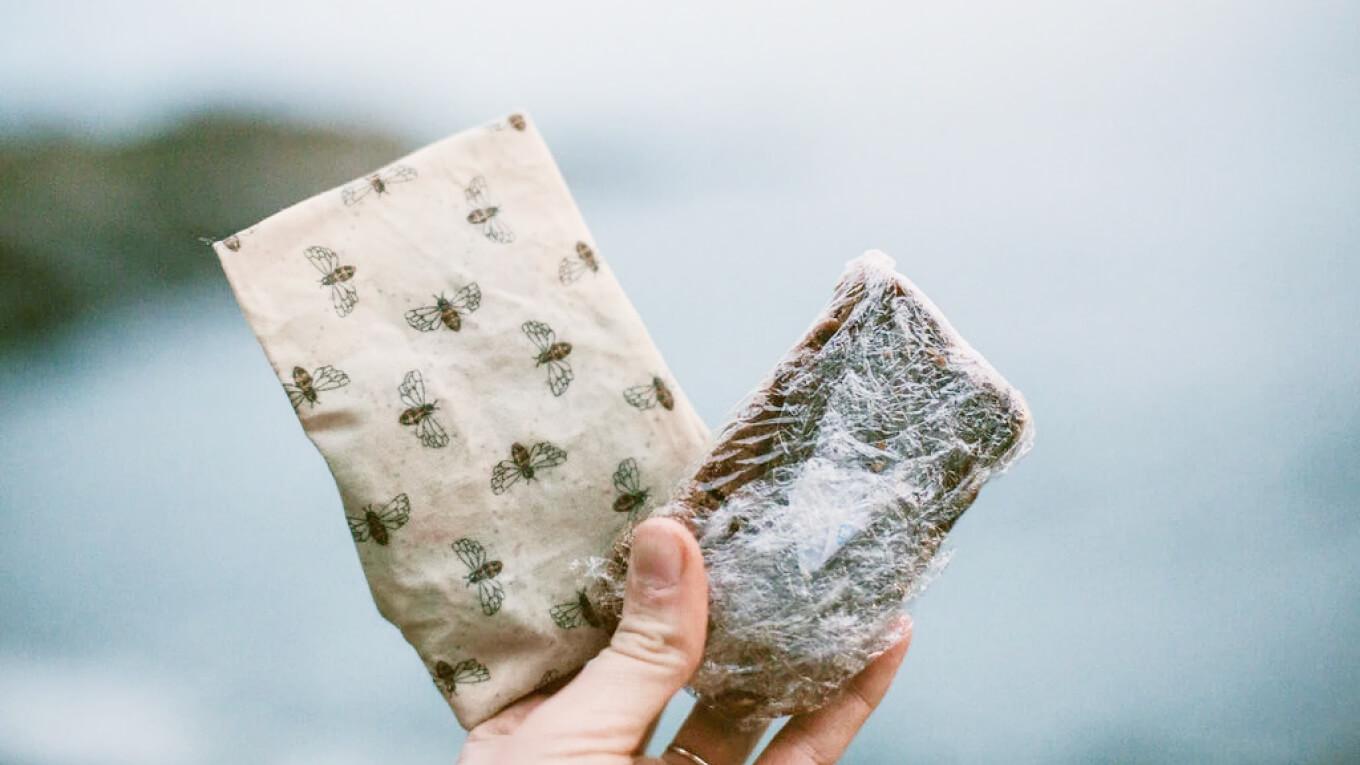 Social media

at Goldilocks
Amy has used social media to share her mission around sustainability, promote her products, and grow an engaged following and community of like-minded consumers. From the very beginning, Amy's voice and personality have been at the center of Goldilocks' online presence – helping to make the brand relatable and authentic.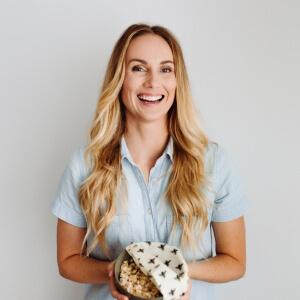 Like many founders Amy wears a lot of hats, so as the company grew, she brought Steph Snelling on board as Manager of Marketing & Social Media. Steph's role also encompasses a lot of responsibilities, so when it comes to managing social marketing, it's all about strong processes and efficient workflows.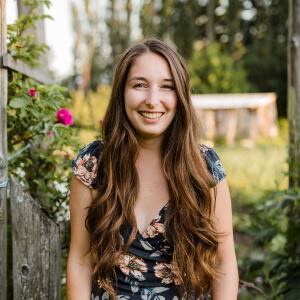 Managing an omnichannel strategy by focusing on

one platform
When Goldilocks first started posting on social, Instagram was the team's primary channel. But as they've scaled, they've now started building a following across multiple platforms.
457% Facebook following growth since 2019
229% Instagram following growth since 2019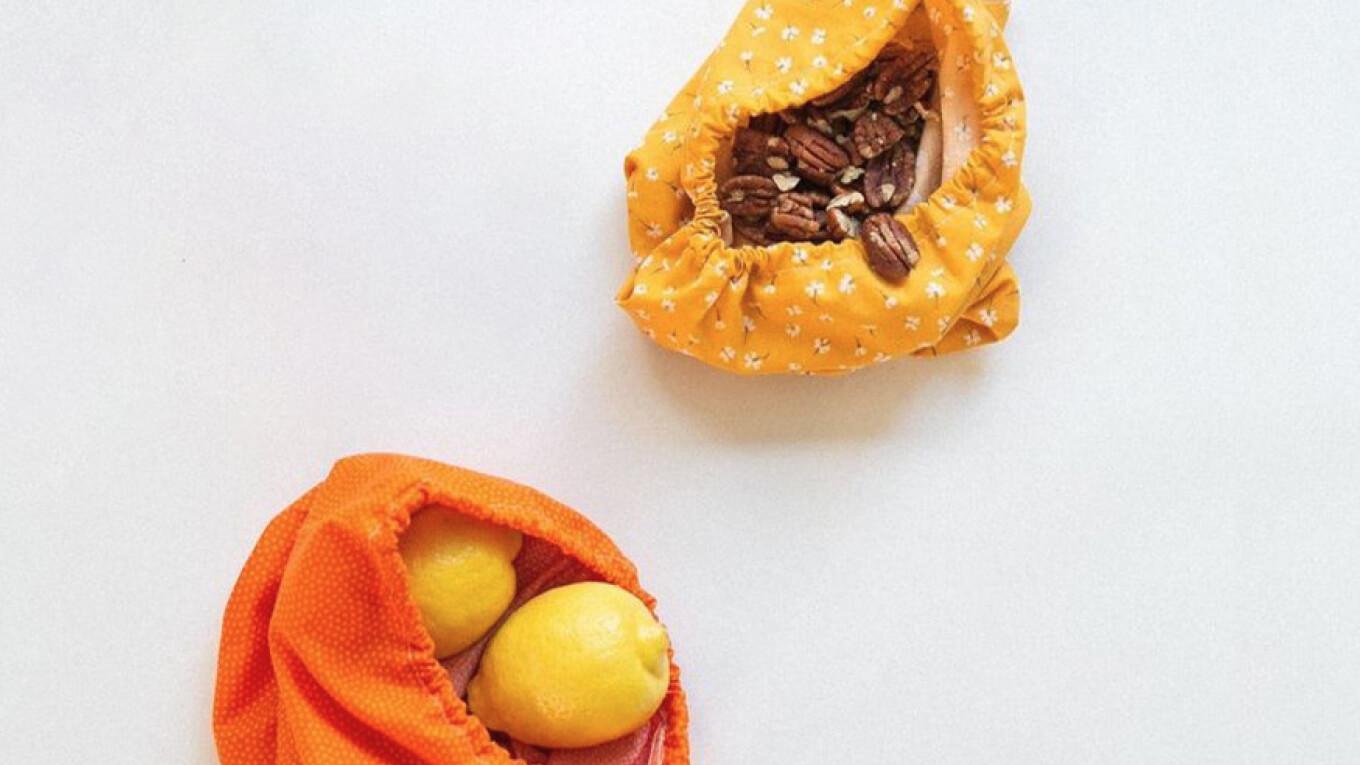 Goldilocks built out a content strategy that optimizes Instagram since it's where most of their followers are, and this strategy can now be easily adapted for other platforms. For example, one post can be repurposed across channels with optimizations to ensure it's both timely and relevant to that channel. This approach has helped them make the most out of their content, while staying efficient with their time.
Multi-profile scheduling with Later makes this quick and easy. Goldilocks can plan out their posts for the week or month ahead by dragging and dropping content from the Media Library, tailoring the caption and hashtags, and resizing the media so it's the perfect size for each platform – all within Later.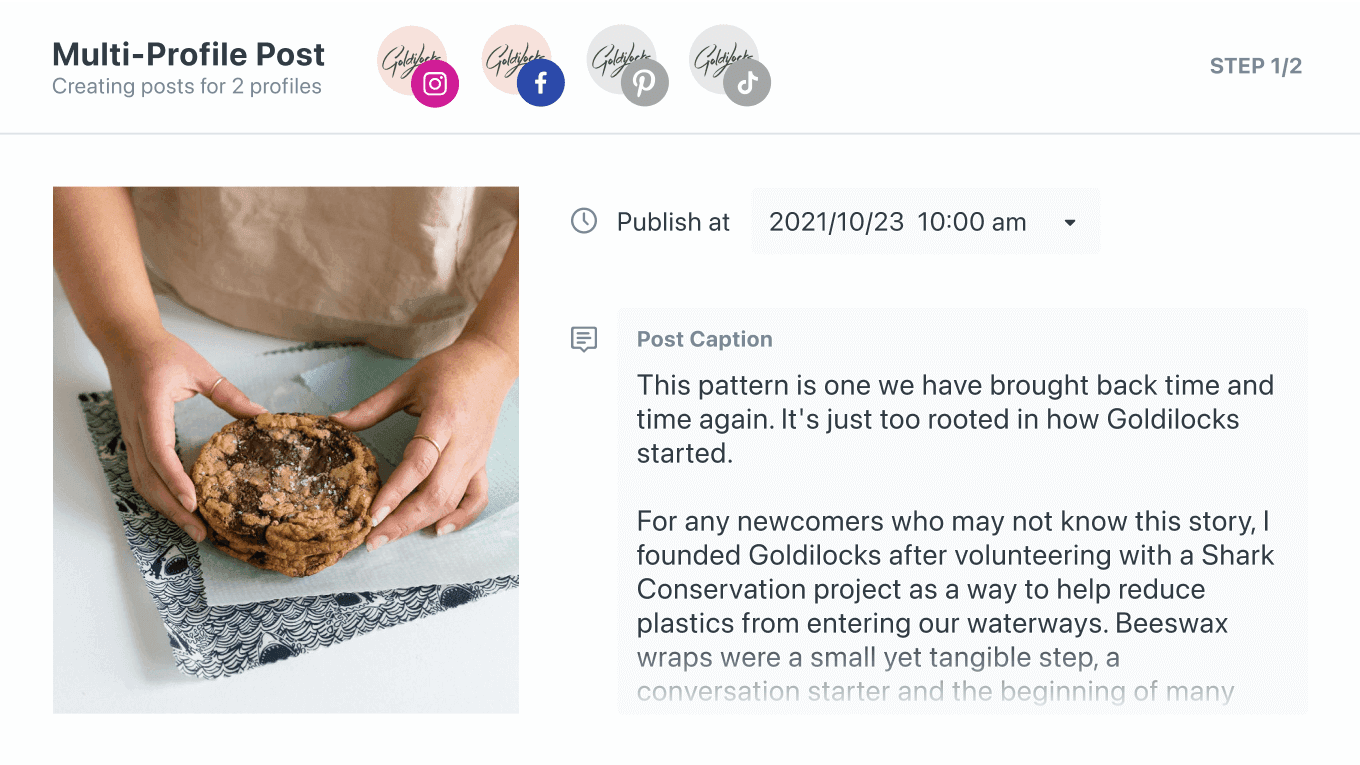 By thinking beyond the Instagram feed, Goldilocks is able to reach new and broader audiences. And by streamlining their scheduling by multi-profile scheduling in Later, it's easy to get more mileage out of each piece of content.
Balancing content themes on social

and beyond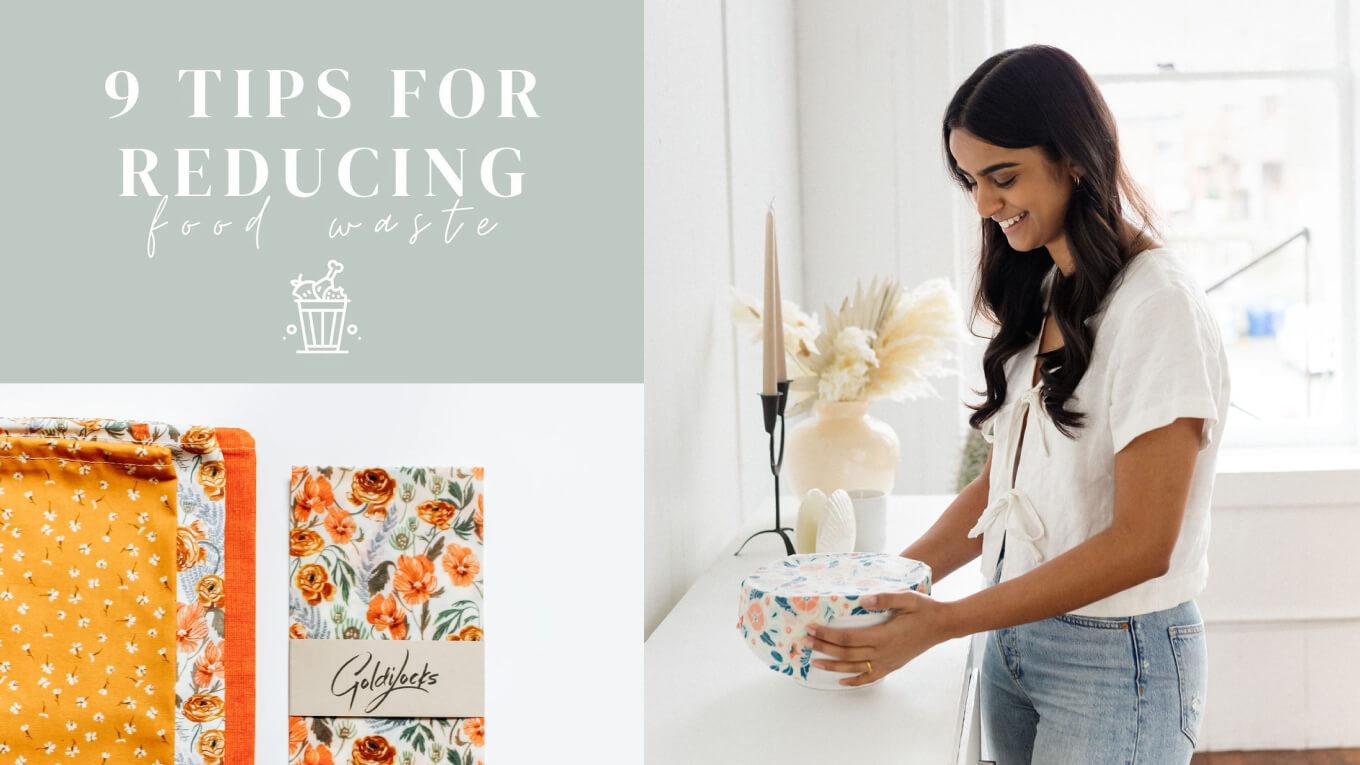 Goldilocks plans their content around three key themes – community, education, and product. This has allowed them to share the brand's story, the low-waste and social justice issues they support, and their products. Plus, it's helped them grow a 65k+ following on Instagram.
Linkin.bio 2nd highest website referrer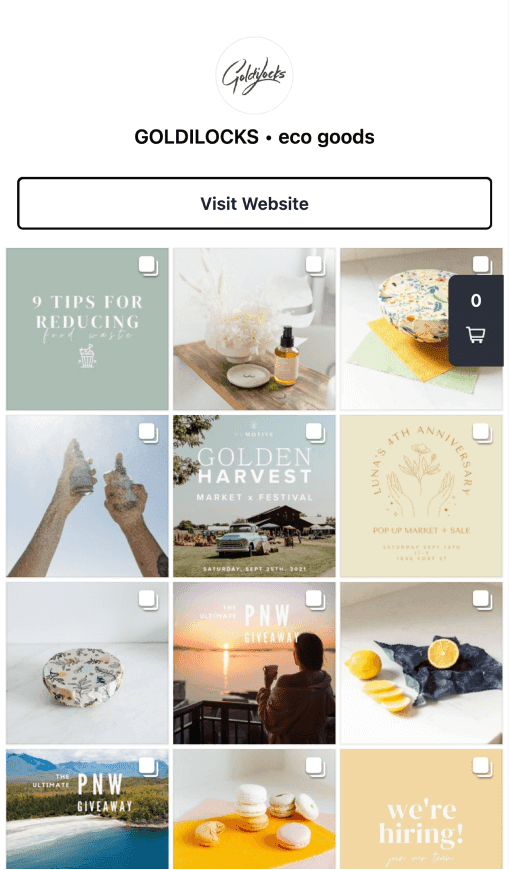 By focusing on community building and the Goldilocks mission, talking about their products has become a natural extension of their social content – without ever being salesy. For a team that's all about authenticity, delivering value to their followers
Balancing different content themes also means juggling multiple calls to action for their followers. Something that's hard to do with just one bio link (aka the website link in your Instagram bio). Goldilocks uses Linkin.bio by Later to help their followers discover more content on their website.
Expanding on

the mission
Using Later has helped Goldilocks build out their cross-channel strategy, streamline their content themes, drive more traffic, and make time for new initiatives. For the past two years, they've helped coordinate a Blue Friday initiative that aims to disrupt the mass consumerism of Black Friday by uniting a group of like-minded businesses to donate profits from a single day of sales. To date, they've raised $20,000 collectively which has purchased three Seabins that help remove debris and filter surface oil from local marinas.
They're also continuing to expand their selection of low-waste alternatives for everyday goods – making it simple for customers to make more easy eco-friendly swaps.
Growing the Goldilocks online presence has allowed them to support their mission in new and exciting ways – and managing their social media with Later has helped make that happen.