Social Media Optimization Tools For Business
Save time in 2022 with tools designed for social media optimization. The industries best features for businesses of all sizes. Start your free plan.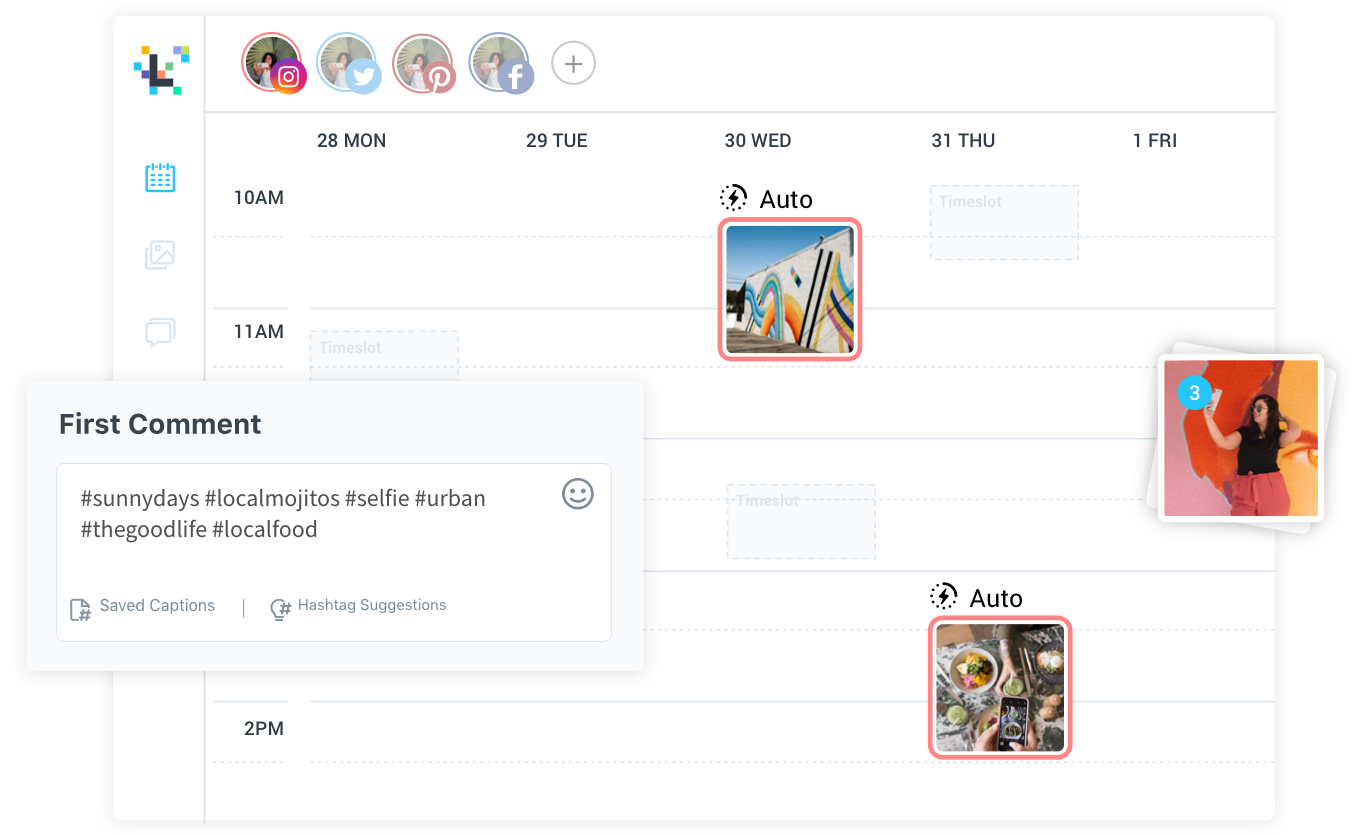 Schedule Social MediaPosts
Auto Publish to Instagram

Schedule single photo and video posts to Instagram, no push notifications required! Auto Publish is currently available for Instagram business profiles(*auto publish not available for carousel posts)

Quick Schedule

Easily bulk schedule Instagram posts! With Quick Schedule, you can create weekly time slots and then just drag + drop to schedule in seconds.

Schedule First Comment on Instagram

Publish a first comment right along with your Instagram posts. It's a great way to extend your reach to an even wider audience, while keeping your captions neat and tidy.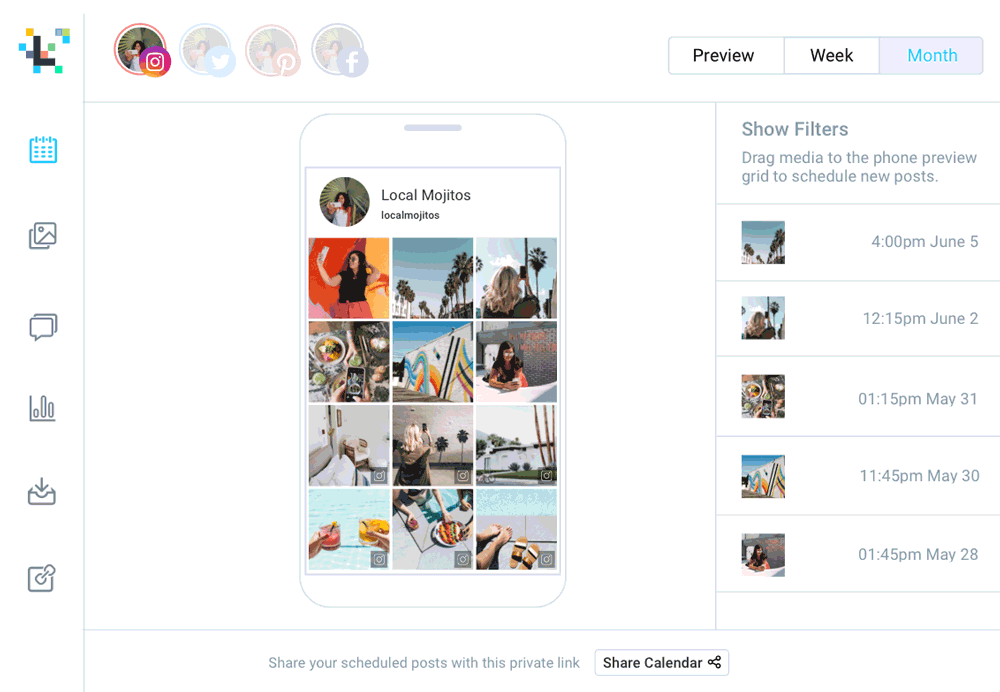 Visual Social MediaPlanner
Create a beautiful Instagram aesthetic that your followers will love!
Drag & Drop Calendar

Just add your photos to our Visual Instagram Planner, drag and drop to see how they'll look in your feed, and save to schedule!

Preview Your Instagram Feed

See exactly what your feed will look like with your scheduled posts, and easily rearrange or swap out photos to find the perfect balance for your feed.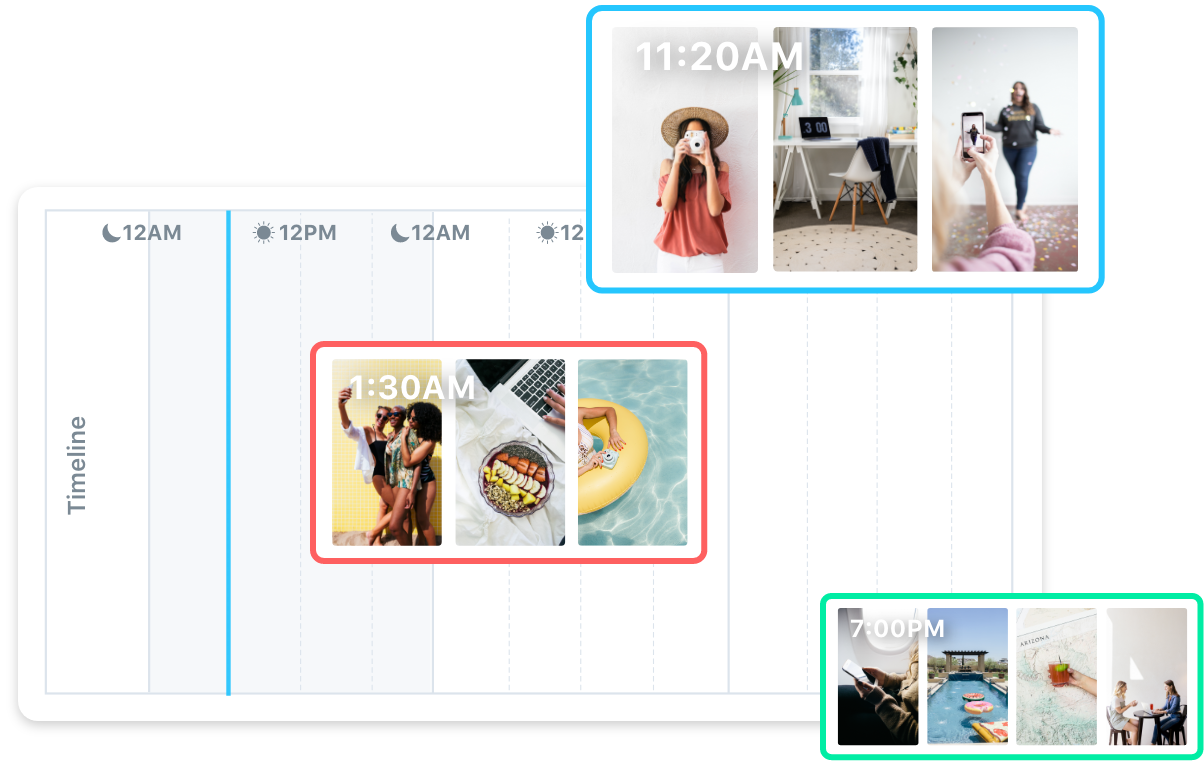 Schedule InstagramStories
Create Stunning Stories

Visually plan and storyboard your stories, edit to match your style, and resize to perfectly fit the stories format—all from your desktop.

Schedule and Optimize

Find your best times to post, schedule your stories, and we'll send everything to your phone when it's time to post. Then get detailed stories analytics to see what's working.
Intuitive

Calendar Scheduling

Choose between a weekly or monthly calendar view to get a complete look at your Instagram strategy and scheduled content.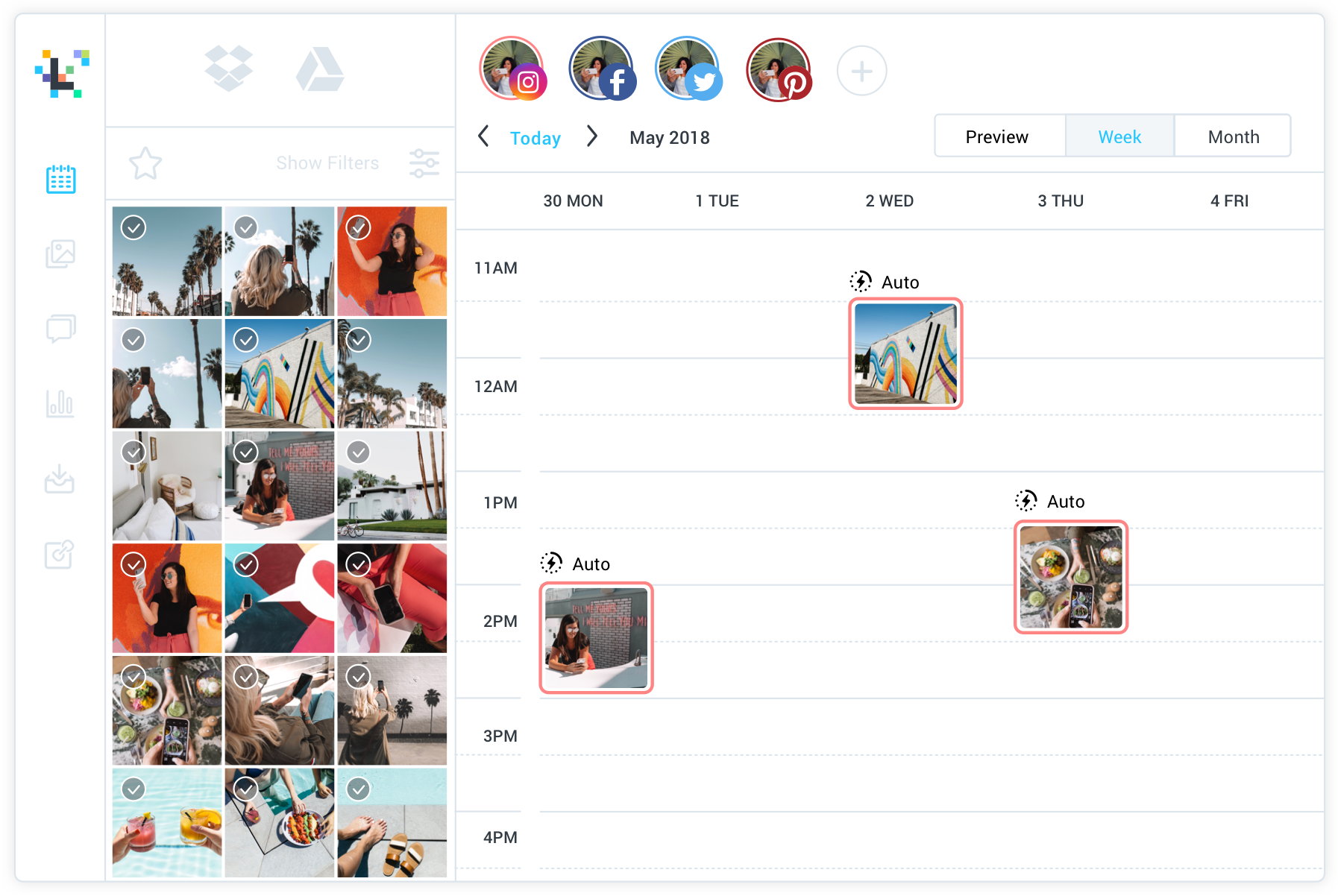 Weekly Calendar View
View times your audience is most active and easily drag-and-drop your scheduled content into the time slots on the weekly calendar.
Monthly Calendar View
Get a bird's eye view of your scheduled content for the month. See your scheduled posts for all accounts at once, or view them individually.
An
Organized

Media Library

Keep all your photos, videos, and user-generated content in one place, accessible on any device by your team.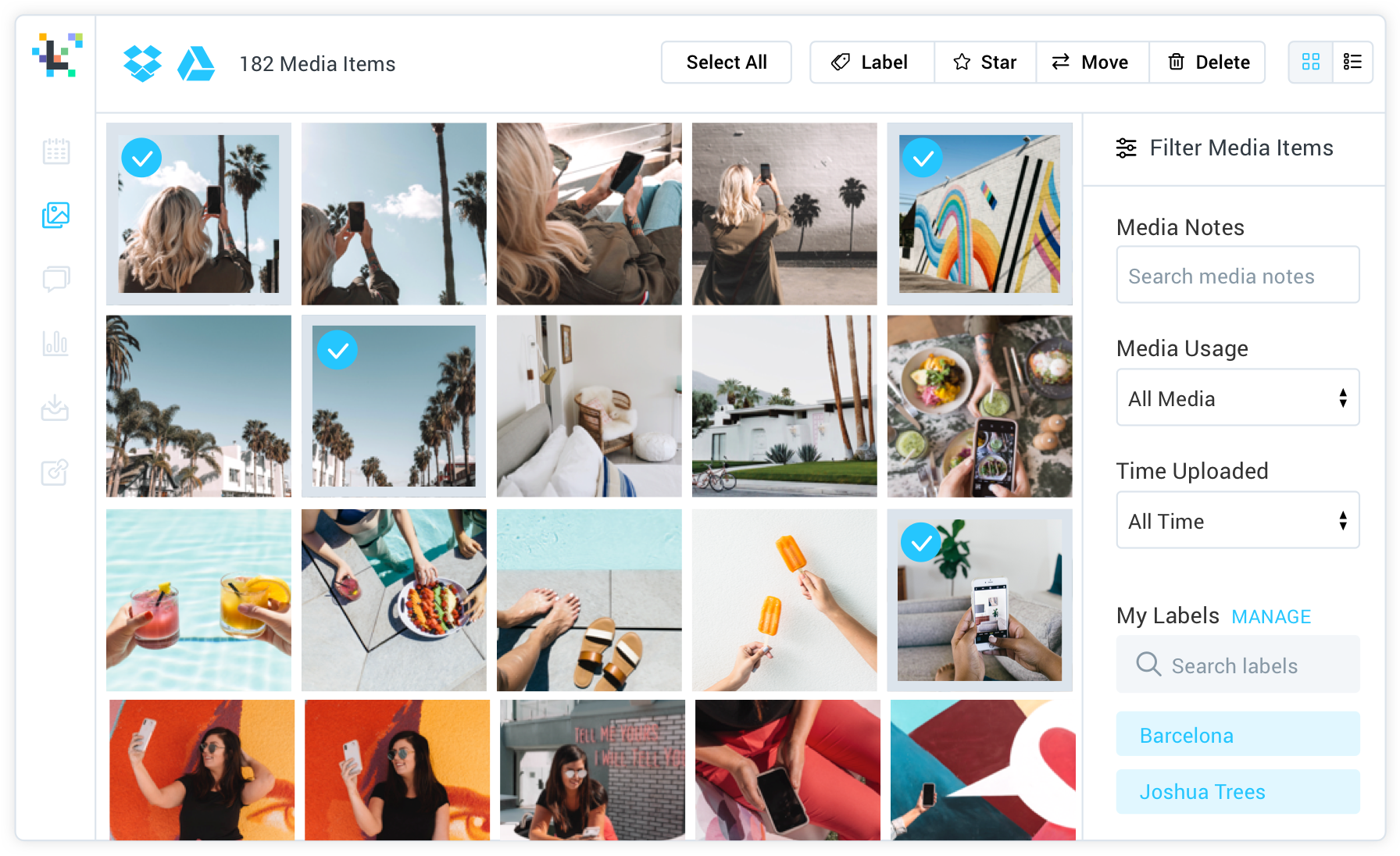 Bulk Upload

Sync and store photos ready to be accessed on all devices by you and your team whenever inspiration strikes.

Labels

Organize your media with labels so you can quickly find the right photos at the right time! Easily search and filter through your photos when scheduling your post.

Side Library

The side library is where media library meets the content calendar. It helps organize the media stored in your media library so you can easily search, and repurpose media items and schedule them for multiple social profiles.
Import from Google Drive or Dropbox

Add your media from your computer, Dropbox, or Google Drive, and effectively organize your content with labels for easy upload and scheduling.

Access Groups

Manage access to your photos, videos and social profiles within Later. Access Groups allow you to collaborate with multiple teams and brands, while keeping your content and Instagram accounts separate from each other. Upgrade now to use Access Groups.

Chrome Extension

The free Later Chrome Extension makes it super easy for you to curate and collect photos from anywhere on the web for your Instagram feed. The best part? You can schedule them right from the web! Later maintains the highest photo quality, so you can say goodbye to pixelated photos from screenshots.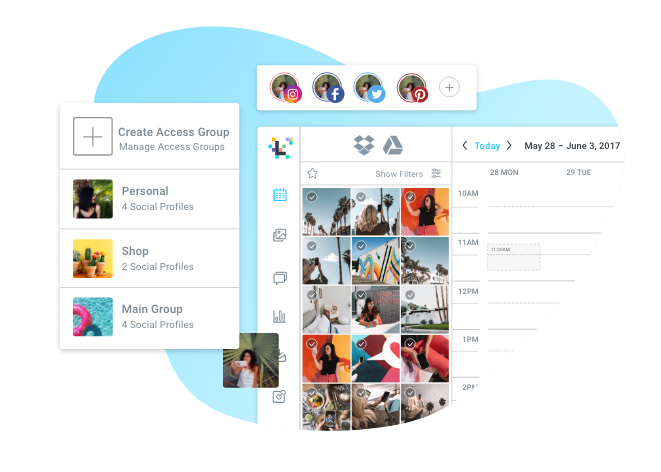 Manage

All Your Accounts From One Place
Schedule to Instagram, Facebook, Twitter, Tiktok & Pinterest

Plan your posts in advance and schedule photos and videos to one or multiple social networks. Choose the social profiles you'd like to schedule the same content to, tailor each caption, and quickly customize the crop for each network.

Manage Multiple Accounts

Manage multiple Instagram, Facebook, Twitter and Pinterest profiles all from one Later account. Upgrade now to manage more than 1 account.

Access Groups

Keep your photos and videos separate from your different Instagram accounts. Easily switch between your groups from one Later account. Upgrade now to use Access Groups.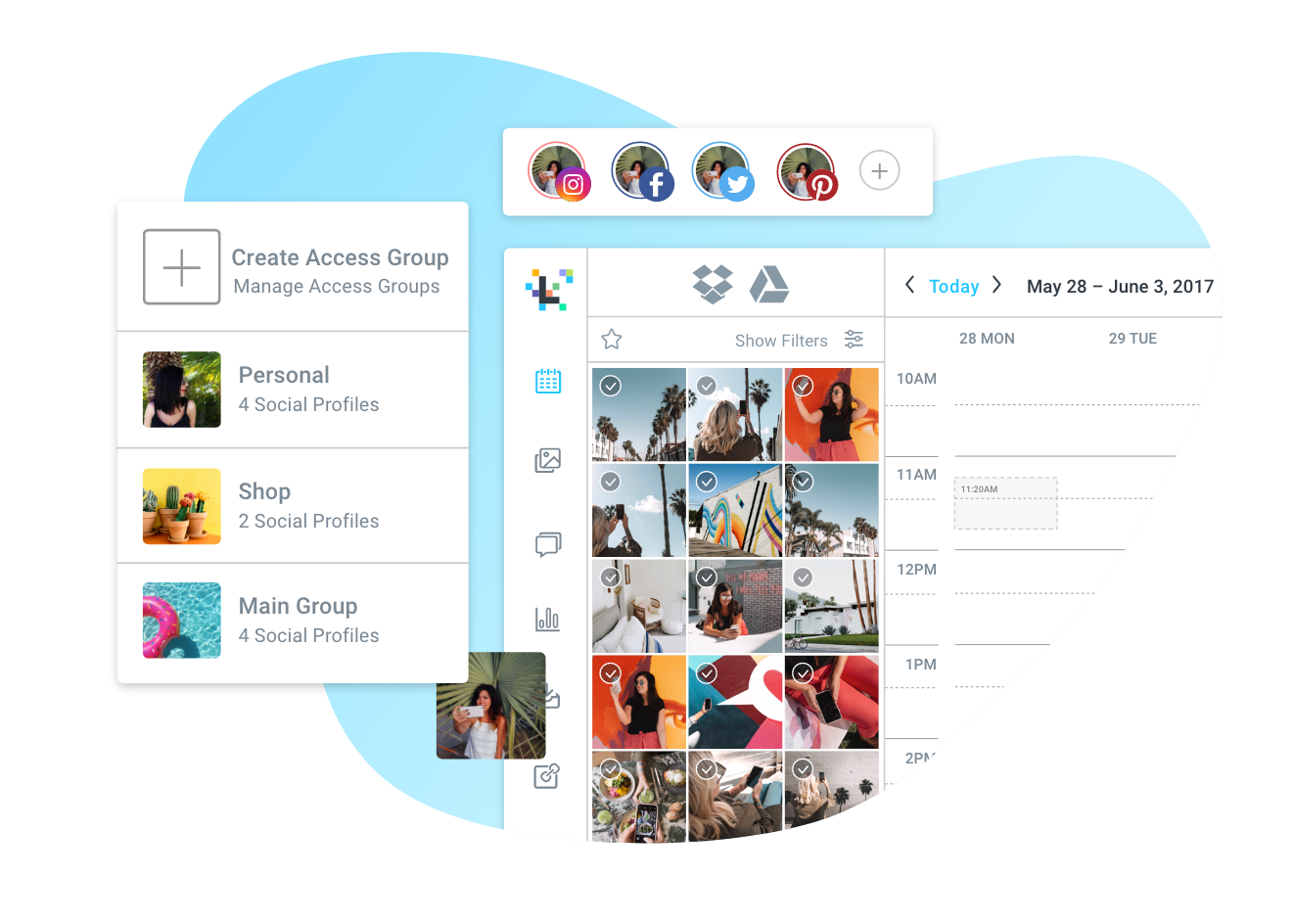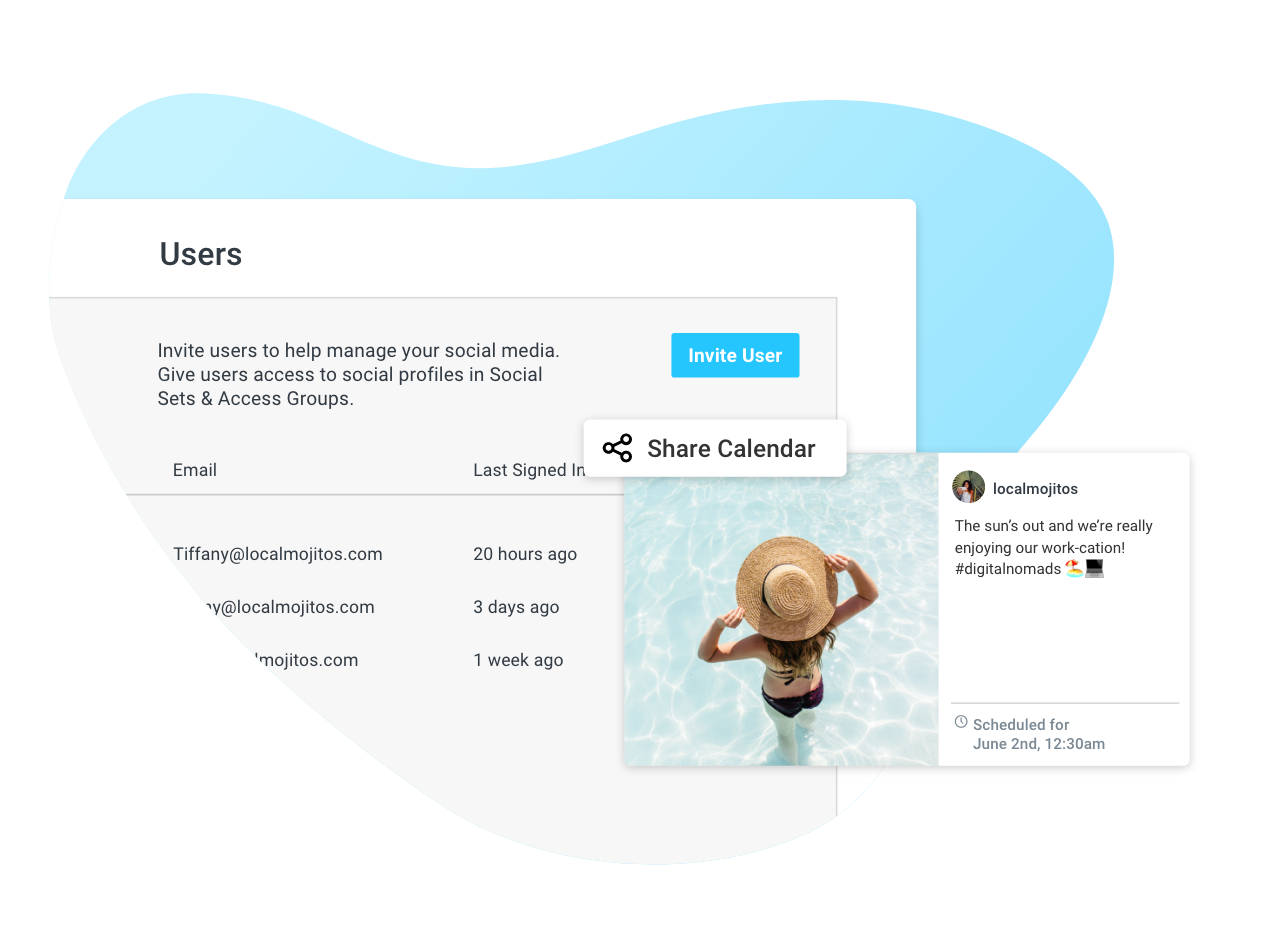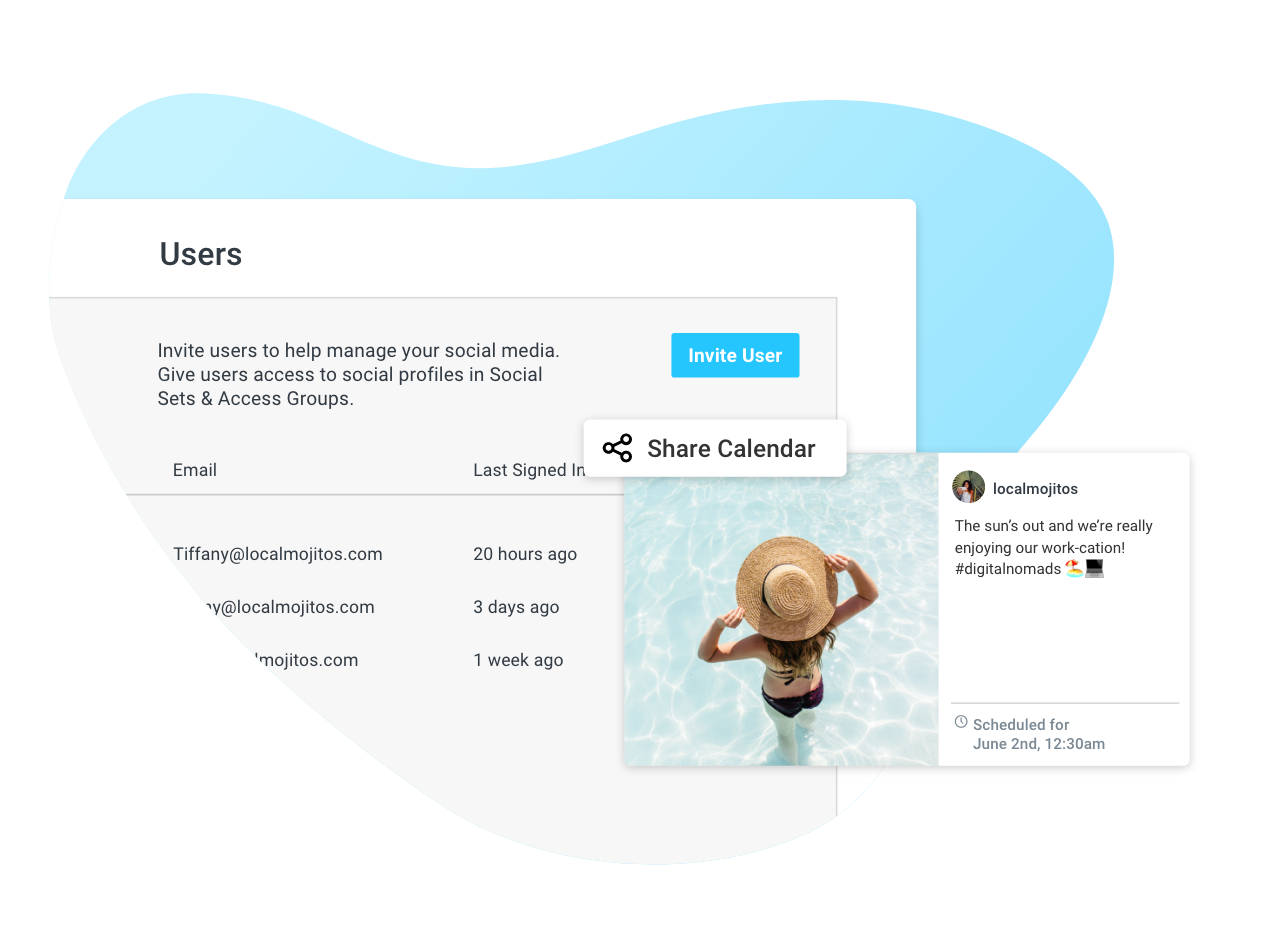 Making Teamwork
Easy
Collaborate with Team Members

Easily manage social profiles while collaborating with team members. Connect multiple mobile devices and create separate notifications for each Instagram account you manage in Later.

Share Your Social Media Content Calendar

Share your scheduled Social Media posts with your team members, no logins needed! Later's collaboration feature makes it super easy to share your scheduled Social Media posts with your boss, client, or co-worker. See how your posts will look together on your various feeds, in the Instagram app, facebook app, tiktok app, twitter app, linkedin app or check out the calendar view to see scheduled dates and times. Upgrade now to share your calendar.
Crush your social goals.
Again and again.
Pick the Later plan that works for you (and your biz) and watch the likes – and the sales – roll in. Available on Instagram, Facebook, Twitter, Pinterest, LinkedIn, and TikTok.
The best tools, for every platform, right at your fingertips.