Instagram Tools: Free growth tools to help creators and businesses
Figure out what's working (with Later's free and paid Instagram tools) so you can grow your account or business. Made for creators and marketers.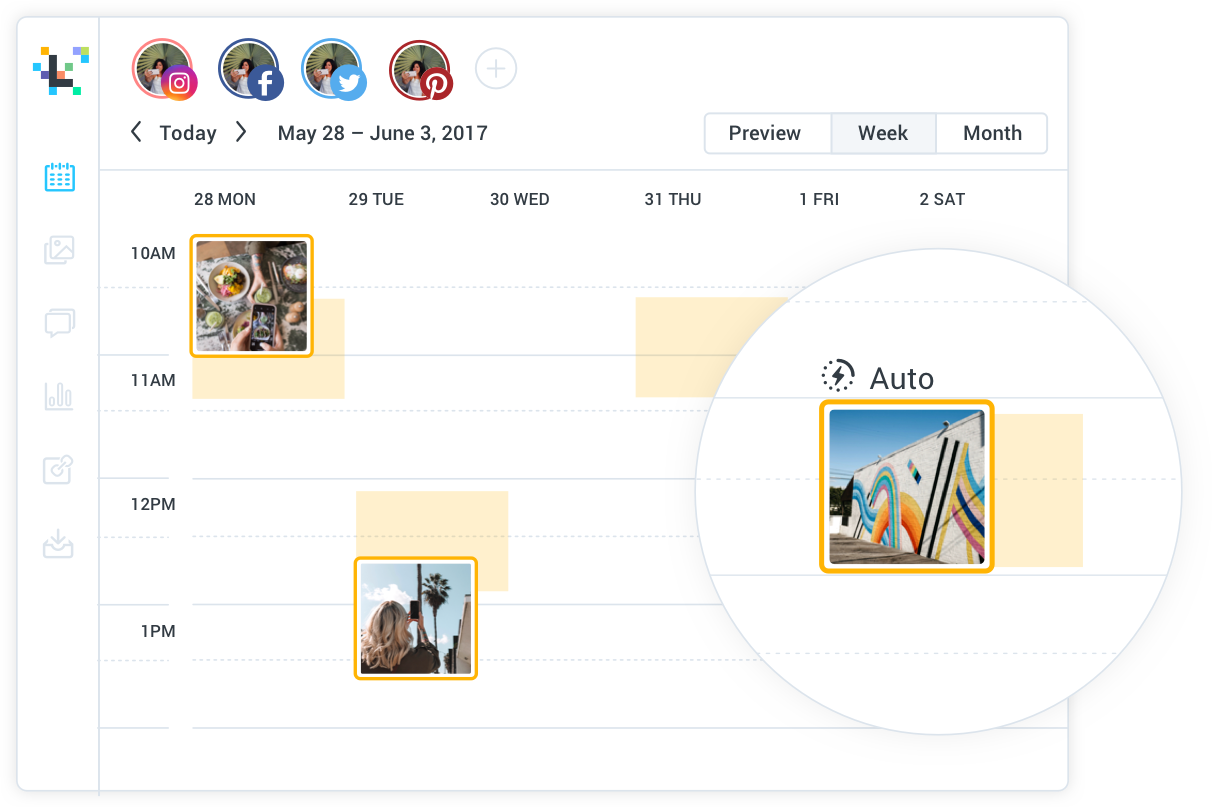 Find Your Best Time

to Post
Get more engagement by posting when most of your followers are online! Our Best Time to Post feature automatically calculates your top 7 posting times that get the most engagement.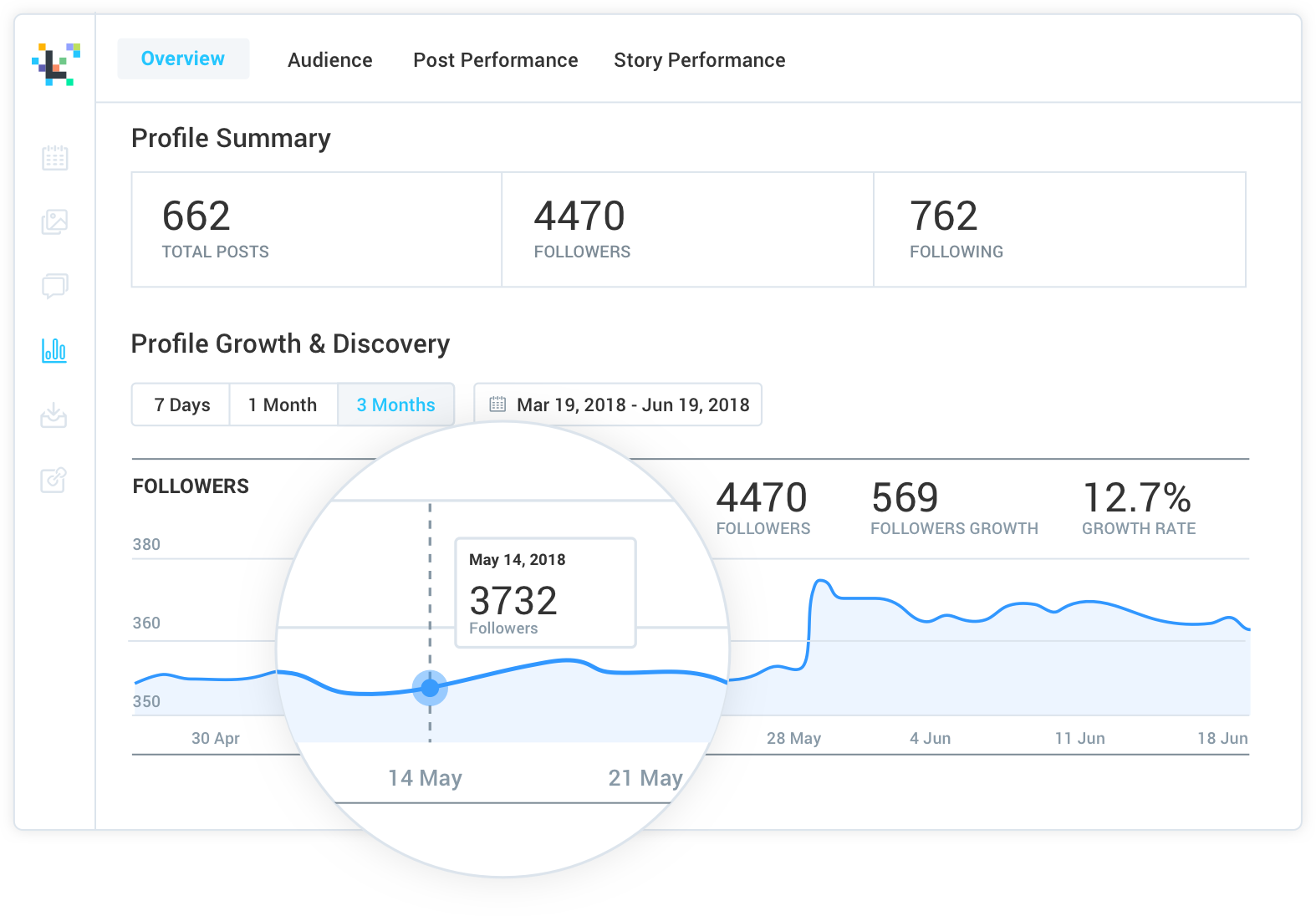 Instagram Analytics
Monitor trends in your Instagram's overall performance, measure weekly and monthly growth, and discover which of your posts are driving the most engagement.
Free Instagram Analytics

Get an overview of your last 30 posts in the last 30 days, and weekly performance reports including total number of likes, comments and a highlight of your top posts.

Visual Instagram planner

Get deeper insights and analytics for the past three months of content. Track monthly and weekly follower growth, audience engagement trends, post performance and more. Upgrade to the Growth plan for access
Engage with Conversations
Later's Conversations feature makes it easy for you to reply and keep track of all your Instagram comments! Upgrade now to use Conversations.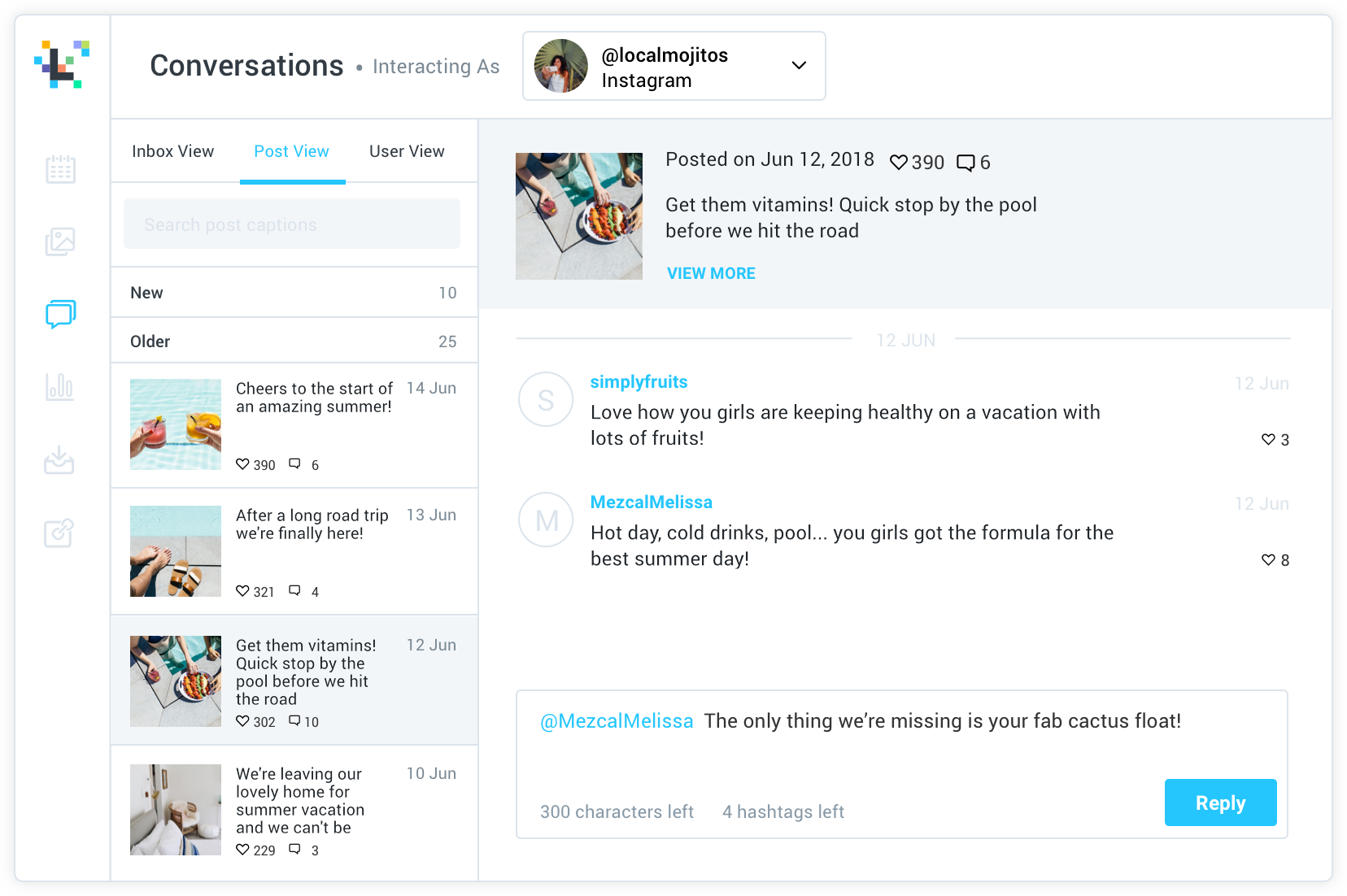 Manage Instagram Comments Faster

Later's Conversations feature makes it easy for you to search, sort, and respond to Instagram comments from your desktop.

Save Time Replying to Comments

Monitor and respond to Instagram comments from your computer, or use our filters to prioritize comments based on time or keywords.

Comment Search Tool

Use the search feature to find the Instagram comments that matter to you. Search comments for common phrases like "order," "shipping," or "purchase" so you can prioritize urgent issues.
Inbox View

Later's Conversations inbox shows you a feed of your most recent Instagram comments, so you won't ever miss a comment from an older post.

User View

The user view gives you a complete look into all the details and past exchanges between your team and the commenter. View the full conversation history with a customer, provide an in-depth response from your desktop computer, and respond promptly to Instagram comments.

"Linkin.bio has really helped us get the most out of every Instagram post. The feature makes it easy for our teams to add a link for every post, and makes it easy for our readers to read more about any story in just 2 clicks — everyone wins!"
Stephanie Meyers, Group Director
Digital Growth, Inc. and Fast Company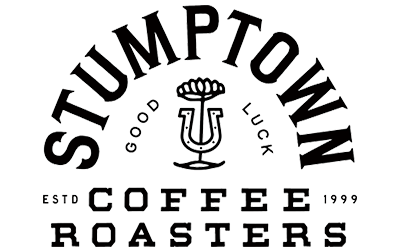 "We love using Later because it allows us to strategically map out our social media content plan around coffee rollouts, new merch items, events and other happenings here at Stumptown. We love being able to showcase user generated content, as well, which Later easily allows us to do."
Mallory Pilcher, Marketing Director
Stumptown Coffee Roasters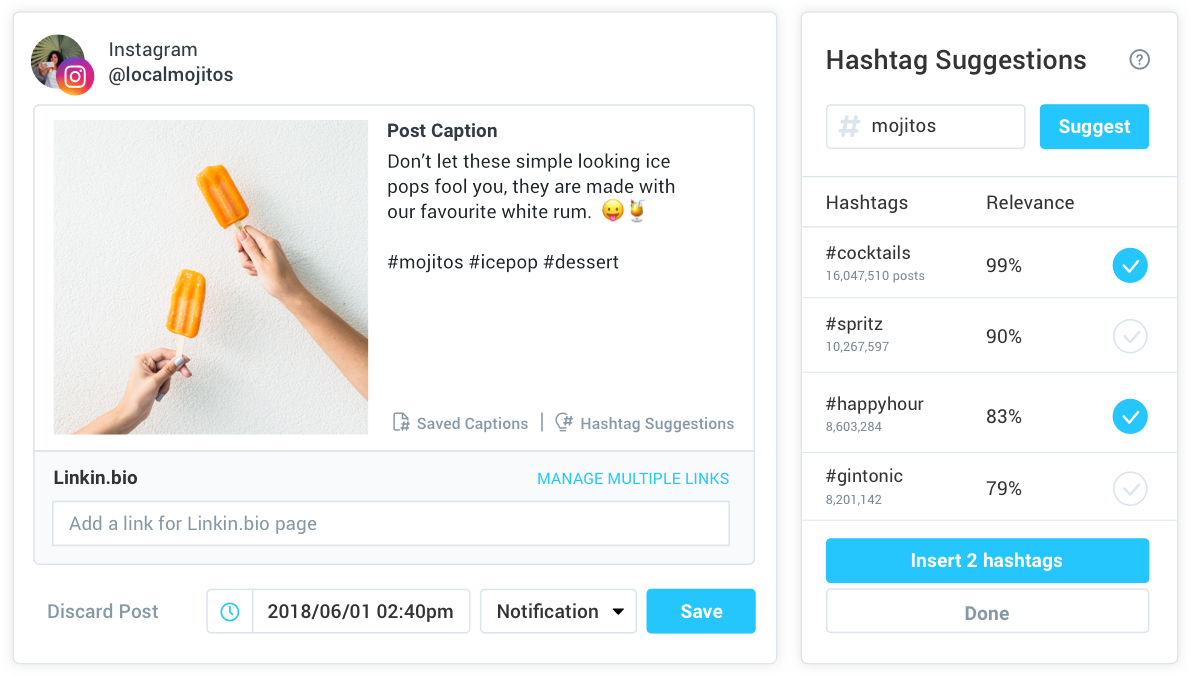 Get More Likes with

Smarter Hashtags
Organize your Instagram Hashtags

With Saved Captions, you can organize and save hashtags into categories for easy posting. When it's time to schedule, simply select one of your Saved Captions to add it to your post!

Instagram Hashtag Suggestions

Hashtag Suggestions help you discover new hashtags related to your content. Just enter the hashtag you want to use, and Later will generate a list of 30 additions hashtag suggestions, that you can easily add to your post. Upgrade to the Growth plan for access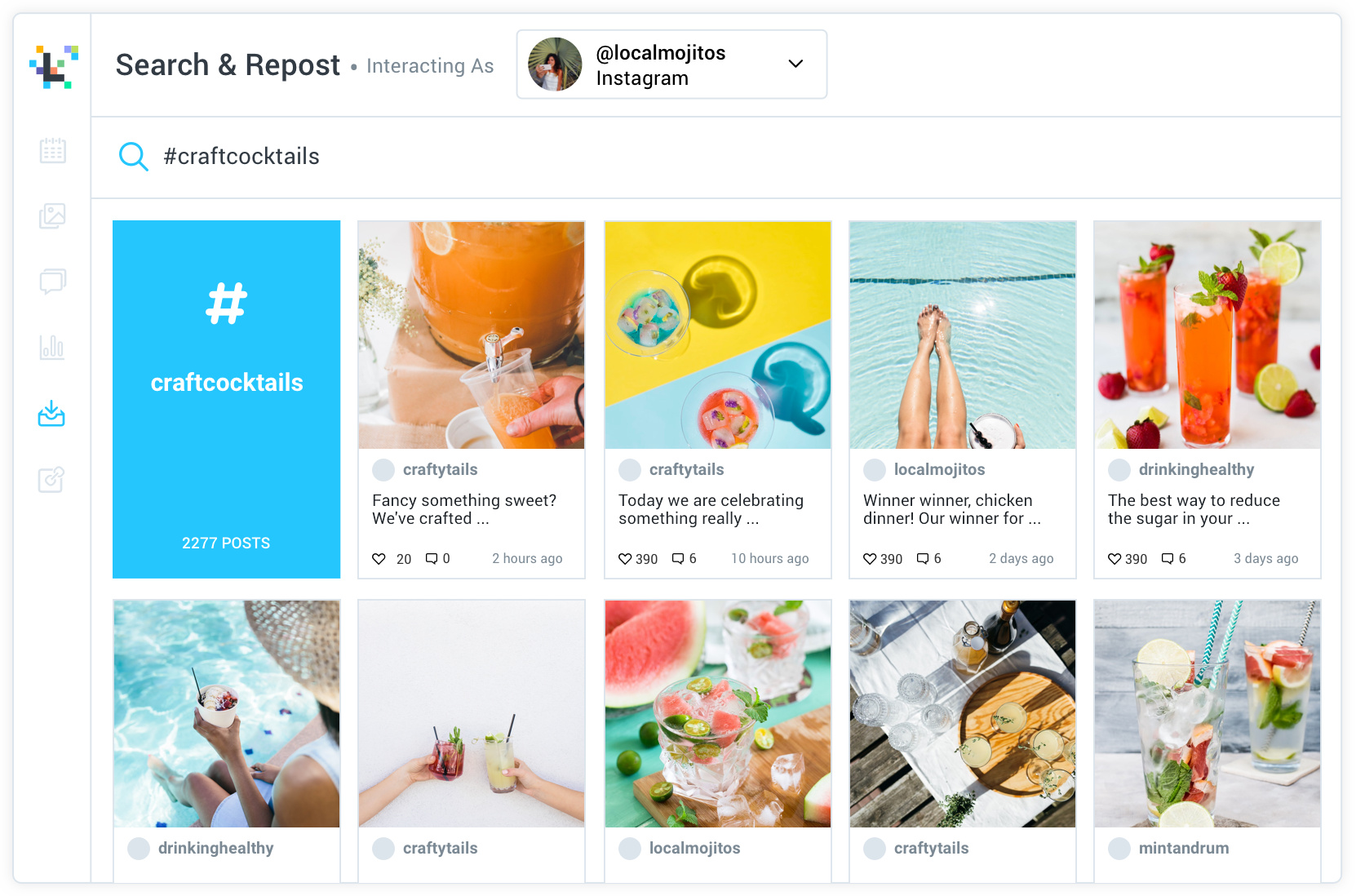 Find + Collect UGC with Search

and Repost
Search community content and add it directly to your media library to schedule or repost into your own feed.
Collect by Instagram hashtags

Search for content by hashtag and add it directly into your media library to schedule or repost into your own feed.

Repost high quality images

No more pixelated photos! Share the original photo with your own followers, without losing any of the quality.
Drive Traffic and Make Sales with Linkin.bio
Link your Instagram posts to the right products or pages with Linkin.bio.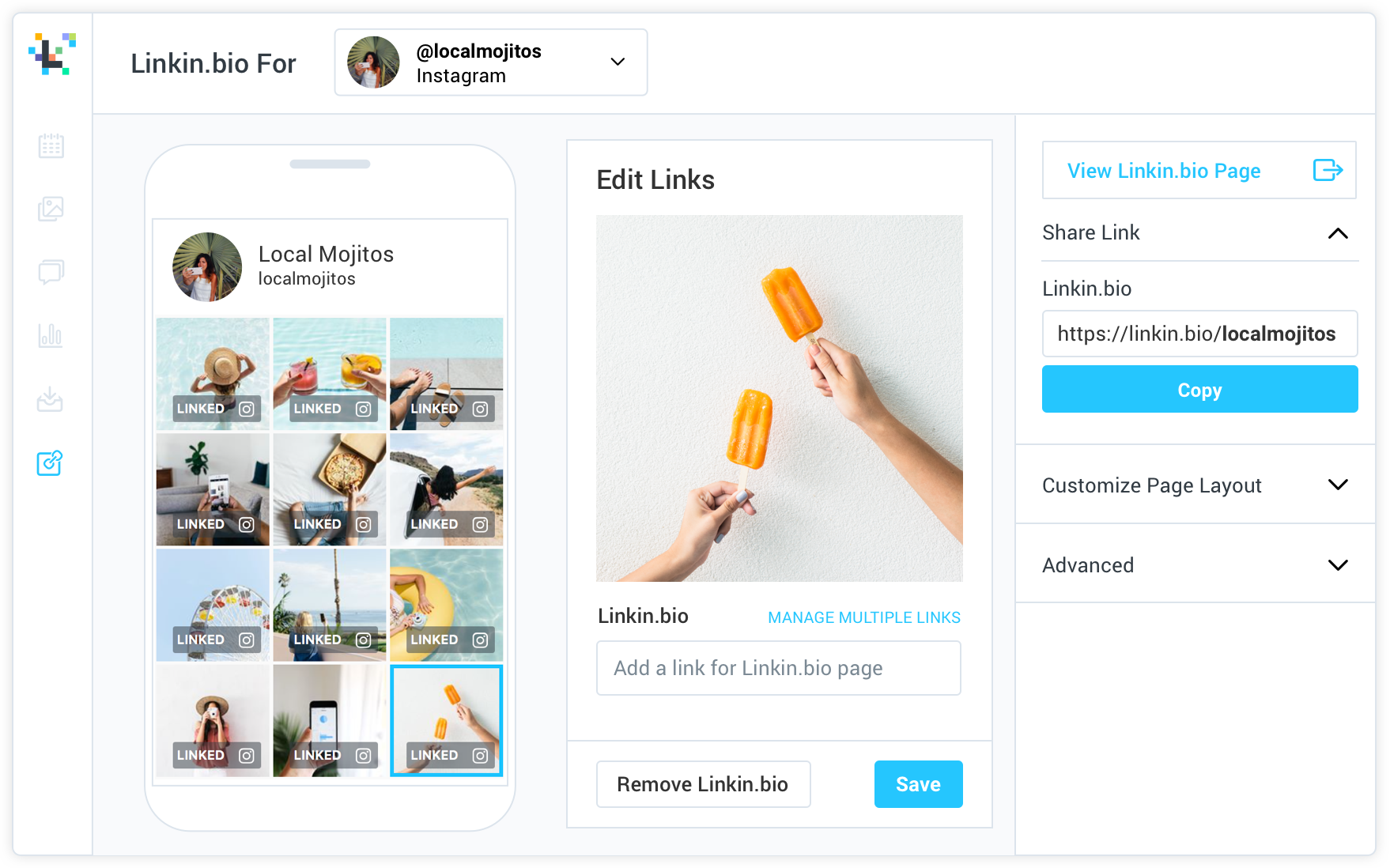 Create a Shoppable Instagram Feed

Drive traffic and track sales with our Linkin.bio integration. Linkin.bio helps you build a shoppable Instagram feed to direct your followers to the right content and products right from the link in your bio.

Link to Different Websites or Blog Posts

Send your followers exactly where they want to go with a clickable Instagram landing page. Link to different webpages, blog posts or products to drive sales and traffic to your website.
Add Multiple Links to One Post

Showcase all of your products in your Instagram post by tagging multiple product pages. By adding links to your posts, you can begin to design an interactive page that is meant to look and feel just like your Instagram feed.

Linkin.bio Analytics

To help optimize and monitor the traffic and sales coming from your Linkin.bio, Later's Pro Instagram Analytics give you insights into the total number of page views, clicks per post, plus tracking conversion and sales — right from your Google Analytics.
Crush your social goals.
Again and again.
Pick the Later plan that works for you (and your biz) and watch the likes – and the sales – roll in. Available on Instagram, Facebook, Twitter, Pinterest, LinkedIn, and TikTok.
Create Free Account
The best tools, for every platform, right at your fingertips.