Getting Started With Access Groups
When you use only one Access Group to manage the social for multiple clients or brands, you may start to realize the Media Library is growing and the Calendar is busy. If you work with others to collaborate or receive approval, as a user they will have access to the entire Media Library.
Beyond being a lot of content to work through, this also may pose a confidentiality risk if users can see media items and upcoming campaigns of other businesses.
The best way to organize an account with multiple profiles and users is by using Access Groups.
Access Groups create a unique collection of Media Libraries, profiles, Calendars, and users. They give users access to certain tools and content within your Later account. They also restrict users from accessing content from Access Groups they are not members of, or changing account settings like profile connections and billing.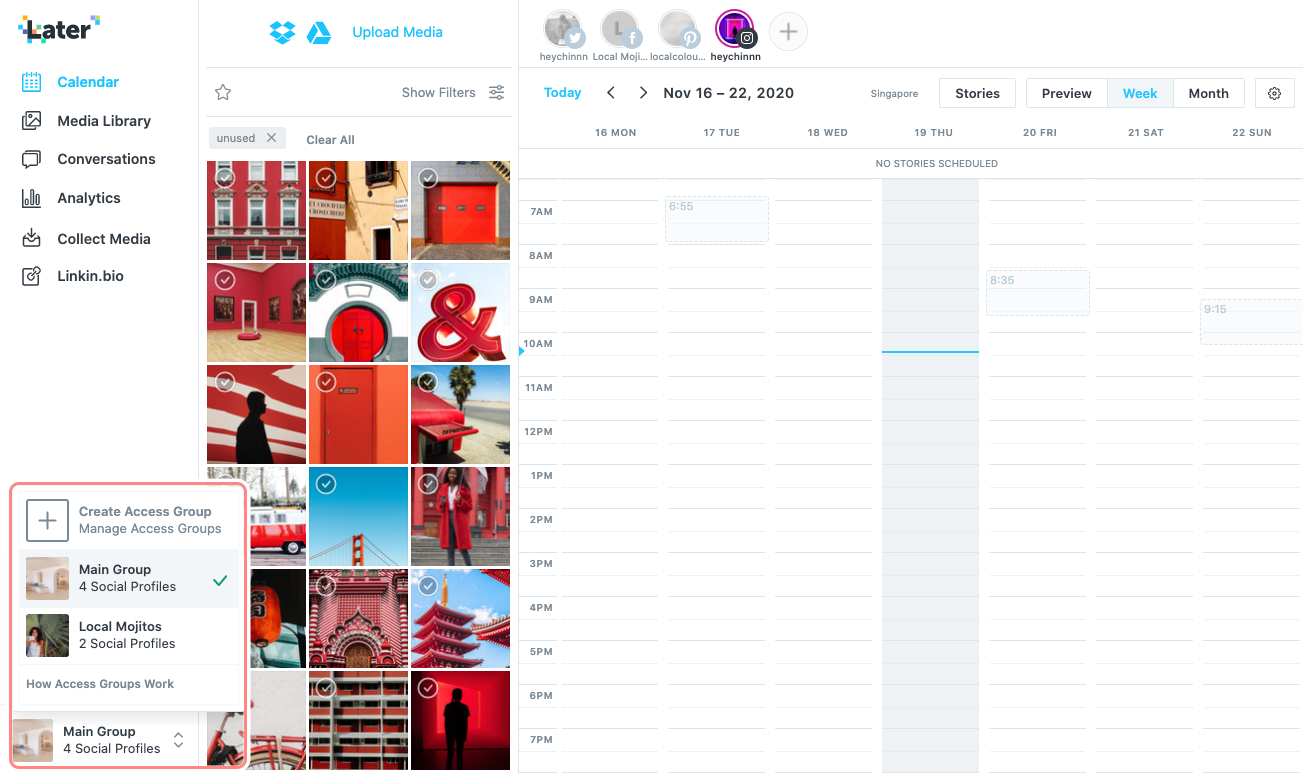 In this guide, we'll cover how to start using Access groups in three steps: adding Access Groups, granting users access, and transferring media items.
---
#1: Organizing Your Account With Access Groups
By default, every Later plan has at least one Access Group. Additional Access Groups are only available on Growth and Advanced plans. New Access Groups can be added from Later on the web.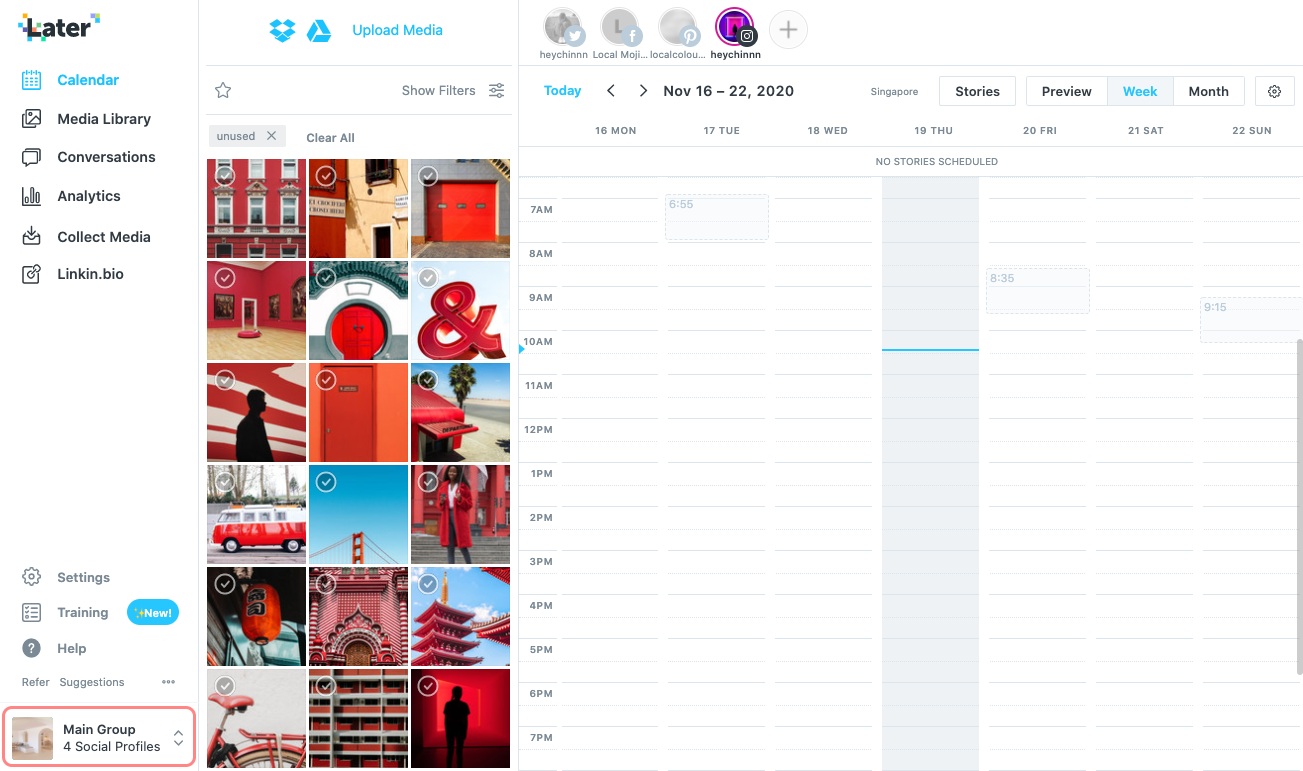 To add a new Access Group:
From the Calendar page, click the 

Access Group selector

 and then 

Create Access Group

On the Settings page, select 

Create New Access Group

Add a title
Click 

Create New Access Group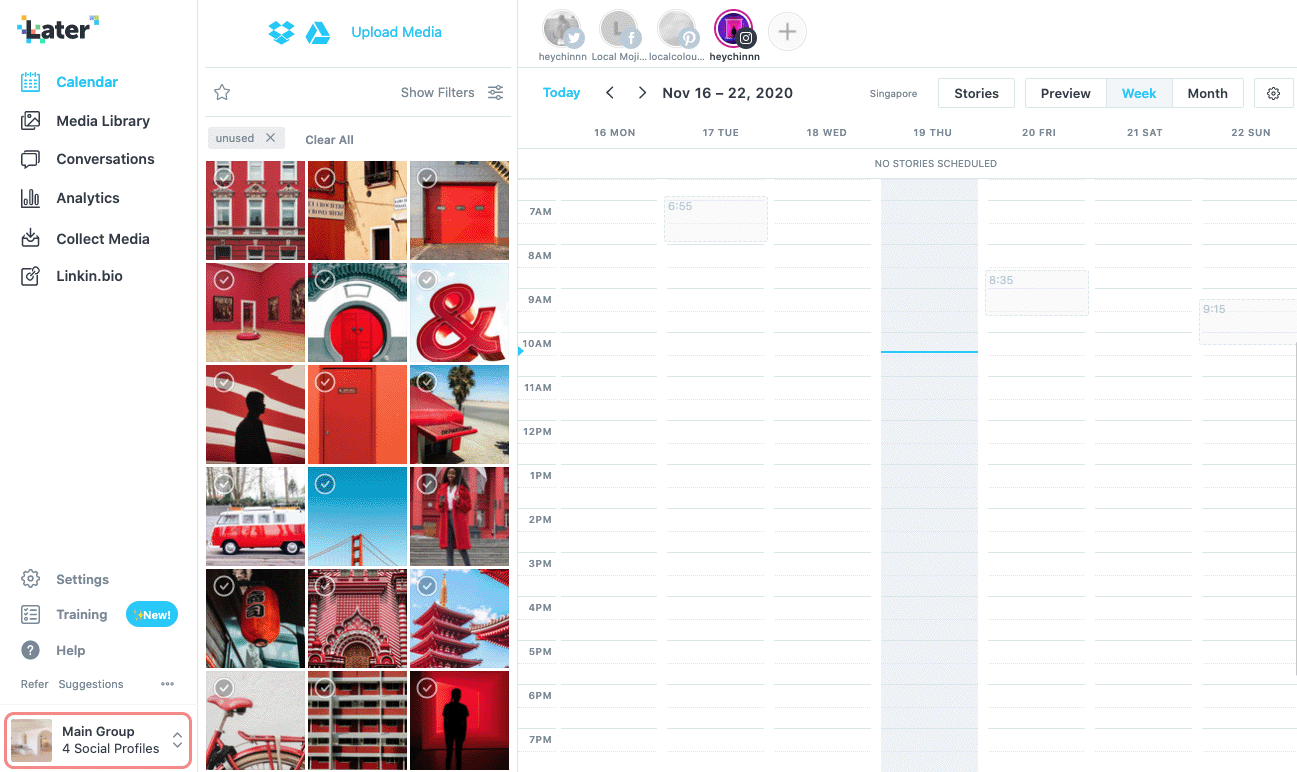 On the same page, after adding an Access Group, you can connect social profiles. To add a social profile, click Add Social Profile.
From here, add a new profile or transfer a profile from an existing Social Set. Click Add New Social Profile and select the platform you'd like to connect to, or click Organize to transfer an existing profile.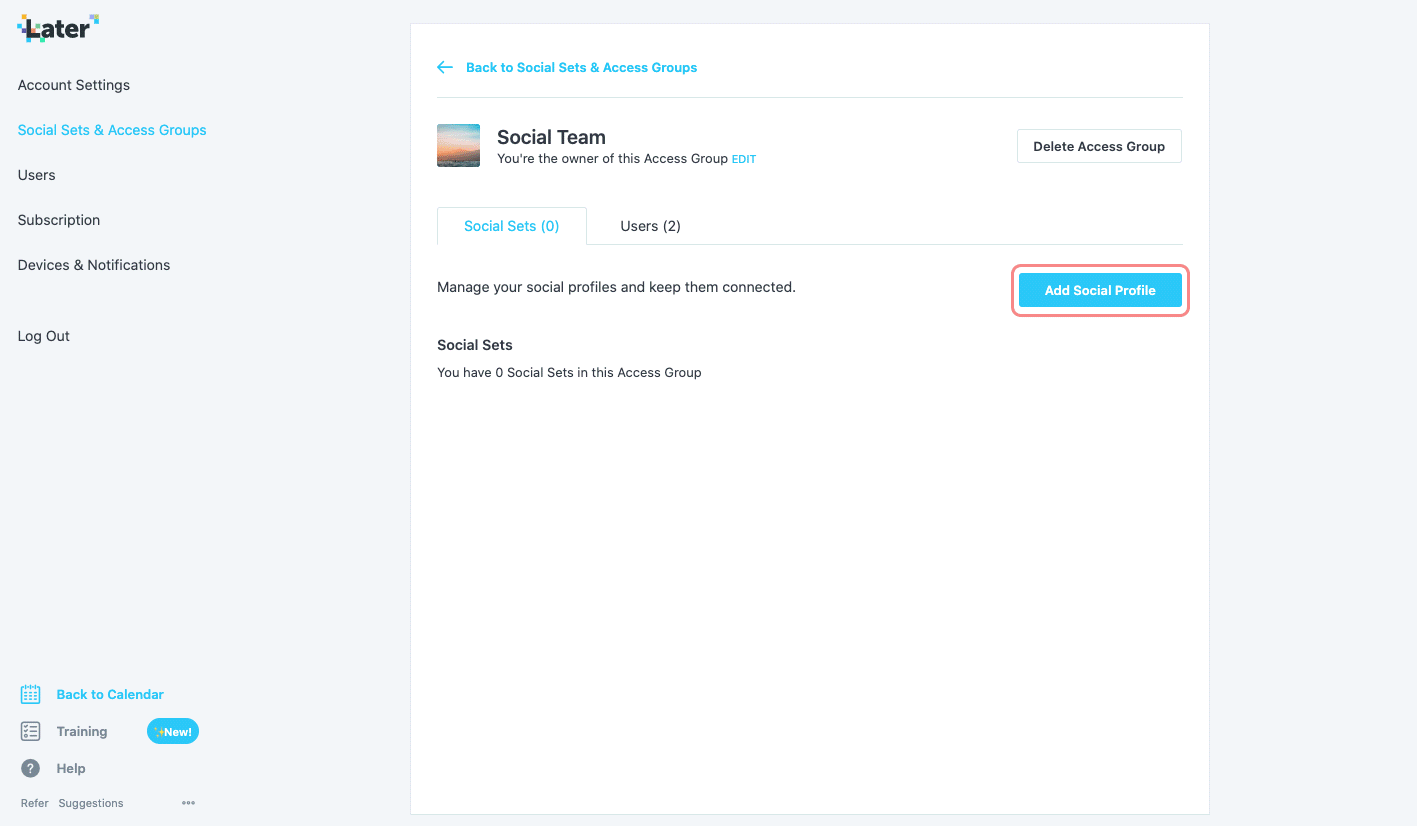 ---
#2: Inviting Users to Collaborate With Access Groups
One of the best ways to manage your Access Group effectively is by controlling who has access.
By adding or removing users, you control the privacy and security of each Media Library. If you're an agency or freelancer, this means you can add your clients without worrying they'll see another client's content.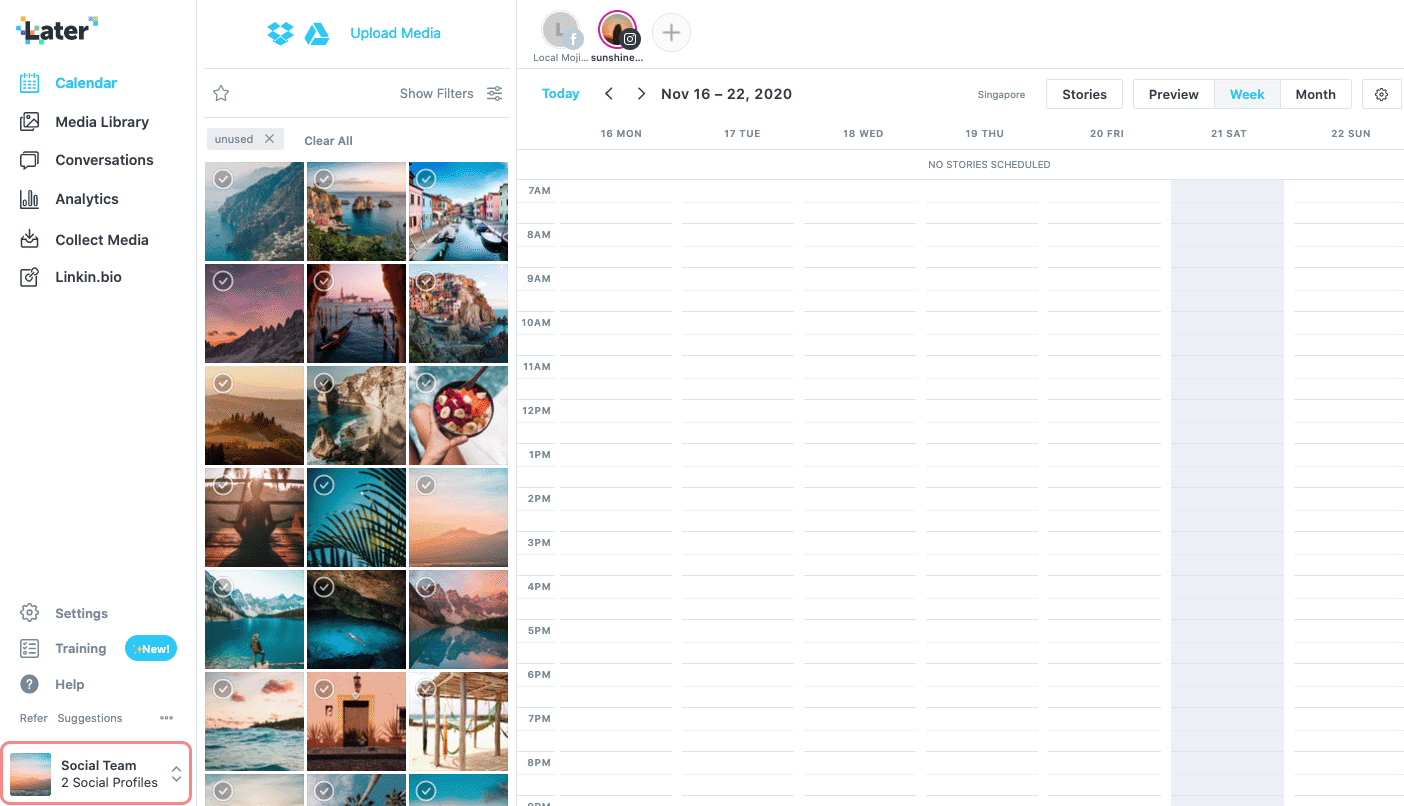 If you're adding a new user to your account, pricing will differ based on your existing plan. To learn more, check out the pricing page.
To add a new user space to your account:
Open 

Settings

  and navigate to 

Users

Click 

Invite User

  and 

Add Extra Users

Add Extra Users by clicking the 

plus sign

Complete the payment details and click 

Subscribe
Once your subscription is updated, your new users will be ready to go right away. Next, grant the users access to your Later account.
To add a user to an Access Group:
Open 

Settings

  and navigate to 

Social Sets & Access Groups

Next to the Access Group you want to add a new user to, click 

Details

On the Users page, click 

Add User

Click 

Add

 next to the name of the user you want to add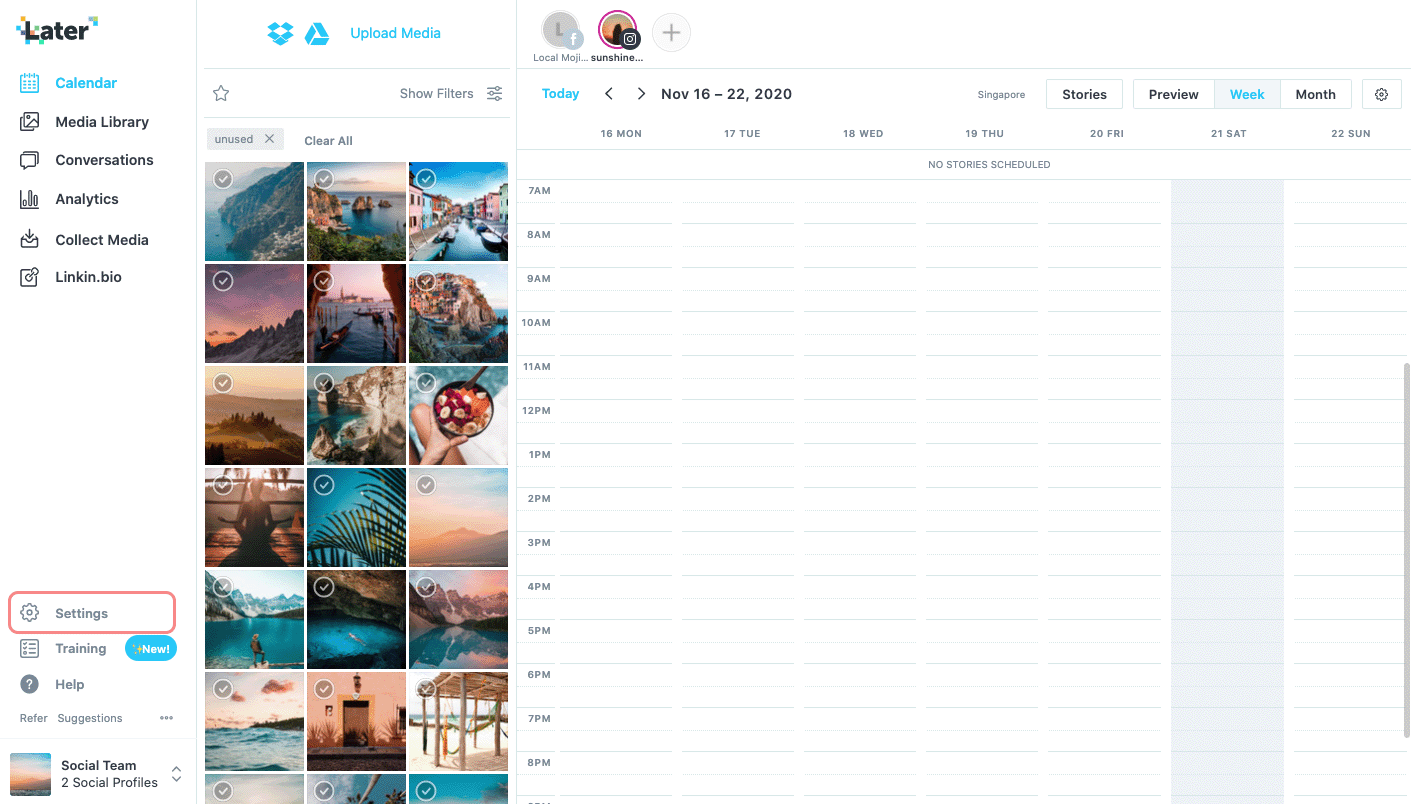 The user will be able to work within the Access Group after they join. That means they could add or remove media items, organize the Media Library, schedule, and view analytics.
---
#3: Transferring Media Between Access Groups
The next step in organizing a new Access Group is adding and transferring media items. Media items are only available in one Access Group at any time, which means transferring media to the correct Access Group library is important for scheduling and planning posts.
To transfer media to another Access Group:
From the Access Group you want to transfer the media item out of, open the 

Media Library

Select the media items you want to transfer by clicking the 

check mark

Click the 

Move

 button
Select the Access Group you want to move the media items to
Confirm by clicking 

Move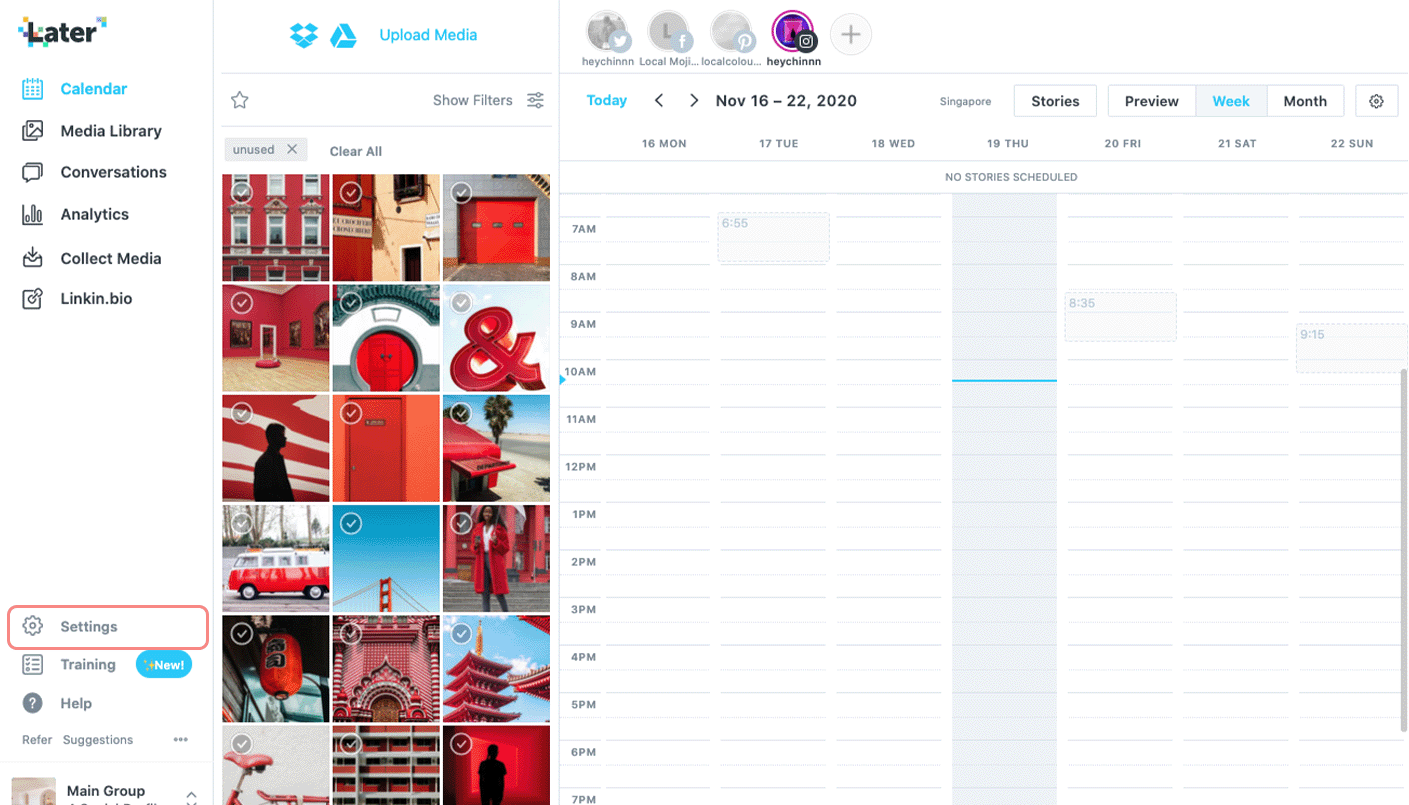 When you toggle over to the other Access Group, you'll notice the media items are already in the Media Library. They'll transfer immediately, so you can start scheduling right away.
---
Next Steps
Social Sets are just one tool that helps you organize your social profiles and content like a pro. Check out these guides on Access Groups and collaboration to save even more time working with your team in Later.
With this guide, learn how to work with others to save time when you are planning posts, sharing a content calendar, and analyzing analytics.
Read More >
Effectively manage all your profiles by adding, organizing, and scheduling with Social Sets by Later.
Read More >