How to Boost Sales With Linkin.bio
In this guide, you'll learn how to use Linkin.bio to promote your business and increase revenue.
Sell products and services directly to your Instagram audience with Linkin.bio. By consistently posting and tagging products, your audience will move from discovery to purchase with just a few clicks or taps.
Linkin.bio has built-in analytics so you know exactly how much money you're making from Instagram. After completing this guide, you'll feel confident using Linkin.bio from setup to sales.
To learn more about how other brands use Linkin.bio to sell, check out How 8 Brands are Using Linkin.bio to Sell on Instagram.
---
Setup Linkin.bio
Before diving into setup, it's important to note: you cannot add IGTV posts to Linkin.bio
Setting up Linkin.bio for sales includes enabling Linkin.bio, customizing your landing page, and if you have Shopify, connecting to your Shopify store.
To enable Linkin.bio from Later on the web, follow the prompts in the setup wizard.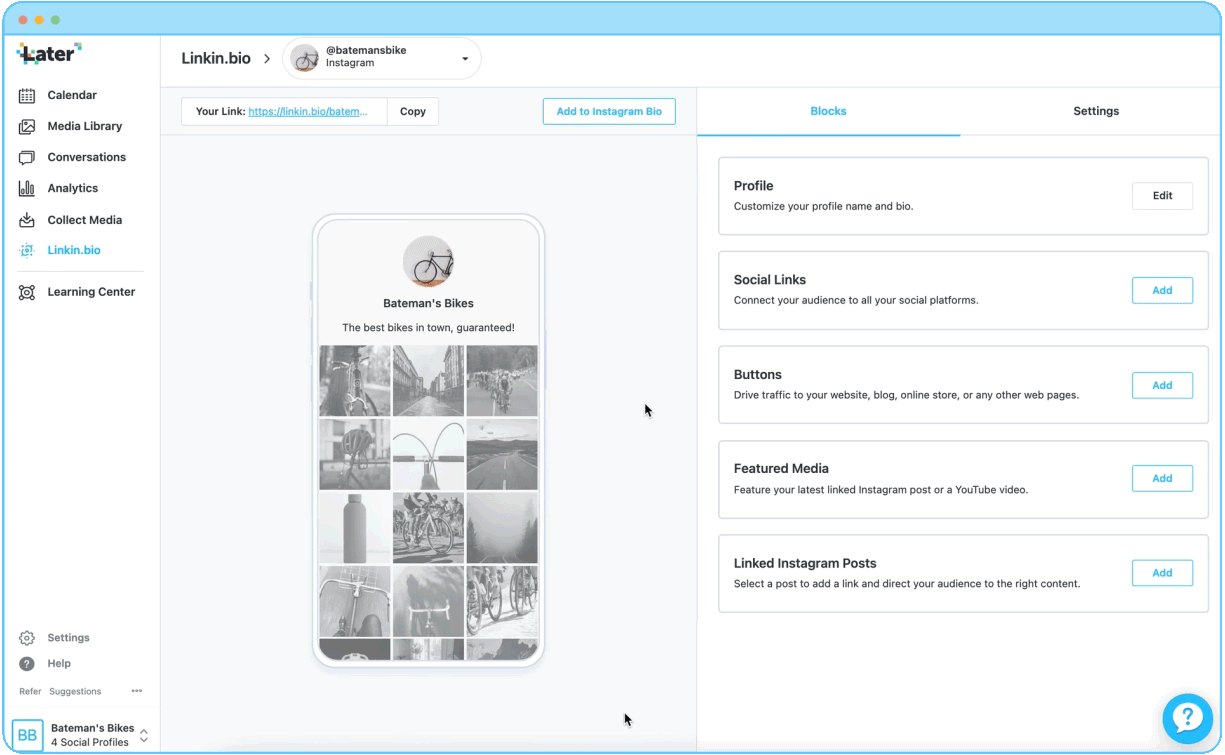 Stuck on setup? Check out the Help Center for more information.
---
Set up Shopify With Linkin.bio
Connect your Shopify store to Linkin.bio so you can tag Shopify products on your Linkin.bio posts.
TIP: You can tag as many Shopify products as you want in a single Instagram post.
To connect Shopify from Linkin.bio on the web:
Select

Connect Shopify Store

Log in to your Shopify account or register for a Shopify account from the pop-up window.
Enter your Shopify store name and click

Connect Shopify Store

Click

Finish Setup
Note: Linkin.bio (Shopify) product tags and Instagram shopping tags are different. Product tags from Shopify will appear on the Linkin.bio landing page, while Instagram product tags appear in a tab within your Instagram profile.
Learn more about the differences between Linkin.bio product tags and Instagram product tags in the Help Center.
---
Tag Products and Add Links to Published Posts
Before making your Linkin.bio public, it's best practice to populate your page with linked posts and product tags. Adding linked posts and product tags benefits your social media strategy, as they can help you easily direct traffic from posts to product pages, especially when you use a strong call to action.
Before you start using Linkin.bio, you need to enable the page and design it to suit your needs.
If it's your first time accessing Linkin.bio, you'll follow these steps in Later on the web:
Click the

Linkin.bio

tab from the side menu
Complete the setup wizard
Select your Instagram profile from the profile selector
Click

Get Started
On the Linkin.bio page within the Later on the web and the Later mobile app, you'll see scheduled and published posts in a grid layout.
This is how your Linkin.bio Instagram grid displays: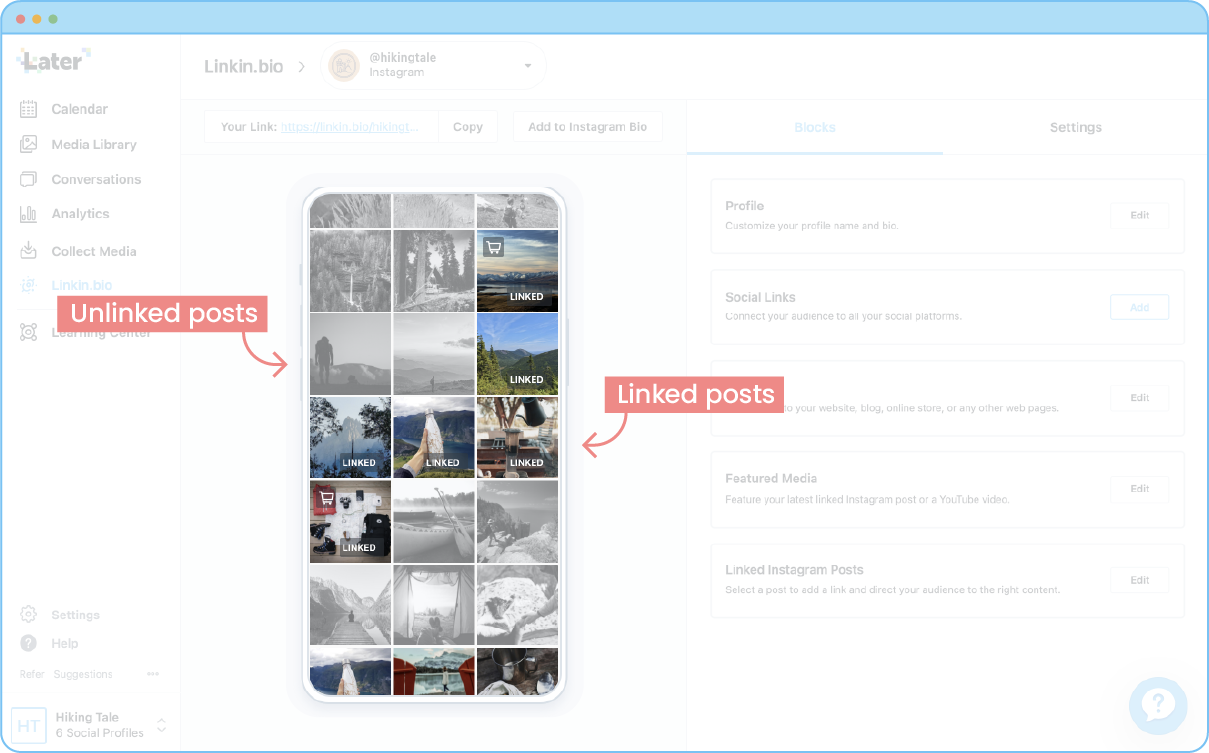 If you want your audience to buy directly from your website, link the product page with corresponding product posts in Linkin.bio.
To add a link to a product webpage:
Select a post you want to link
Add the URL in the Linkin.bio field
Click

Add to Linkin.bio

to save
Adding a link will drive click-throughs to the product webpage where anyone can complete a purchase. For best results, link the specific product page with the corresponding post. This creates a seamless experience for your audience to go from Instagram to customer.
If you're a Shopify user and want to tag products, you'll first need to make them available to Later from your store.
Don't use Shopify? Jump to the Introduce Linkin.bio to Your Audience.
To make products available to Later from Shopify:
Open Shopify
Login to your admin account
Click

Products

on the sidebar menu
Select the checkboxes of the products you want to grant Later access to, or select all by clicking the top checkbox
Click

More Actions

and then

Make Products Available

Make sure the checkbox is selected for

Linkin.bio by Later

Select

Make Products Available
Now that you have available products, let's return to Later on the web to tag them in posts.
To tag products in Linkin.bio:
Select a post you would like to tag with products
Click

More Link Options

and then

Link to Shopify Products

Choose products to tag
Click on the image where you would like the product tag to be displayed
Select a product option if applicable
Click

Tag Product

and

Save Changes
---
Introduce Linkin.bio to Your Audience
Adding Linkin.bio to your Instagram profile means your page will be discoverable to anyone who clicks the link. This is where your audience will click through to shop your feed.
The following example displays how a successful Linkin.bio addition to an Instagram profile looks:
To add your Linkin.bio URL to your Instagram profile from Later:
Click

Share Link

Select

Copy

Open Instagram
Navigate to your profile and select

Edit Profile

Paste the Linkin.bio URL into the website field
Click

Done
Congratulations — your Linkin.bio is live! Now, anyone visiting your Instagram profile will be able to check out your Linkin.bio page.
You'll also want to direct your audience to the link to buy products or services. To drive traffic through Linkin.bio, start by telling your audience to look in your Instagram bio.
There are two main ways to direct your audience towards Linkin.bio:
Mention Linkin.bio in post captions
Respond to comments with directions for Linkin.bio
It's best practice to mention Linkin.bio in the caption of every post that is linked or tagged.
To save time, use Later's Saved Captions feature to save and quickly reuse the same Call to Action (CTA) on every Linkin.bio post. You can find it in the Post Builder.
How you decide to mention Linkin.bio in captions or comments depends on your Instagram strategy. What's most important is to keep it consistent and on-brand. When in doubt opt for a simple, "Shop the link in bio".
---
Measure Linkin.bio Success
An essential piece of every sales strategy is assessing outcomes. Linkin.bio has built-in analytics tools to measure clicks, conversions, and profits.
When you use Linkin.bio to boost sales, you likely want to pay close attention to revenue.
Later tracks these important metrics:
Sales revenue
Linkin.bio Page Views
Linkin.bio Button Clicks
Post Clicks
Click-Through Rate
Tracking Sales in Later and Google Analytics
You can track your sales progress through Later Analytics or through Google Analytics.
How many products or services you sell, and of what kind, can give you key information about which social media marketing strategies work best for your Instagram audience.
To see Linkin.bio sales by post through Later on the web, open Analytics from the sidebar and navigate to the Post Performance tab.
Here, Linkin.bio sales are broken down by post. If one post has multiple product tags, all the sales will be grouped together.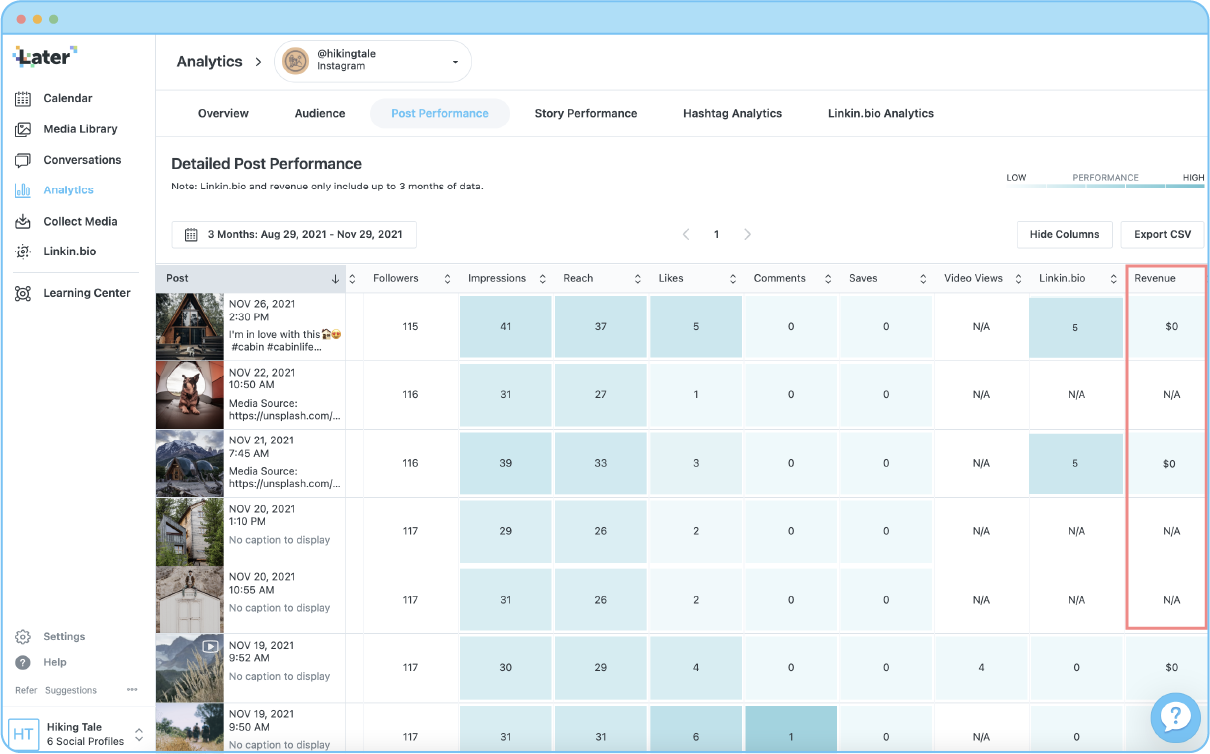 You can track overall sales using a Google unique UTM Campaign parameter that is automatically created by Later.
Your Unique UTM Campaign parameter will be:
later-linkinbio-ighandle
For Example for the Instagram handle @burrardbeauty:
later-linkinbio-burrardbeauty
To see your Instagram revenue in Google Analytics:
Open your

Google Analytics

and select a date range
Click

Acquisition, Campaigns,

and then

All Campaigns

Filter for the

Unique UTM Campaign parameter

Linkin.bio sales give you information beyond the revenue that you make on Instagram. Take note of any trends to learn more about what your audience is interested in.
For example, you may notice that posts with certain product types have higher sales. You can use this information to post more (and sell more) of that product.
Linkin.bio Page Views
Page views are a metric that measures the number of times your Linkin.bio landing page was viewed. You can access the page views metric when you click the Overview tab in Analytics.
When you use Linkin.bio to sell products, page views will tell you how strong your CTA or product marketing is. It shows how many people went from viewing your content to clicking your Linkin.bio URL to learn more or purchase.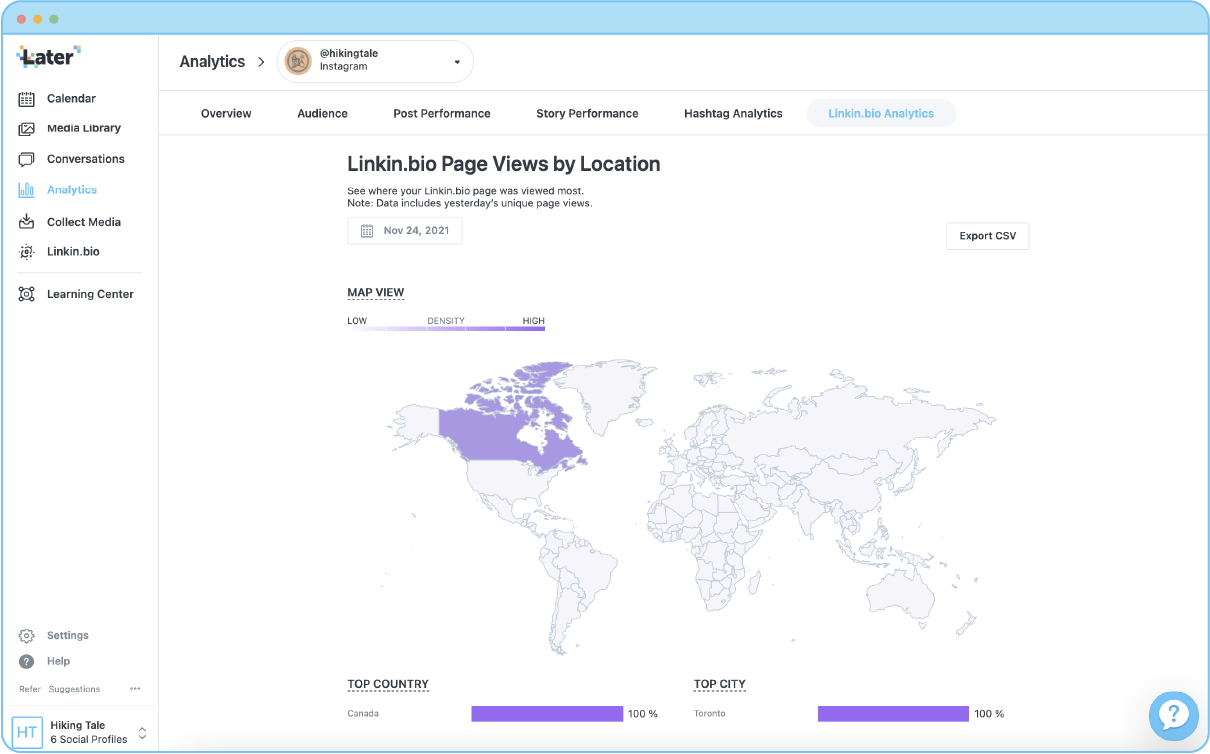 Post Clicks
Post Clicks tracks the total number of clicks on the posts on your Linkin.bio page. This metric informs you of how frequently your audience is looking at your Linkin.bio posts.
Compared to how many Linkin.bio posts you publish, this metric explains if:
Your CTAs are clear and working
your linked content is drawing in an audience
Your Linkin.bio strategy is cohesive
You can access this metric through the Linkin.bio Analytics tab.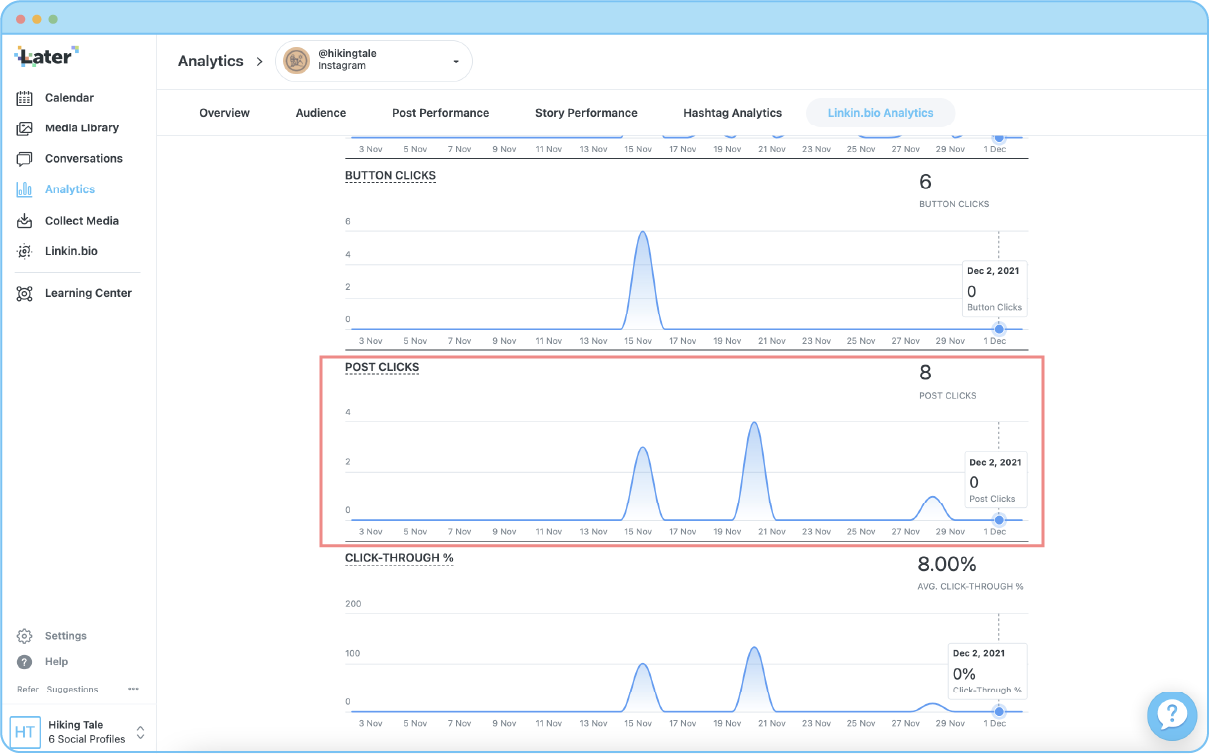 Click-Through Rate
Your Linkin.bio page compared with your Linkin.bio page views. This metric informs you of the percentage of people who go to your Linkin.bio that actually click through to a linked product or service.
You can access this metric through the Linkin.bio Analytics tab.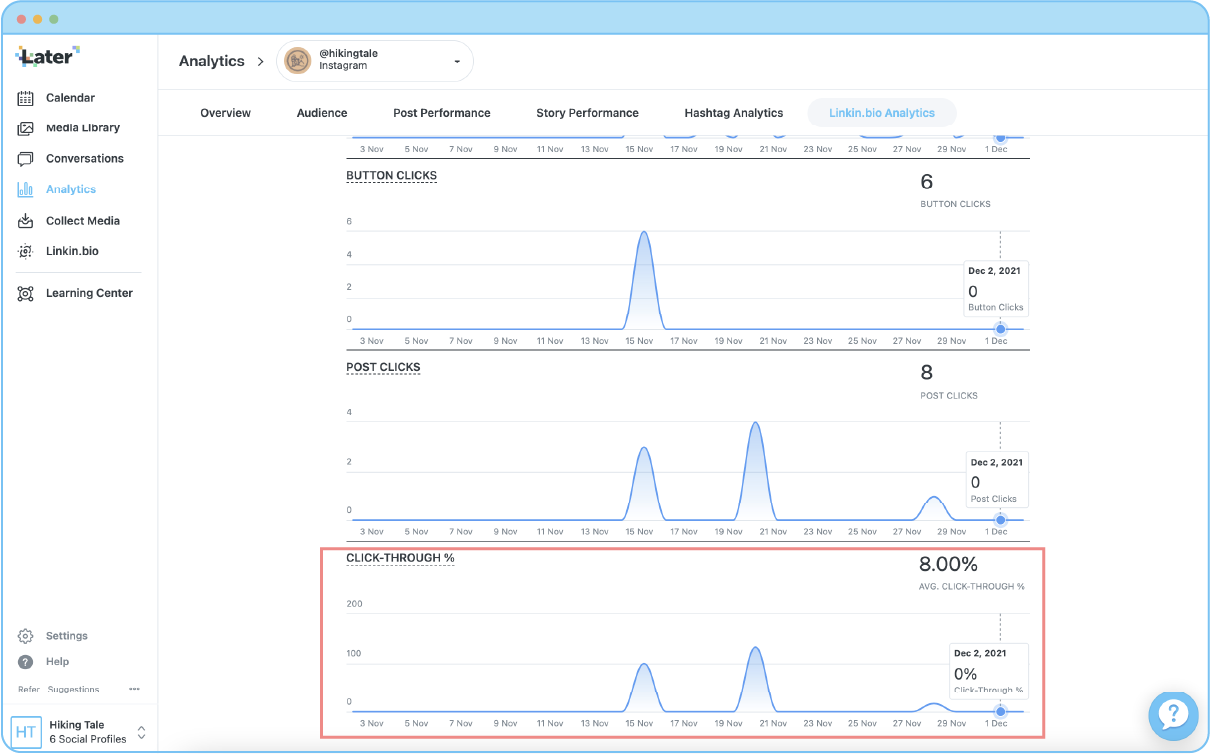 Track Clicks Per Post
To understand what content your audience responds to best, analyze how many clicks each Linkin.bio post has. This information can help you develop stronger content formats, more engaging content topics, or even CTAs.
You can access this metric through the Post Performance tab of the Analytics page.
Note: If you use more than one link on a post, it will only show the post total.
If you notice any trends with clicks per post, take note. It will tell you what content drives sales and clicks, allowing you to post more content your audience reacts positively to.
For example, you notice posts that feature skincare products have more clicks than posts with makeup. This could give you the opportunity to promote skincare more often, driving higher sales from more click-throughs.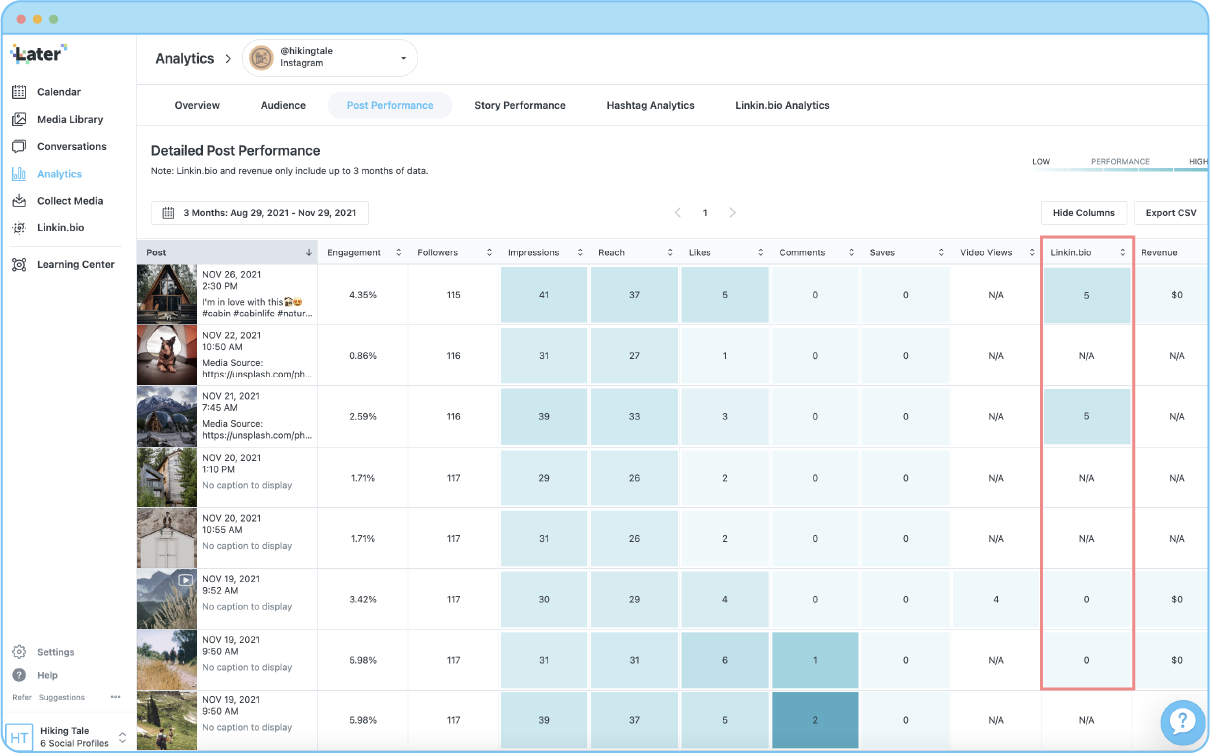 ---
Next Steps
Linkin.bio is just one Later tool that can help you drive revenue. Learn more about features that boost sales and grow your audience with the following resources.
In this webinar we discuss how to use the Visual Instagram Planner, improve strategy with analytics, and drive engagement with Linkin.bio.
Read More >
This 65-page guide will walk you through the steps you need to take to build an Instagram strategy, post great content on a consistent basis, and grow your audience with increased engagement.
Read More >
If you've ever thought about monetizing your Instagram account, you'll be pleased to know that it's easier than ever in 2020.
Read More >