Drive Traffic and Readership With Linkin.bio
Drive traffic to your website and meet publishing goals with Linkin.bio. In this guide, you'll learn how to use Linkin.bio from setup to success.
Linkin.bio turns your Instagram feed into a landing page. With it, your audience can click through Instagram posts to articles, reports, or any other webpage.
Instagram only allows one link in your profile which can be limiting. Linkin.bio lets you link out to multiple URLs so your Instagram feed always reflects the pace of your publishing cycle.
When you consistently link quality content with Linkin.bio, your audience will start anticipating similar, engaging posts. That means you'll have the power to build a solid base of return readers from Instagram.
By the end of this guide, you'll feel confident using Linkin.bio to create a loyal Instagram audience that looks forward to your content.
TIP: Check out how other brands use Linkin.bio here under "following".
---
The Linkin.bio Basics
With Linkin.bio, Later creates a landing page for you to link Instagram posts to a webpage. Linked posts appear as they would on your Instagram feed so it's clear where and what to click.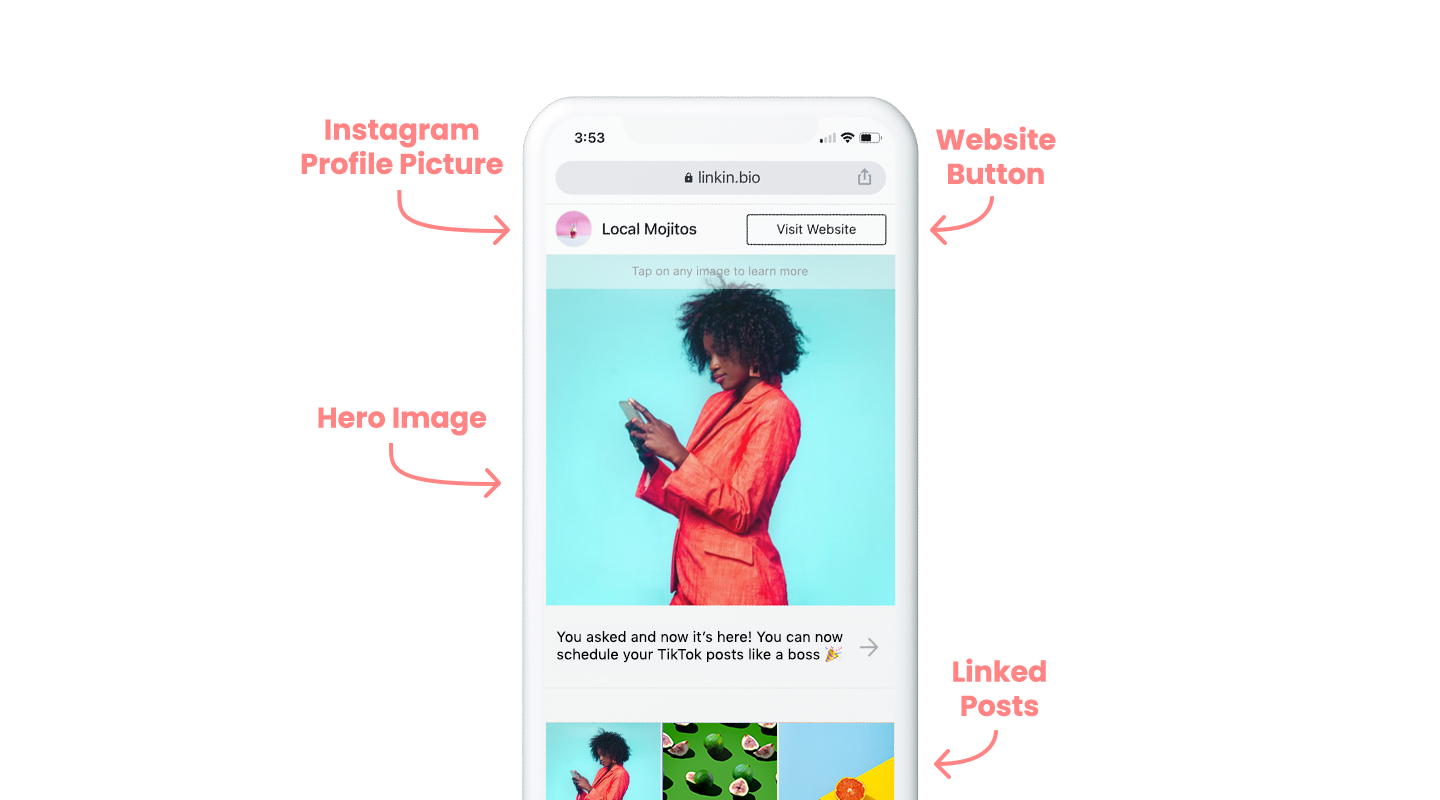 Linkin.bio is available through Later on the web and mobile. This guide focuses on Linkin.bio with Later on the web.
TIP: To learn more about Linkin.bio from mobile, check out Later's Help Docs.
When Linkin.bio is enabled, Later will automatically generate a URL for your Instagram profile. The URL will include your Instagram handle and it will update if you change handles.
Before diving into setup, it's important to note:
You cannot add IGTV posts to Linkin.bio
Linkin.bio Lite allows only one link per post
Linkin.bio Standard allows up to five links or tags per post
Upgrade to Growth or Advanced plans to use Linkin.bio Standard.
---
Linkin.bio Setup
One of the best parts of Linkin.bio is how easy it is to enable and customize from the start.
Prior to launching Linkin.bio setup, think about what your overarching Instagram objectives are. This will help you decide what URL and CTA (Call to Action) you want to highlight at the top of the Linkin.bio page with the website button.
If you want website visits, stick to a simple "Visit Website" button that connects to your homepage. If you want to highlight emerging stories, you could try a button that says, "Read More" and link to a breaking news landing page.
Linkin.bio is a powerful tool for driving newsletter registration — just use the button to direct your audience to the signup form. Learn more about how to grow your newsletter subscribers with Instagram here.
To enable Linkin.bio from Later on the web, follow the prompts in the setup wizard.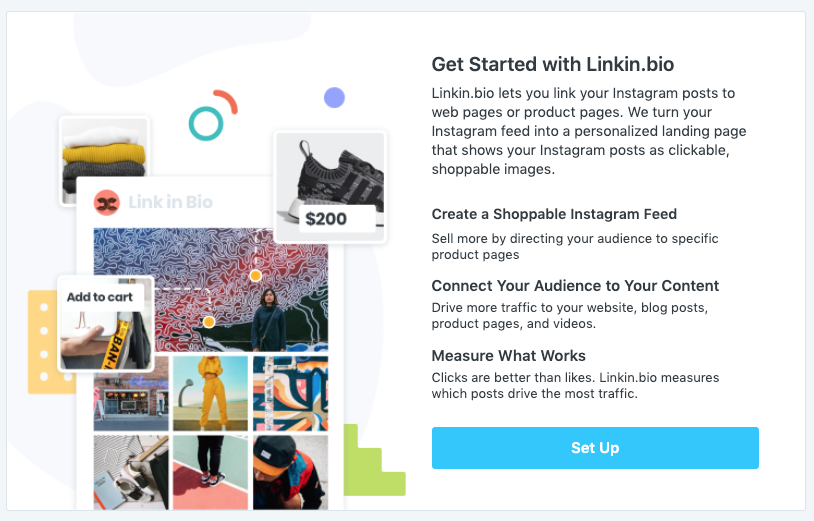 Stuck on setup? Check out the Help Centerfor more information.
On the last page of the setup wizard, you'll be asked to add your Linkin.bio URL. Hold off on that until you have added posts to Linkin.bio.
Don't sweat it if you want to change the website or button — you can always return to this page to update your Linkin.bio settings under Customize Page Layout.
---
Adding Links to Posts With Linkin.bio
Before making your Linkin.bio public, it's best practice to populate your page with linked posts.
Deciding whether to link out every post (or not) comes down to your Instagram strategy. If you only share posts that are associated with your articles, reports, or media, then linking to each one makes sense.
If not, focus on linking the posts you really want to drive traffic towards. This will create a smooth experience for your readers when they're directed to content that is clearly connected to the original post.
When you open the Linkin.bio page within the Later app, your feed displays published and scheduled, linked and unlinked posts.
How to distinguish posts in Linkin.bio:
Scheduled posts have a clock icon
Published posts have no icon
Linked posts display "LINKED"
Unlinked posts are grey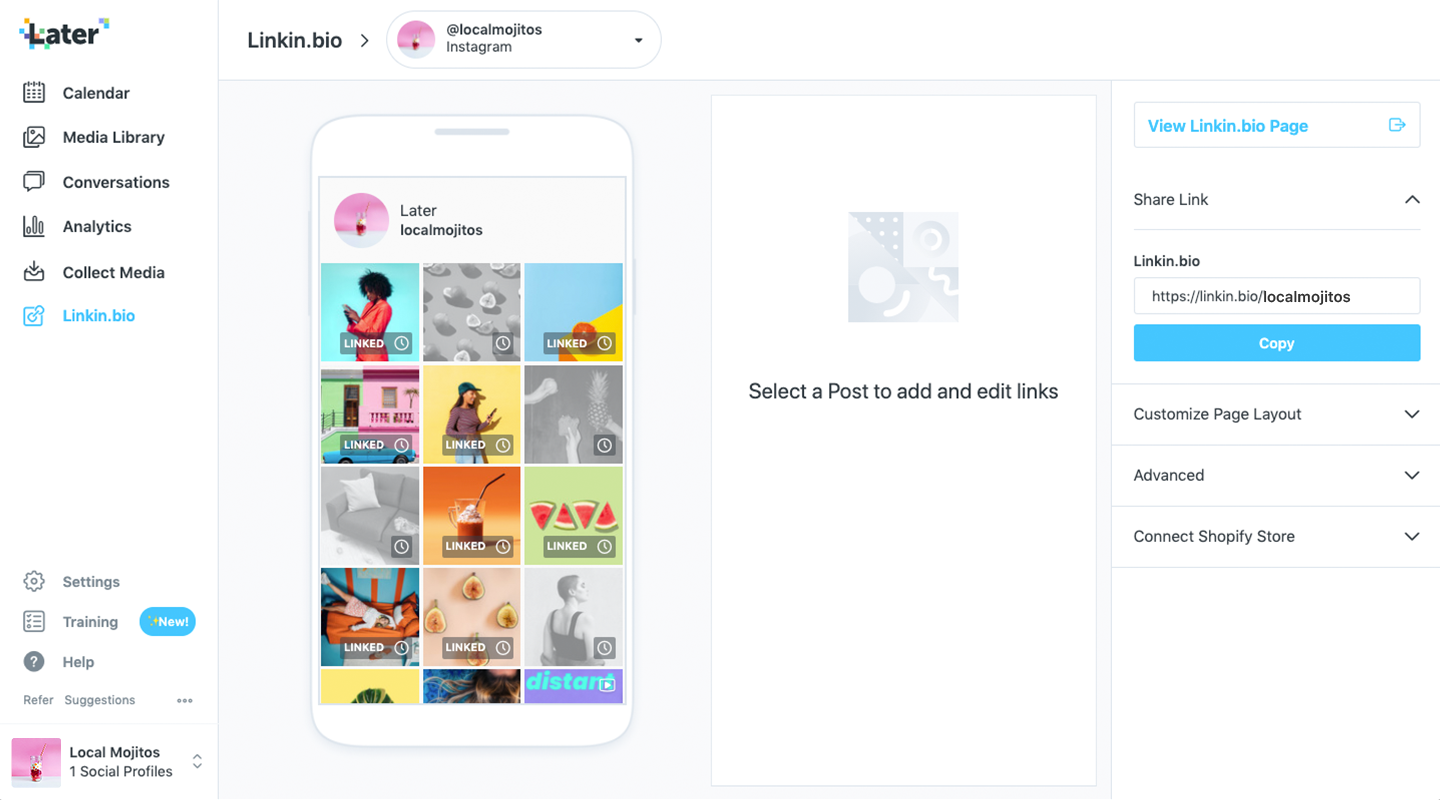 Once you've familiarized yourself with the page and decided which posts to link, it's time to start building your Linkin.bio landing page.
To add one link to a post:
Select a post you want to link
Add a URL in the Linkin.bio field
Click

Add to Linkin.bio

to save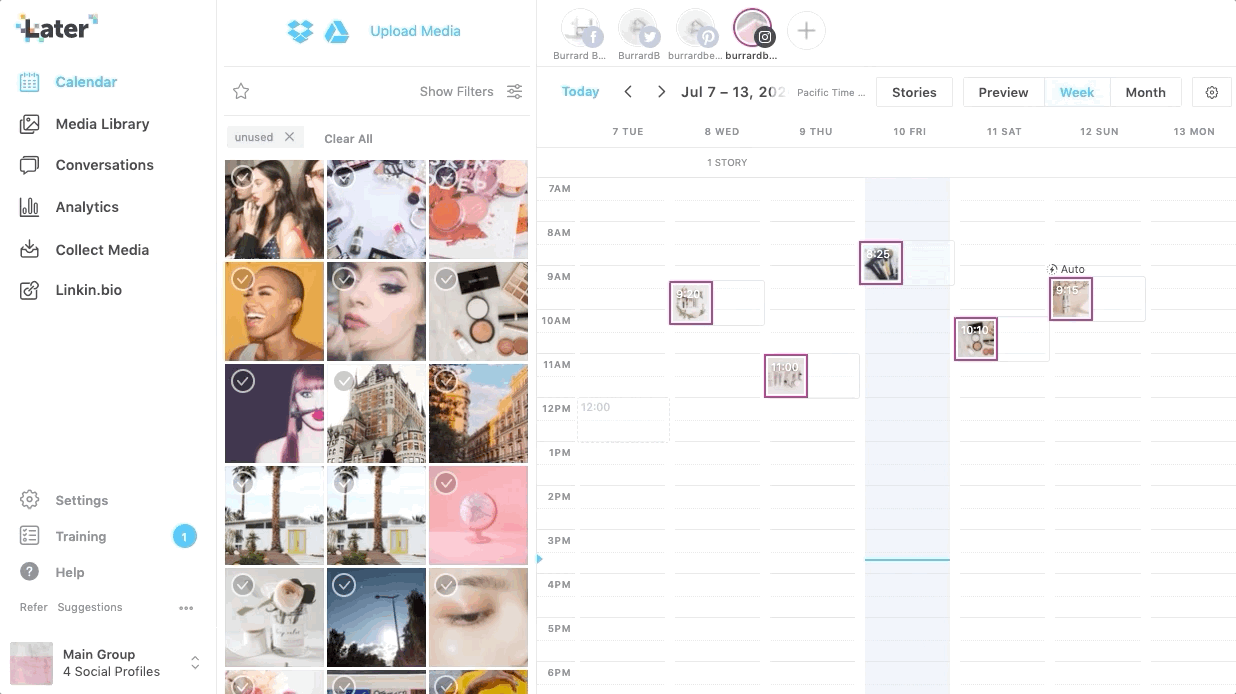 After you save, preview what your Linkin.bio page will look like by clicking View Linkin.bio Page.
To add multiple links to one post:
Select a post
Click MORE LINK OPTIONS and Link to External Websites
Add item title and URL in textboxes
Click Add Link to save
Select + Add Another Link and repeat
Reposition tags by dragging corresponding numbers on the post
Click Done and Add to Linkin.bio to save
Linkin.bio is most powerful when used hand-in-hand with Later's other scheduling tools, like Auto Publish.
Scheduling posts with Linkin.bio helps you:
Instantly and automatically add posts to Linkin.bio when they're published
Plan and link posts according to your publishing cycle
Visualize your Linkin.bio page before going live
To add a post to Linkin.bio immediately when published, enable Auto Publish and add a URL within the Linkin.bio textbox.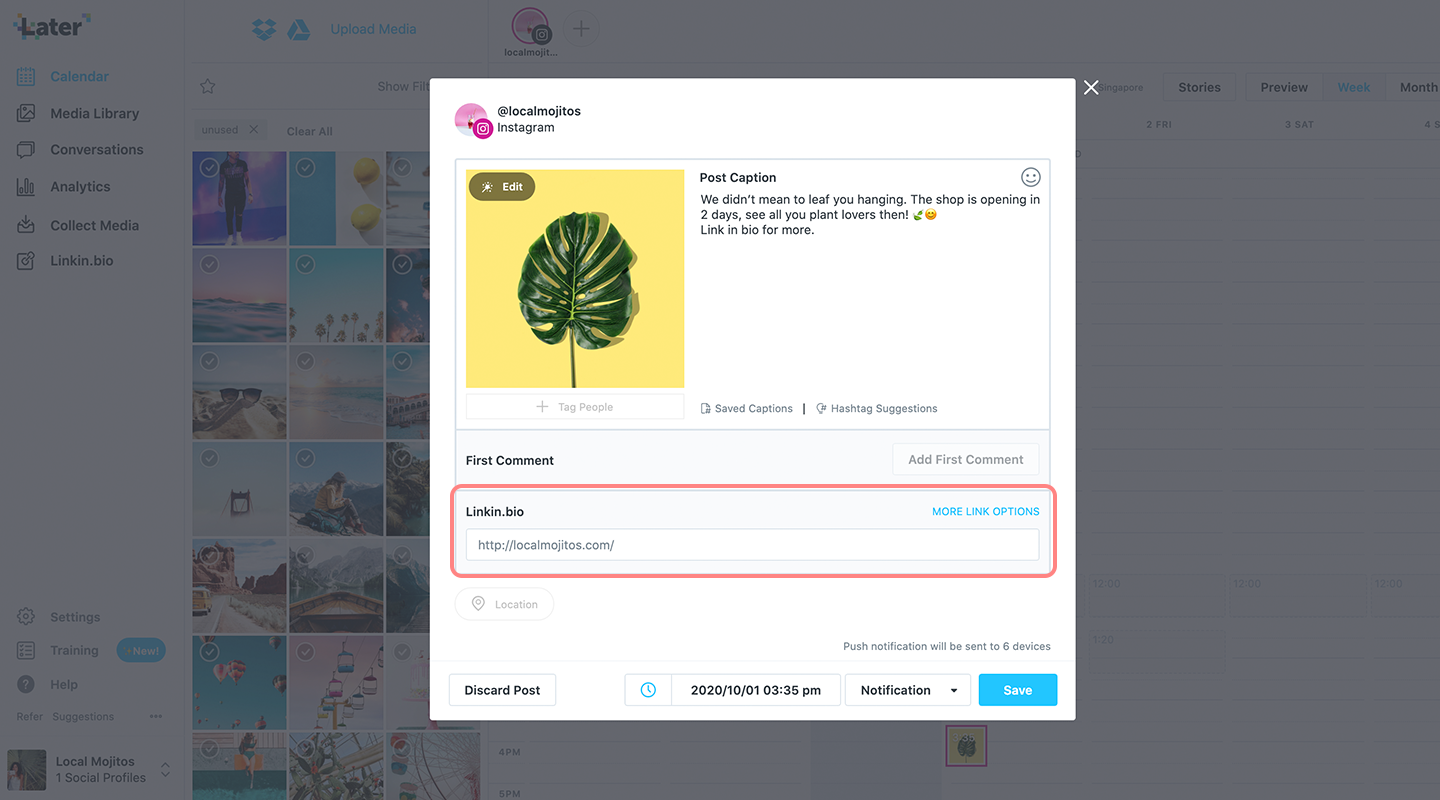 ---
Add Linkin.bio to Instagram
Adding Linkin.bio to your Instagram profile makes your page discoverable to anyone who clicks the link.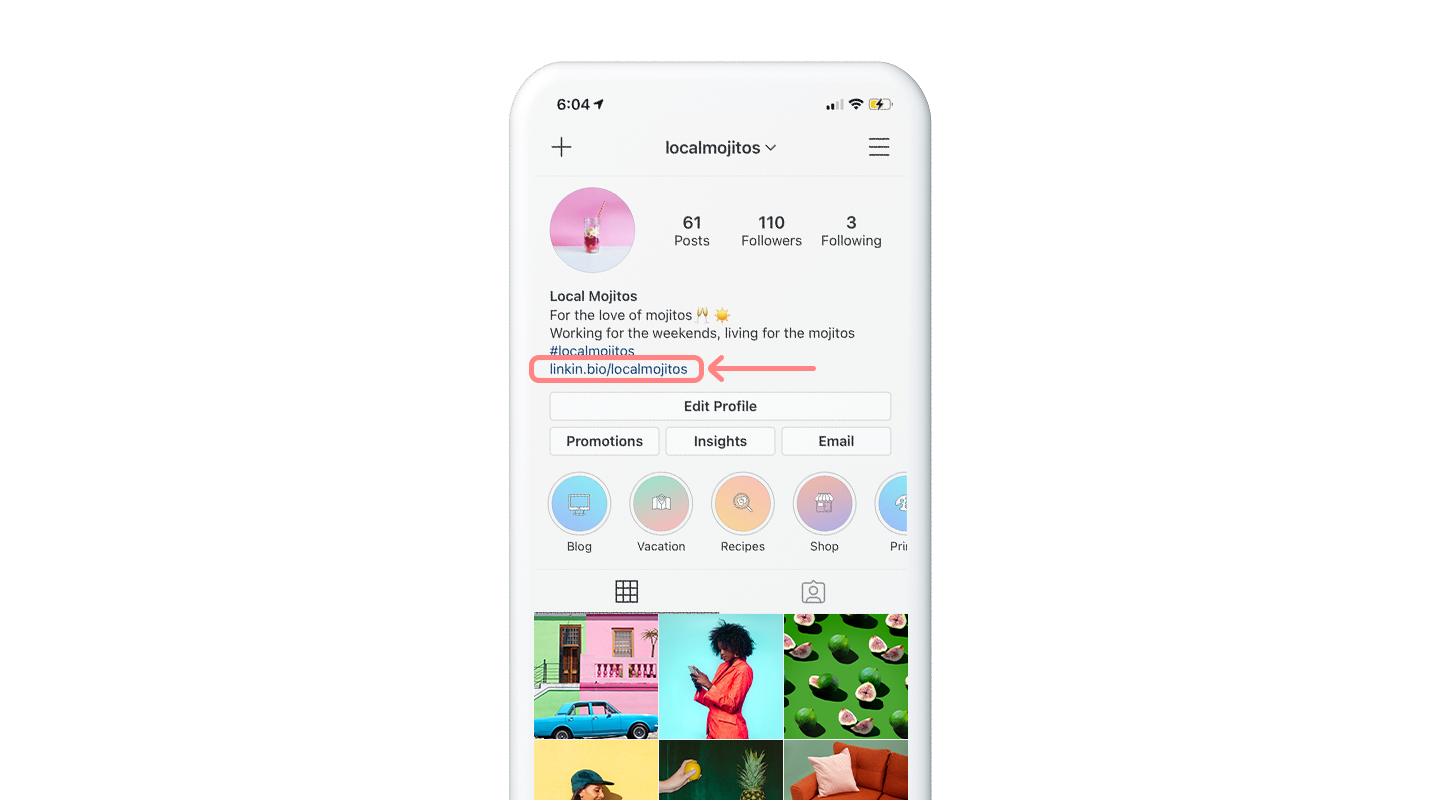 To add your Linkin.bio URL to your Instagram profile from Later:
Click

Share Link

Select

Copy

Open

Instagram

Navigate to your profile and select

Edit Profile

Paste the Linkin.bio URL into the website field
Click

Done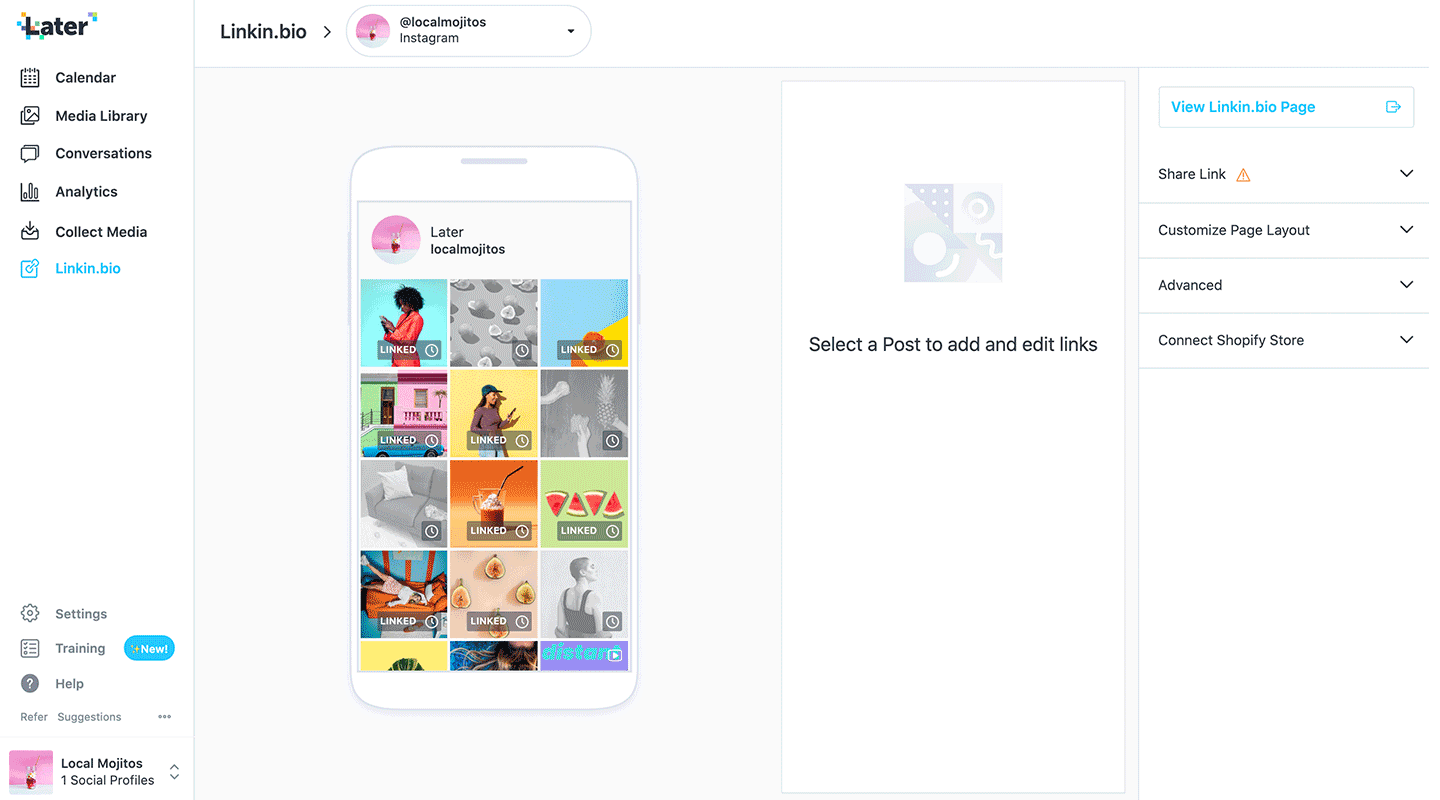 Congratulations — your Linkin.bio is live! Now, anyone visiting your Instagram profile will be able to check out your Linkin.bio page.
You'll also want to direct your audience to the link for more active engagement and increased readership. To drive traffic to content through Linkin.bio, start by telling your audience where to look.
There are two main ways to direct your audience towards Linkin.bio:
Mention Linkin.bio in post captions
Respond to comments with directions for Linkin.bio
It's best practice to mention Linkin.bio in the caption of every post that is linked.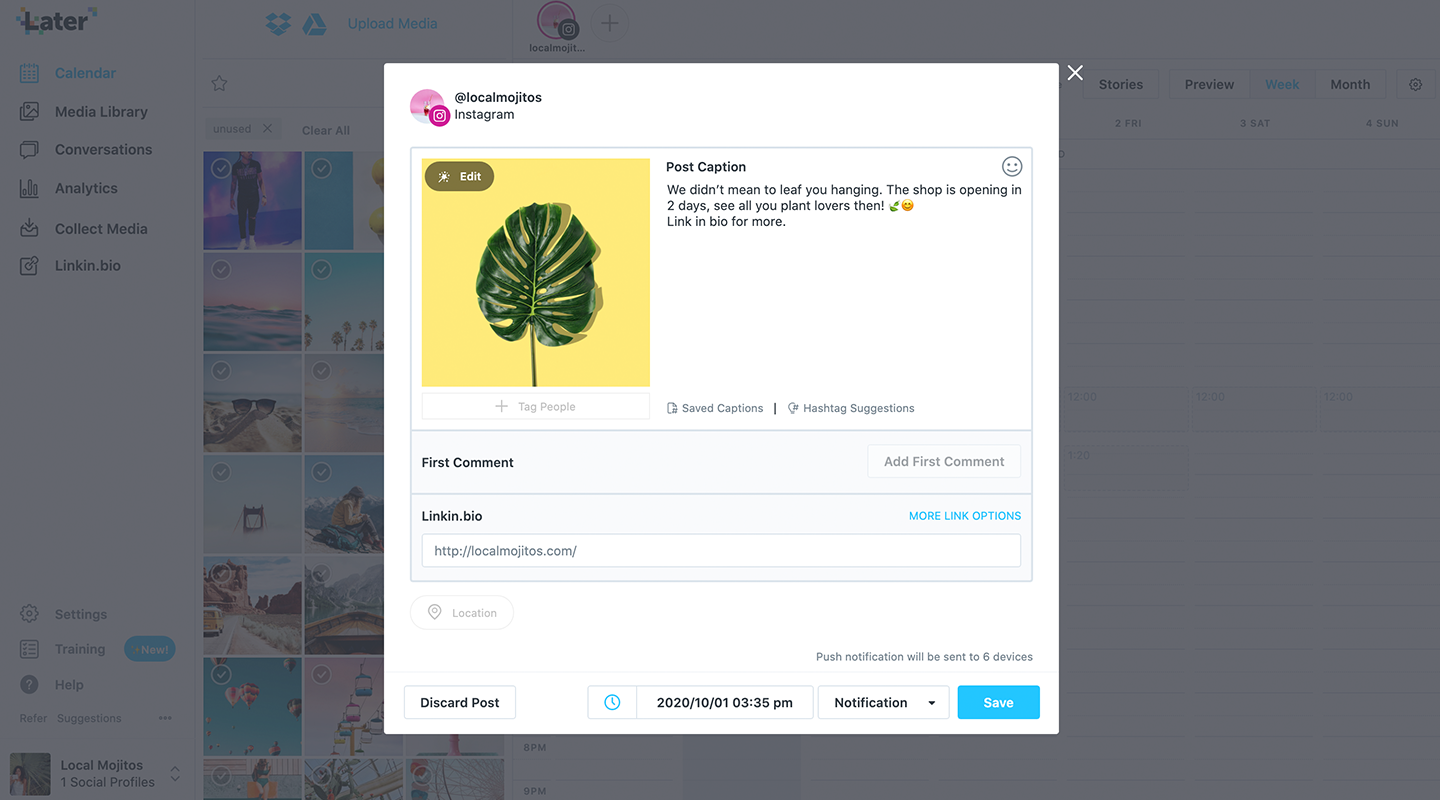 Ultimately, how you decide to mention Linkin.bio in captions or comments is totally up to you. What's most important is to keep it consistent and on-brand. When in doubt, opt for a simple, "Learn more at the link in bio".
---
Measure Linkin.bio Success
An essential piece of every social media strategy is assessing outcomes. Linkin.bio has built-in analytics tools to measure clicks and conversions.
When you use Linkin.bio to drive traffic to your content, you likely want to pay closest attention to engagement analytics.
Later tracks these engagement metrics:
Linkin.bio clicks
Pageviews
Click-through %
Clicks per post
Linkin.bio clicks
Linkin.bio clicks can be found on the Analytics page under Overview. It counts the total number of times all posts are clicked from your Linkin.bio page.
This metric tells you how frequently your audience is looking into Linkin.bio posts. Compared to how many Linkin.bio posts you publish, this metric explains if:
Your CTAs are clear and working
Linked content is drawing in an audience
Your Linkin.bio strategy is cohesive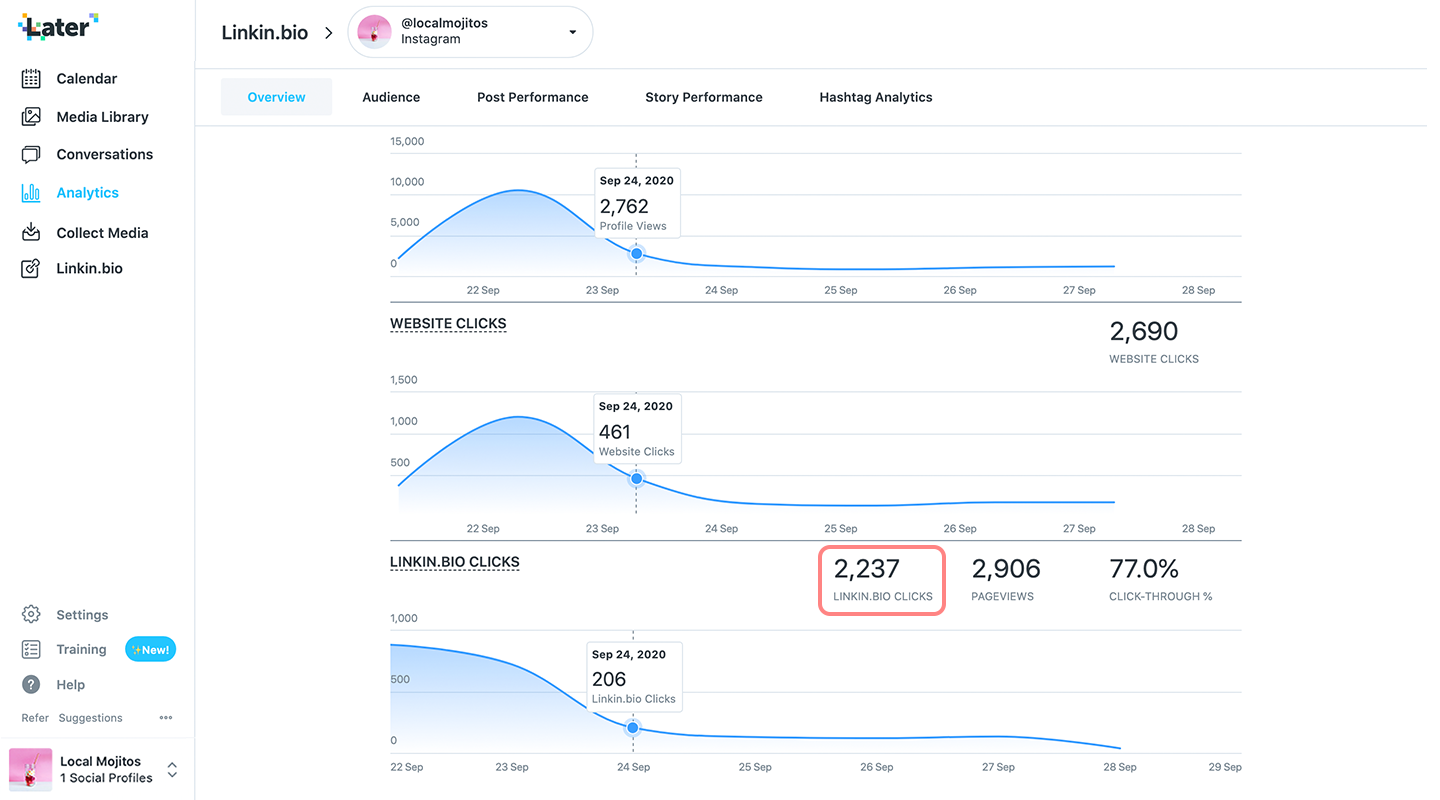 Pageviews
Pageviews are on the Analytics page under Overview. The Pageviews metric measures how many times your Linkin.bio landing page has been viewed.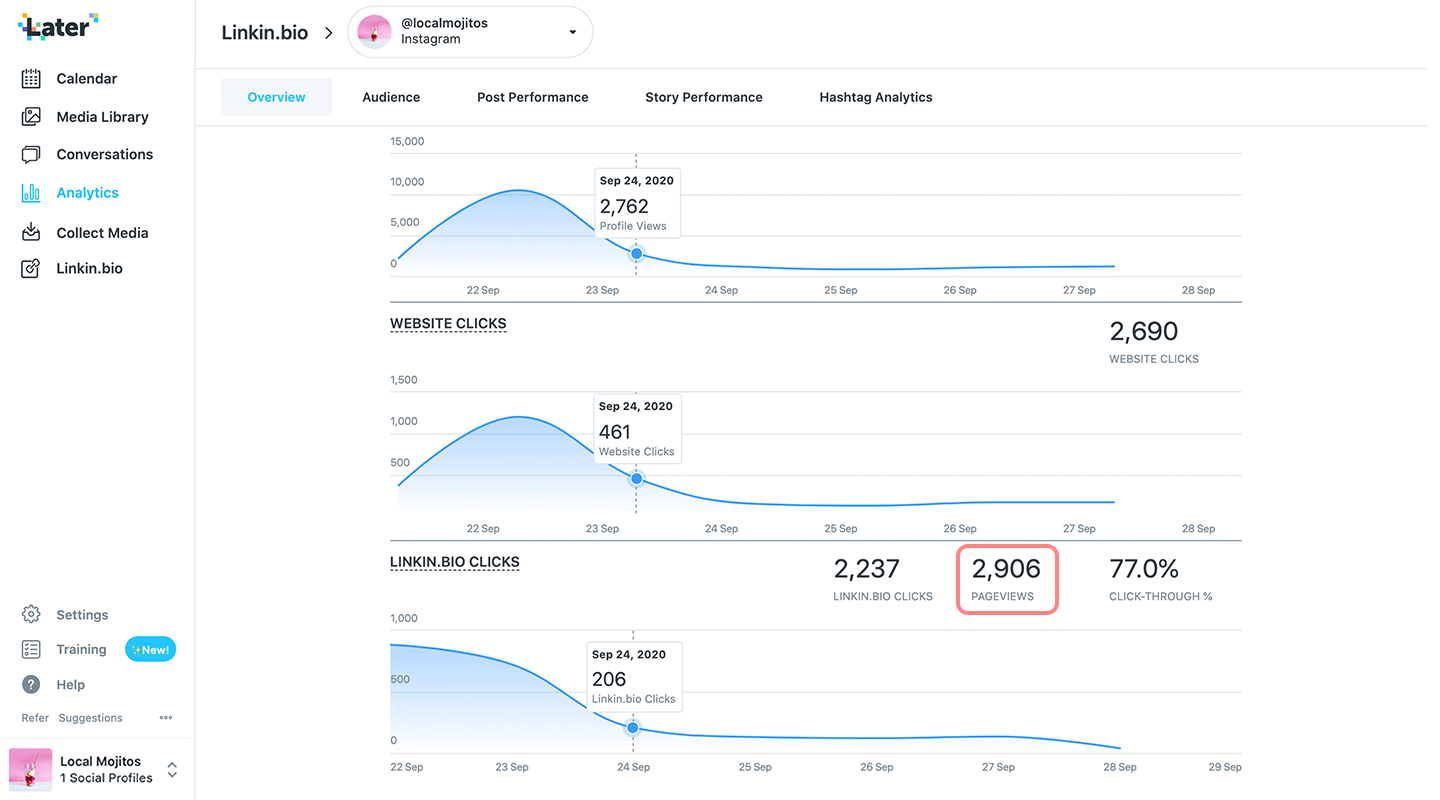 Click-through %
The click-through rate for Linkin.bio calculates the percentage of clicks on your Linkin.bio page in comparison with your Linkin.bio page views. This tells you the percentage of people who go to your Linkin.bio that actually click through to a linked article or report.
You can find your click-through % in the Overview tab of Analytics.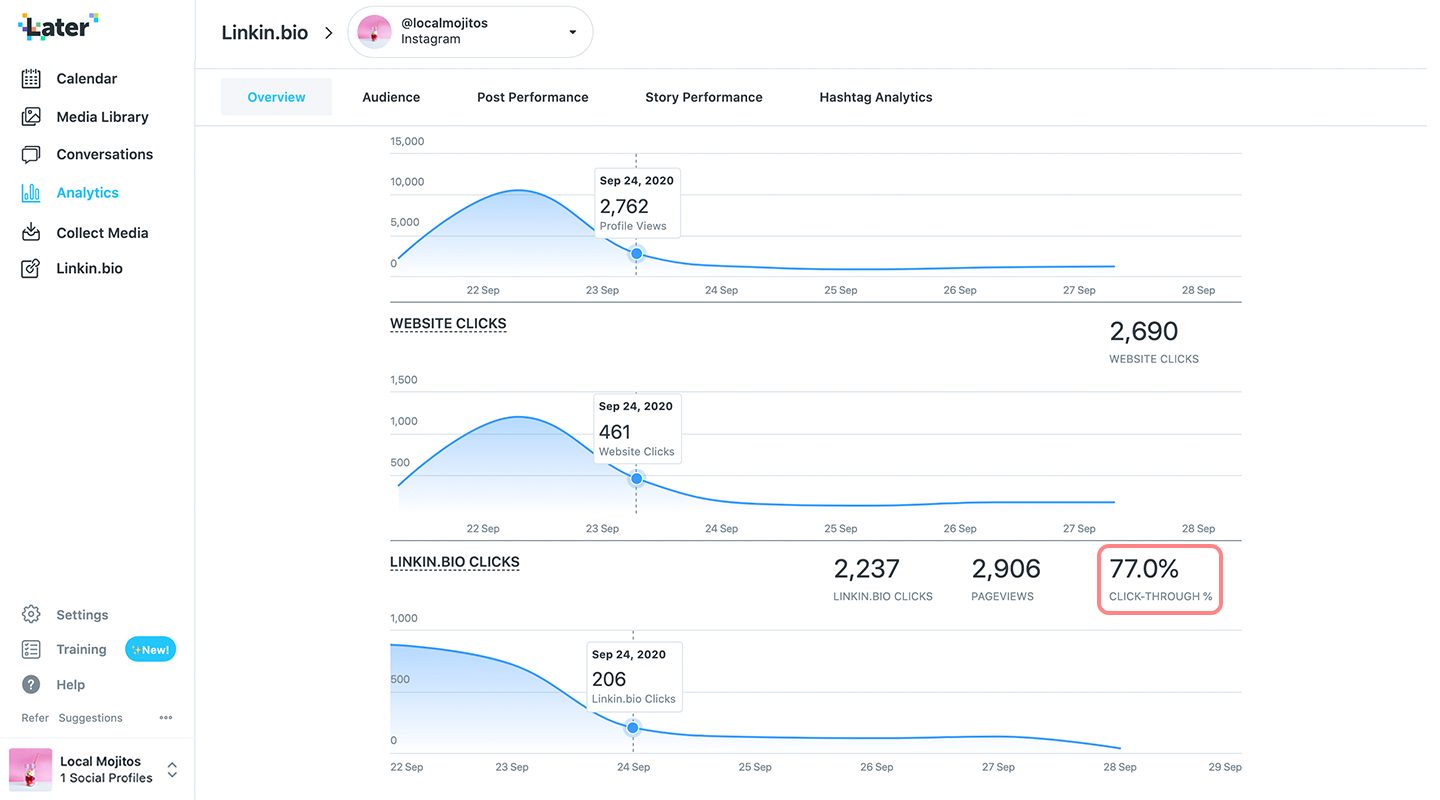 Clicks per post
Looking at how many clicks each Linkin.bio post has helps you understand what your audience responds to best. This could be content format, topics, or even CTAs.
Clicks per post can be found within the Post Performance tab of the Analytics page. If you use more than one link on a post, it will only show the post total.
Take note of which posts your audience engages with and if there are any trends. With this information, you can deliver finely tuned Instagram content that drives traffic or run tests for new content types.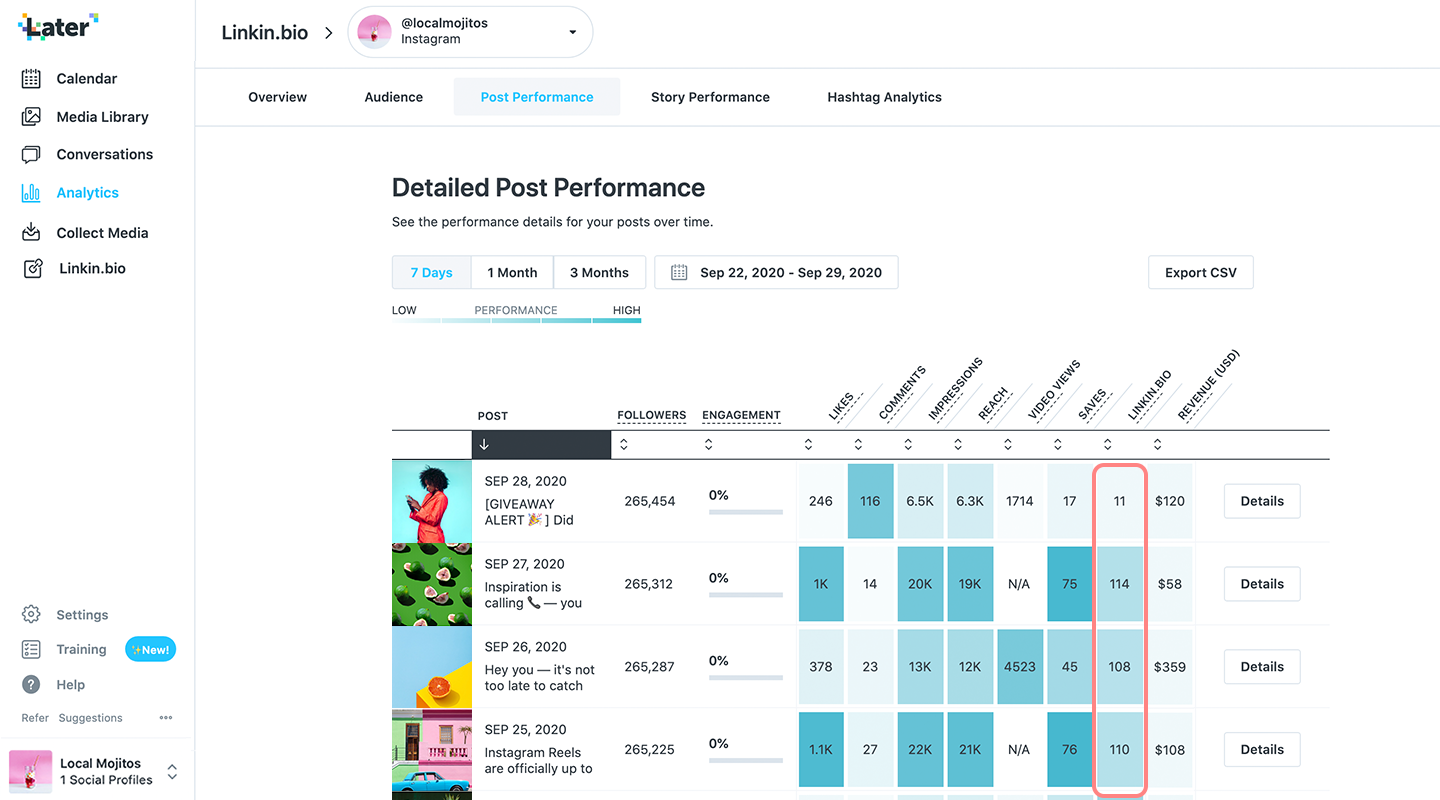 For example, you notice posts that use quotes receive more clicks than posts with images. This gives you the opportunity to use quotes more often, driving higher readership from more click-throughs.
Learn more about creating click-worthy content with this video from Latercon.
---
Next Steps
Linkin.bio is just one Later tool that boosts traffic. Learn more about features that drive readership, widen your audience, and automate marketing efforts.
In this webinar we discuss how to use the Visual Instagram Planner, improve strategy with analytics, and drive engagement with Linkin.bio
Read More >
Learn how to improve Instagram Stories performance by scheduling, publishing, and analyzing with Later.
Read More >
When is the best time to post on Instagram? The short answer: it depends on where your followers are located!
Read More >