Guide
Getting Started With Later
Getting Started
with Later
Social media management doesn't need to be complicated. With Later, boost your social performance without wasting time. New social trends are emerging everyday and you should be able to focus on building your business when it matters most.
Whether you're brand new or looking for a refresher,
this guide will help you get started with Later.
Whether you're brand new or looking for a refresher, this guide will help you get started with Later.
Uploading and managing media
Uploading and managing media
Media Items are images and videos used to schedule posts within Later. Managing, organizing, and adding to your Media Library will help you quickly plan posts and keep all your marketing on-brand. Consistently adding Media Items also means you'll have access to the most up-to-date content to edit, caption, and schedule.
Adding media to the Media Library
You can import photos and videos to the Later Media Library from the web or mobile app. Add everything directly from your device, Google Drive, or Dropbox by selecting from files or dragging and dropping into the Media Library.
Your Media Library automatically and instantly syncs across devices making it easy to work from a desktop or mobile whenever you'd like. That means once your content is uploaded, you can get started with scheduling posts straight away.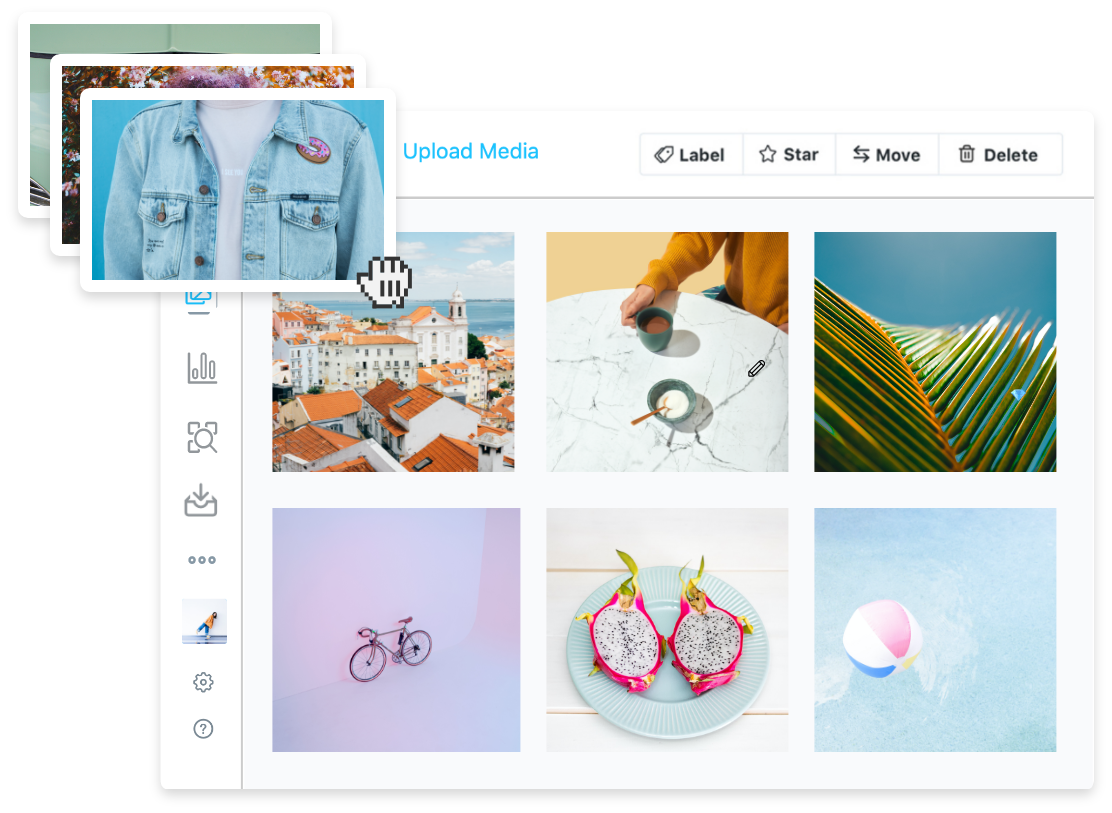 Labels and Notes
Before diving into publishing, you probably want to take a second to organize all that fresh, new content with Labels and Notes. Setting yourself up for success will take a couple minutes upfront, but once you do, scheduling will be quick and straightforward.
Labels are a great tool to organize content based on color, mood, product, or anything else.
To add and edit Labels:
Navigate toMedia Library
Select

MANAGE

next to My Labels
Add a Label to the text box and select

+

to add
Select

Done

or click the

X

in the top right to exit
Here, you can also delete, search, or rearrange Labels so they continue to suit your needs.
Adding Labels can be done individually or in bulk. To Label multiple media items, select all the content you'd like to Label from your Media Library, click Label on the top right, then select any and all Labels you want to apply.
To Label a single photo or video, select the item and either apply a Label that's already set up or add a new one.
Media notes are another great way to organize and prepare your content for publishing. Like Labels, it takes a little work at first but it's worth it in the long run.
Notes are attached to specific media items, making them an easy way to communicate information with teammates, draft captions, or save hashtags. When you schedule a media item for publishing, your note will automatically be added as the post's caption.
Add Notes from the side library on the Calendar page or from the Media Library.
To add a new Note:
Select a media item
Click

EDIT

Add your note or caption
Select

Update
TIP: If you get stuck trying to manage your notes, check out this quick guide on Media Notes.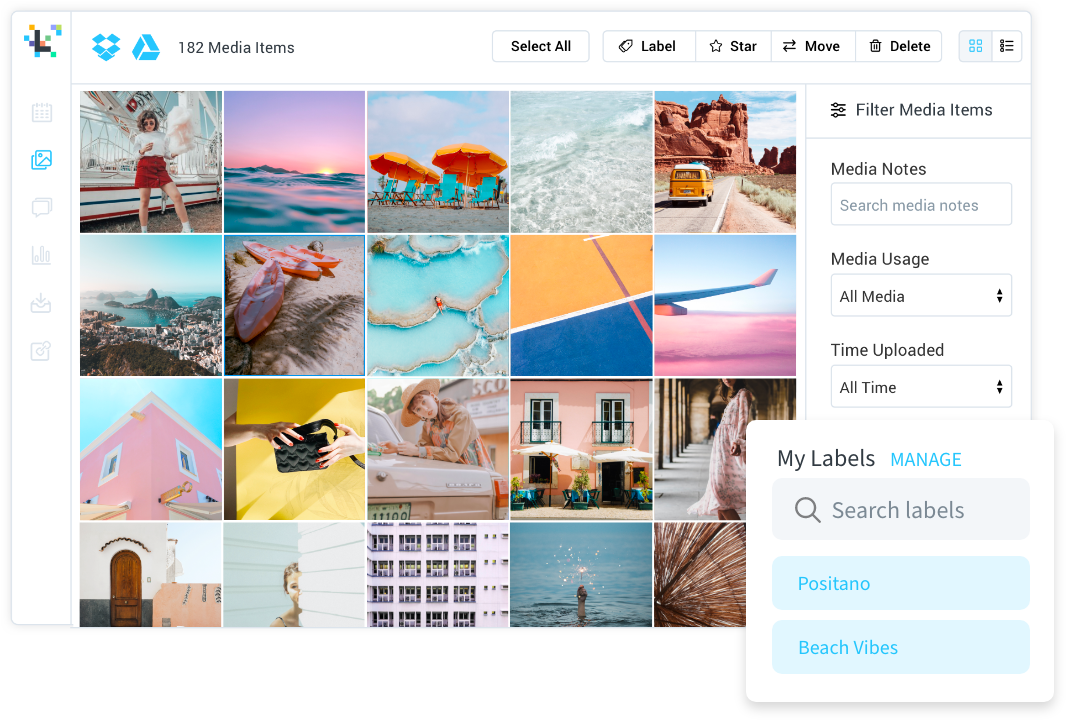 Scheduling for Instagram
Scheduling for Instagram
Later's visual approach to social media is Instagram's best friend. Beyond streamlining your aesthetic, Later's scheduling tools make posts more strategic, effective, and best of all, easy to set up.
In this section, we'll be discussing the different ways to schedule an Instagram post through Later. A post, here, means a video, image, or group of images (carousel) published to your profile. In a later section we'll discuss scheduling and posting Instagram Stories.
Profiles and scheduling
Scheduling options with Later depend on the type of profile you have with Instagram and Facebook. Later communicates with Instagram through an API, Application Programming Interface, that sets limitations on who can publish scheduled media automatically and who cannot.
Business profiles get the most out of Later and, unlike Personal or Creator profiles, they can take advantage of the Auto Publish feature (don't worry — we'll get into what all this means in a second).
If you haven't done so yet, follow these instructions to switch to a Business profile with Instagram.
TIP: Check out this list detailing the differences between Instagram profiles to help you decide which option best fits your needs.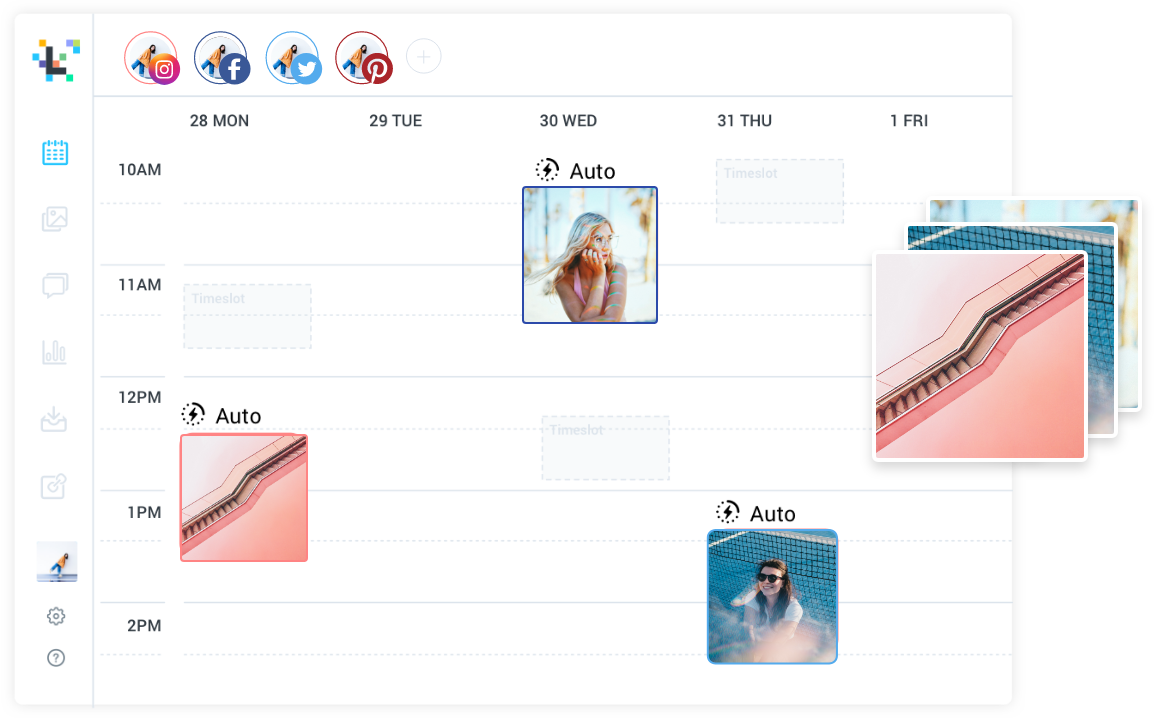 Auto Publish or notification publish
With Later, publishing to Instagram is easy and convenient — schedule with Later on the web or on the go from mobile. Now that you have media uploaded, head to the Calendar to schedule some posts.
There are two main publishing methods: Auto Publish and notification publish. Notification publishing can be used for all accepted media types and all Instagram profiles.
Auto Publishing to Instagram is only available for business profiles and single image or video posts. Due to limitations from the Instagram API, Multi-Image posts and Instagram Stories cannot be Auto Published.
To publish your post through notifications, you will need to have access to the Later mobile app. When it's time to publish, a notification will be sent to your mobile device from the app. When you open the notification, the media will be automatically saved to your camera roll and the caption will be copied to your clipboard.
All that's left to do is open the Instagram app, select your media, and paste in the caption. Then, you're ready to publish!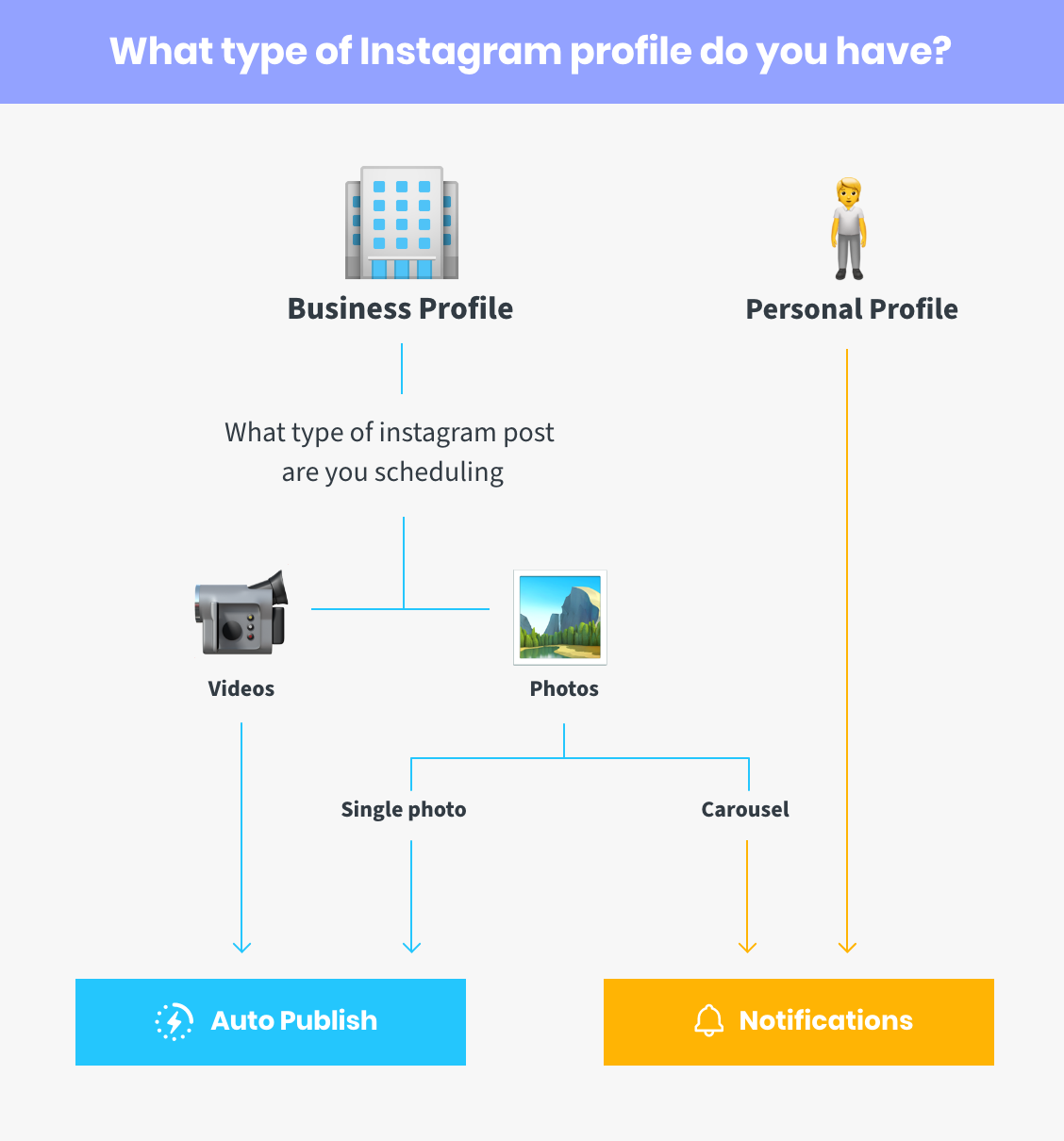 Enabling Auto Publish
Unlike posting through notifications, Auto Publish allows you to schedule a post that will be automatically published to Instagram without any additional steps. The first time you log in to Later you will be prompted to set up Auto Publishing through a pop-up in the app that asks you to authenticate your Facebook account.
To enable Auto Publishing on the web at any other time:
Disable pop-up blockers
Go to the Calendar page
Schedule a new post OR open a scheduled post
Select the

notification

button
Click

Connect Profile

Log in to the Facebook profile that is an admin for the Facebook Business page connected to your Instagram account
Enable permissions for the connected Facebook Business page
Note: If this doesn't work, check the correct Facebook Business page is connected to your Instagram account. Do this by opening Instagram, selecting Edit Profile and then Page. It should match the page you set up with Auto Publish and Later.
Having trouble setting up Auto Publish? This guide has all the details.
After enabling, all future posts will be set to Auto Publish and you can edit any previously scheduled notification posts to Auto Publish, as well.
If, at any time, you would like to use notification publishing, select it from the drop down menu when editing or creating a post.
Refreshing credentials
Every once in a while you may need to refresh your social profile credentials with Later, including after setting up Auto Publish. These credentials are how Later and Instagram, Facebook, Twitter, or Pinterest interact with each other.
Your credentials will need to be updated every two months. They may also expire if you change your Instagram or Facebook passwords or if unusual activity is suspected (as a security measure).
To refresh your credentials:
Open your Settings
Select

Social Sets & Access Groups

and then

Details

Click

Refresh

next to the social profile you want to refresh
Login to the social network using that platform's username and password
If nothing happens after selecting Refresh, ensure all pop-up blockers are disabled before trying again.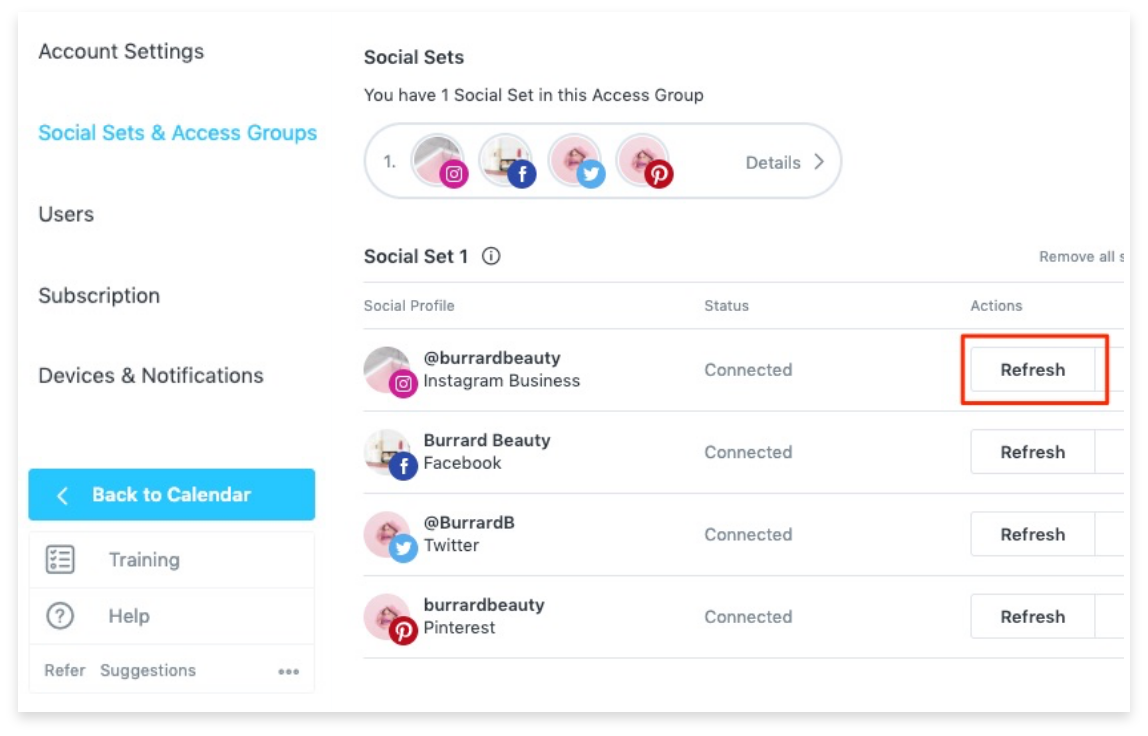 Planning posts
Media uploaded, Notes and Labels updated, Auto Publish enabled -- check, check, check.
Seems like you're ready to jump into the world of scheduling. It's important to plan and optimize Instagram content for your current and potential audience. By posting the right media at the right time you'll be well on your way to reaching your Instagram goals.
Scheduling your first post
Here, we'll focus on scheduling from Later's Calendar page. If you're interested in reading up on mobile scheduling with Later, this article will help you out.
To schedule a single image post:
Select the image you want to publish from the side library
Drag the image onto the

Calendar

Release on the

day and time

you want the image to be published
A pop-up will open, and this is where you will add post details and edit the image. In the caption field, write a snappy caption to accompany your media or edit any Notes that have been converted to captions.
Within the scheduling pop-up, fine tune the post's day and time, toggle from Auto Publish to notification Publish, and finally save when you're happy with all the details.
Before you leave, let's make the most of the other features to increase your post's reach on Instagram.
Improve your post's performance
Gone are the days when Instagram marketing was just image posts and captions. Using Later, you can optimize your posts to have a wide reach while, most importantly, targeting the right audience.
Tagging users and locations
Tagging relevant accounts and locations will share your post with other people and increase its discoverability. Any users or locations tagged in scheduled Auto Publish posts will be included when it's published.
To tag users:
Select

+Tag People

Type username (without a @)
Set tag placement on image
Click

Save User Tag

Optional: tag additional users
Select

Done
Note: Tagged users must have a public Instagram account.
To tag a location:
Click

Tag Location

near the bottom left of the pop-up
Begin typing the location name
Select from the list of suggestions
Keep in mind that you can only apply one location tag per post. To remove a location tag, click the location button again and select Remove Location.
First Comment
If hashtags and comments are a part of your Instagram strategy, First Comment is a feature worth exploring. It allows you to automatically schedule and post a comment at the same time your post goes live.
To use First Comment:
Click the

First Comment

button
Compose your comment in the text box
Add emojis by clicking the smile
The First Comment will be connected to the scheduled post by clicking Save in the bottom right corner of the pop-up.
The first comment on Instagram is usually used to post hashtags separate from the caption to keep a simple look. But, it can also serve as a great way to build community by posing a question that encourages users to engage organically. Try experimenting with different approaches to First Comment and keep an eye on what your followers respond to.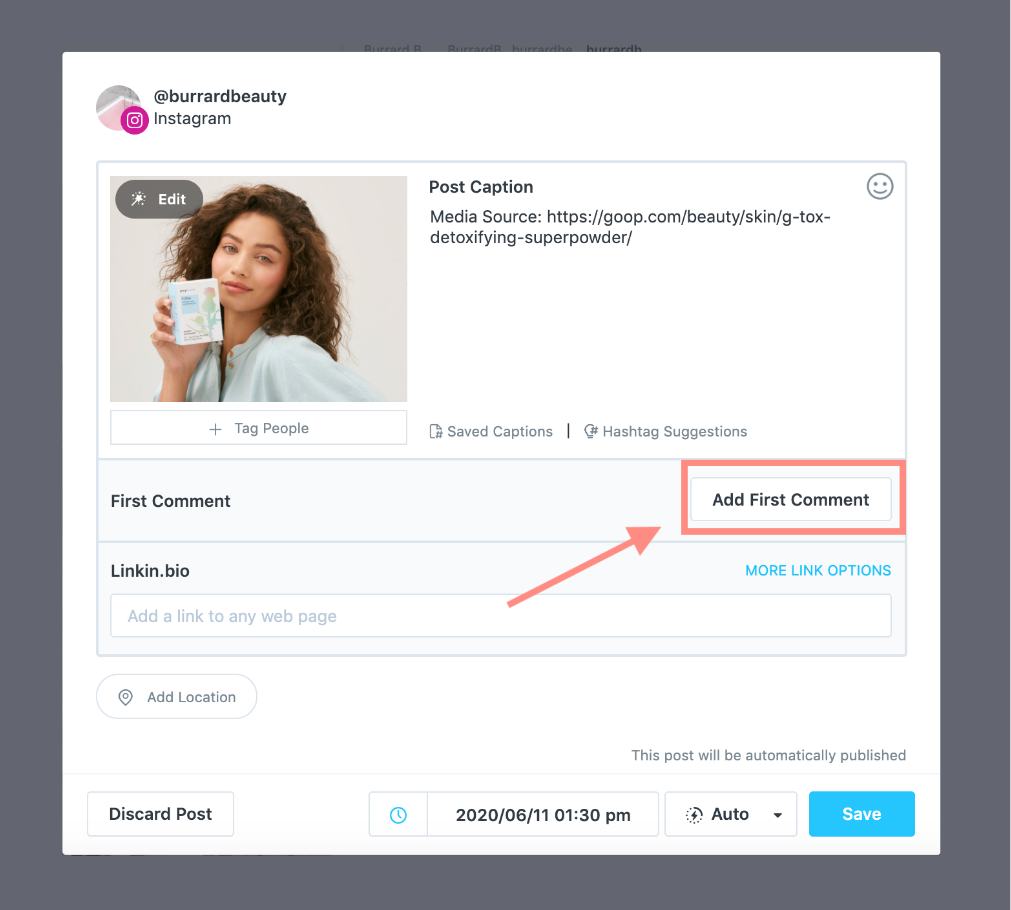 Saved Captions
With Saved Captions you can draft captions in advance when creativity strikes. Use Saved Captions to standardize posts and keep your written content organized. They can be slotted into post captions or First Comment, making them a great way to save high performing hashtags, too.
To create a new Saved Caption from a post:
Open

Saved Captions

Click

+

in the top right corner
Add a title and a caption
Select

Save Caption
You can search, edit, or delete Saved Captions from here, too.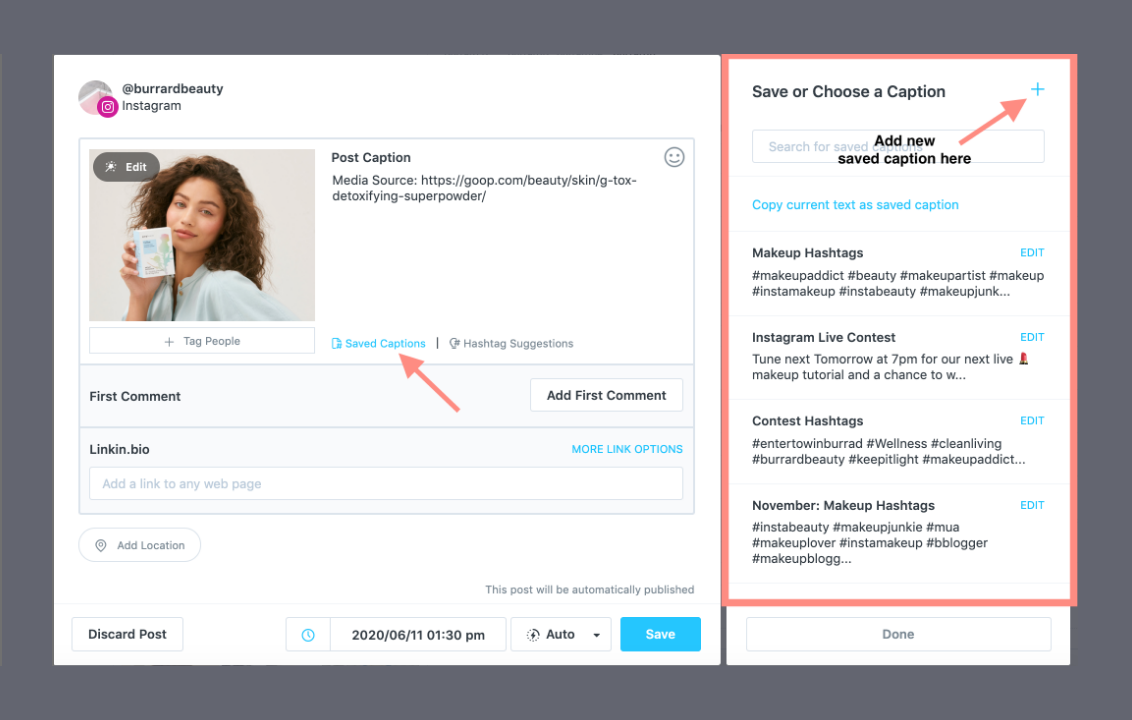 Hashtag Suggestions
Like tags, hashtags have the power to share your content with more people and boost engagement. They can be tricky to master, though, and may take some fine tuning.
A very popular hashtag will be seen by a lot of people, but maybe not the right ones. Hashtags that are too niche won't be discoverable. With some testing you'll find the strategy that strikes the right balance for you.
Hashtag Suggestions will share up to 30 relevant hashtags with you, sorted by relevance from top to bottom.
To use Hashtag Suggestions:
In your post creation pop-up, click

Hashtag Suggestions

Add a hashtag or relevant term into the text box
Choose the hashtags you want to use by clicking the check mark or Select All
Select

Insert Hashtags

Click

Done
Note: Hashtag Suggestions are only available for Later Business plans.
Try including the suggested hashtags in post captions or a First Comment. If you experiment with different hashtags, you'll notice what hashtags attract your ideal audience. Saving those hashtags to Saved Captions will make post scheduling super quick and easy.
Best Time To Post
Like many things in life, marketing is all about timing. Sharing content with your audience at just the right moment can impact who engages and how. The Best Time To Post feature inspects your top Instagram posts for high-performing days and times and adds them directly into your Calendar.
To enable Best Time To Post:
Head to the

Calendar

In the top right corner, click the gear to open Calendar Settings
Turn on Best Time to Post
Select

Update Settings
It may take a little time — up to an hour — for your Best Time To Post to be calculated. Once Best Time To Post is enabled, the Calendar page will need to be refreshed. The Best Time To Post suggestions will be highlighted in the week view on the Calendar once it's ready to go.
Note: Best Time To Post is only available on Later Business accounts with at least 50 posts in the past 6 months. Learn more about Best Time To Post with this article.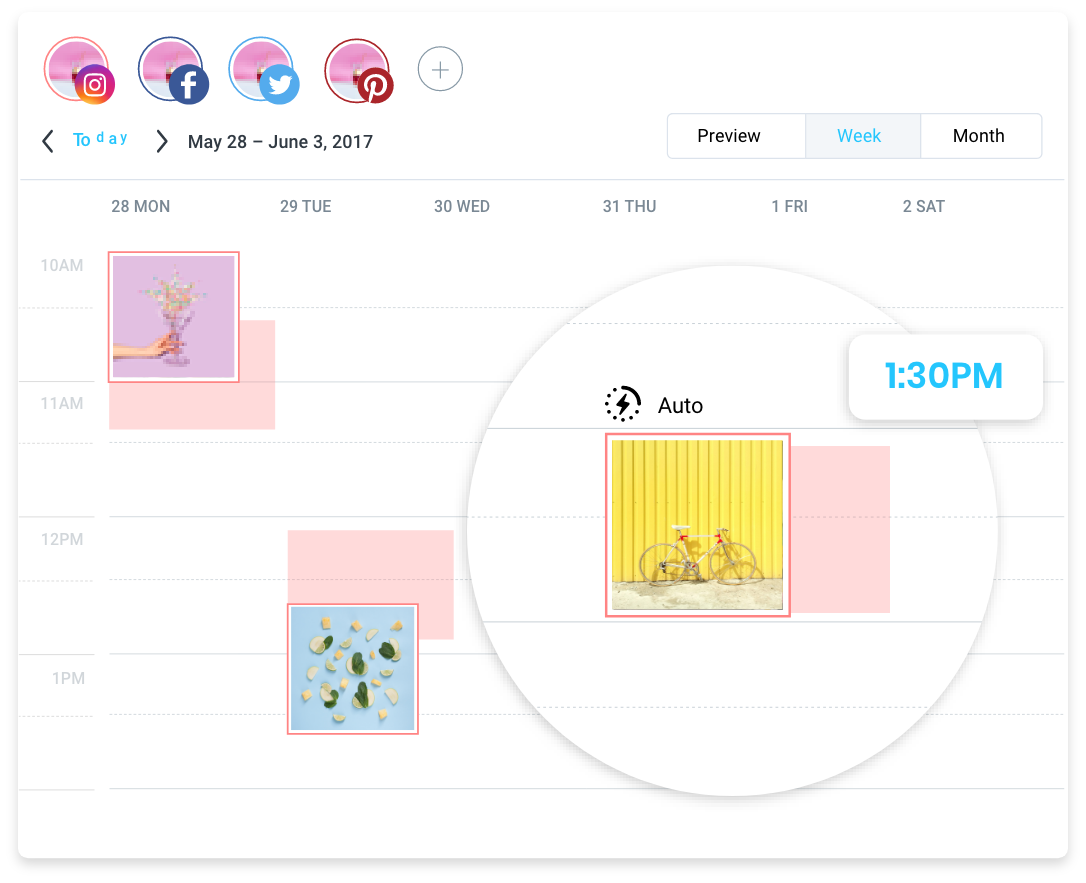 Quick Scheduling
You now know when to publish and you're ready to schedule all the posts. Quick Scheduling allows you to schedule media to your Calendar at pre-set, recurring days and times.
Before using Quick Scheduling, you'll need to set up a weekly schedule. If Best Time to Post is already enabled, it's recommended you use these suggested days and times.
To add a weekly schedule for Quick Scheduling:
Make sure you are on the weekly Calendar view
Double-click a time slot to open the Quick Schedule wizard
Click

Get Started

Input the days and times for Quick Scheduling
Select

Next

and

Finish
That's it, you're ready to go!
To use Quick Scheduling:
Select media from your side library in the exact order you want them to be published
Click the

Quick Schedule

button on the bottom right of the side library OR drag the media to the top of the page and release
By default, all Quick Scheduling posts will be set to notification publishing. To turn on Auto Publishing, each post will need to be edited.
Learn more about all the ins and outs of Quick Scheduling here.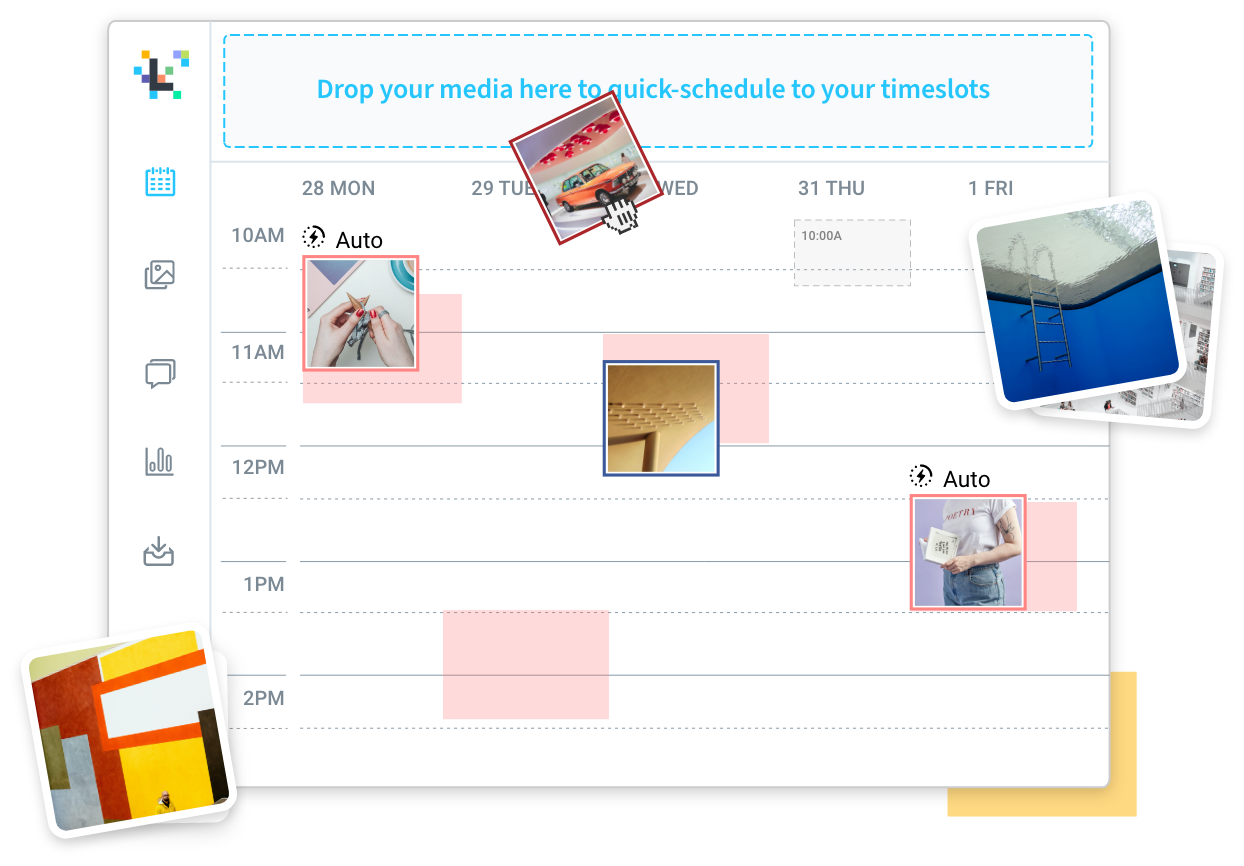 Visual Instagram Planner
Ever wanted to see how your posts will look on your feed before you publish? Plan your profile's aesthetic with Visual Instagram Planner.
Your Instagram profile is like a website for new followers and potential customers. You want to communicate who you are and what you do with a quick glance and scroll. Most importantly, you want an aesthetic that is well planned, polished, and on-brand.
Visual Instagram Planner will show you a preview of how your content will appear on your profile. It also allows you to drag and drop scheduled posts to arrange the perfect look.
Head to the Calendar page and select Preview to launch Visual Instagram Planner.
To use Visual Instagram Planner:
Select media from the side library
Click

Add to Preview

or drag and drop the media on to the Visual Planner
Rearrange media by dragging it to the preferred position
Delete media by

selecting the x

in the top right corner of the image
Click

Save Changes
The day and time of the publishing schedule is on the right side of your screen. When scheduling with Visual Instagram Planner, posts will be set to notification publishing even if you have Auto Publish enabled. Edit the publishing method, captions, and other details from the Calendar view.
Some things to keep in mind:
Posts that are already published to Instagram cannot be rearranged
Only 60 posts can be shown at one time on Visual Instagram Planner
Published posts cannot be deleted from Visual Instagram Planner
Notes added to media before scheduling with Visual Instagram Planner will be automatically converted to captions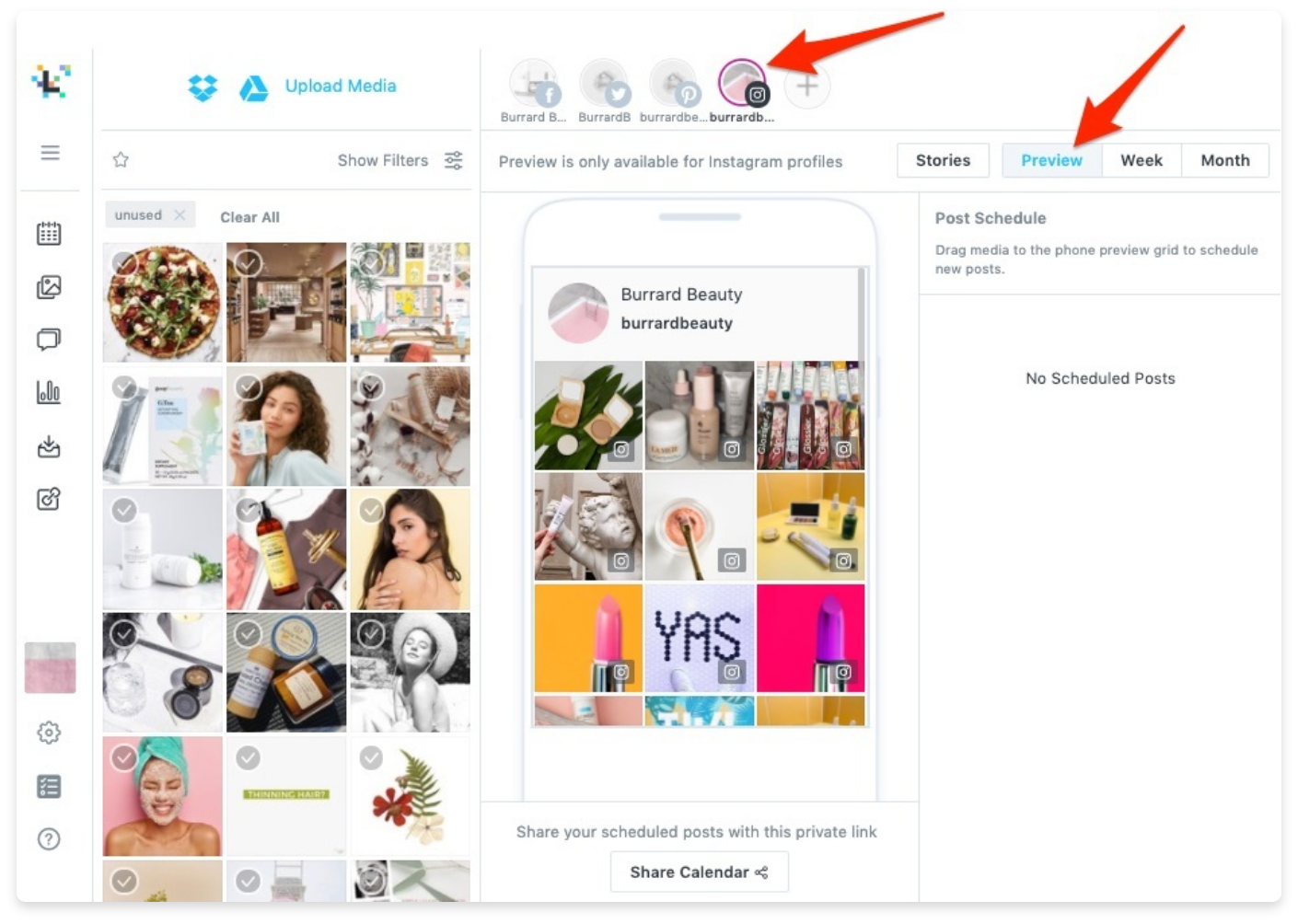 Scheduling for Facebook, Pinterest, and Twitter
With Later, you can coordinate your social media marketing across multiple platforms with Social Sets. These groups of profiles are called Social Sets because each one represents your business or persona across social networks.
For example, a social set would include the Instagram, Facebook page, Twitter, and Pinterest of one business or person. Think of it like a collection. If you manage multiple businesses or social personas, establishing additional Social Sets will organize their respective social accounts.
Adding additional profiles
Connecting Facebook, Pinterest, and Twitter accounts to Later can be done from the Calendar or from Settings.
To add a profile from the Calendar:
Click the

+

next to the

Social Set

Select which social network you'd like to connect and click

Add Social Profile

Log in with the credentials associated with that social network
To add, remove, or edit social sets, head to Settings and select Social Sets and Access Groups.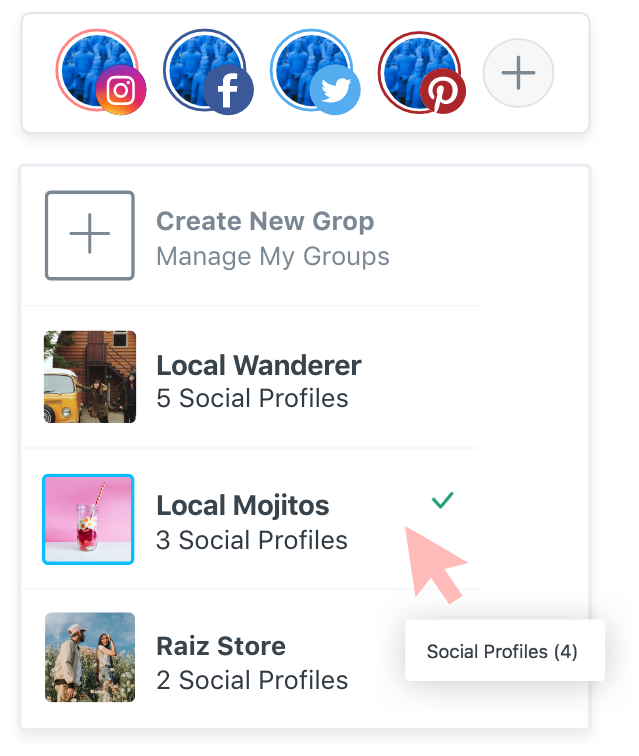 Scheduling to multiple networks
Publishing media to all your social networks is a great way to build brand and trust. When done right, your audience will begin to expect consistent and platform-specific content. To save time with Later, you can schedule media across multiple networks at once while adding the necessary edits to make it really pop.
To schedule for multiple social networks:
Click

+ on the Social Set icon for each network you'd like to schedule to

Select the

media item

you wish to schedule from the side library
Drag it to the

Calendar

Drop on the day and time you wish to publish the posts
Edit the posts for each social network in the pop up
Every network has its own quirks and it's important to optimize each post for maximum engagement. Some things to keep in mind when scheduling posts to other social networks:
Publishing to Pinterest requires a board to be selected
Cropping media to each platform's size with the editing wizard
You can add text to images when editing
Navigating the world of social media marketing doesn't have to be complicated. If you're unsure about what to post to each network, check out this guide. It'll walk you through how to set up a cross-platform social media plan that targets your ideal audience.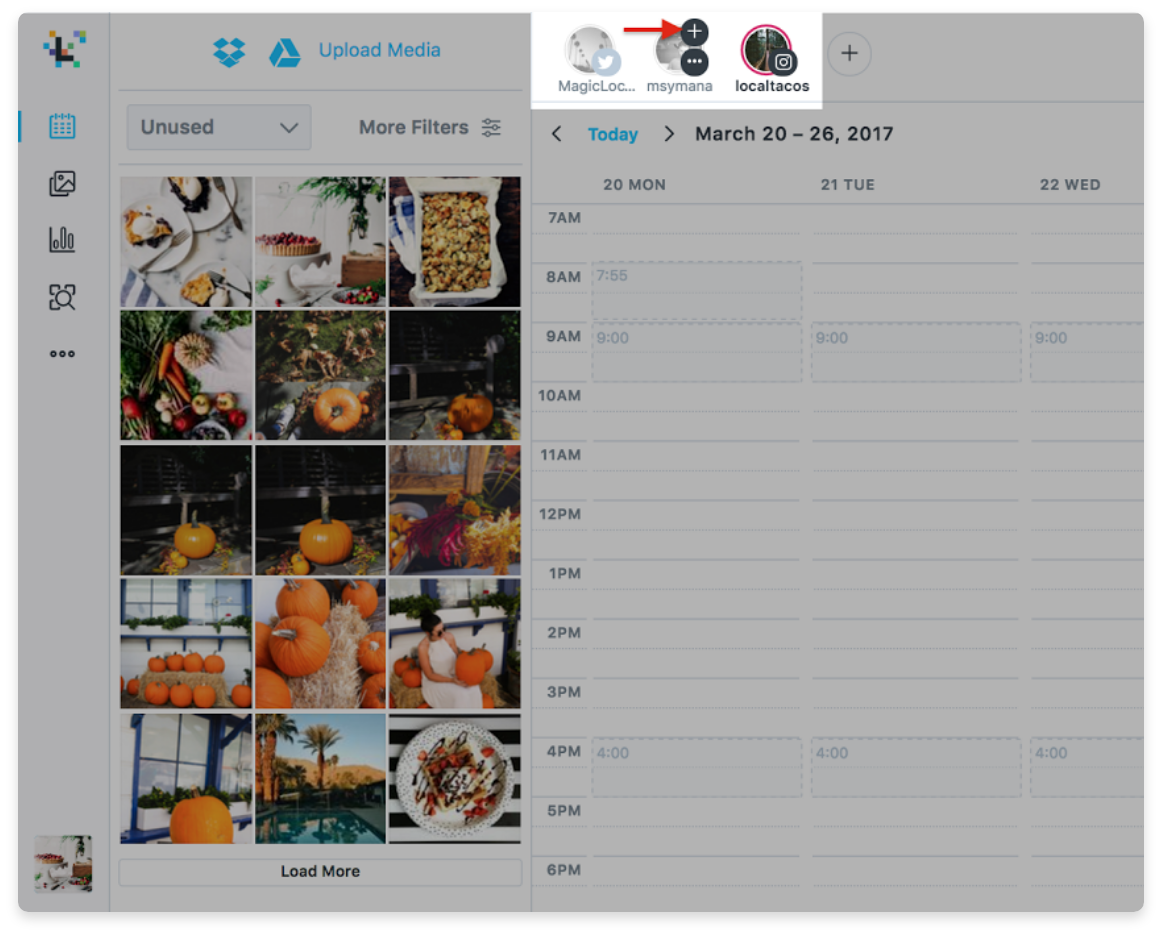 Instagram Stories
Stories have become just as powerful of a marketing and community tool as posting to the feed. Including them in your marketing plan is crucial to stay top of mind with your audience and grow your following.
Here, we'll focus primarily on getting up to speed with scheduling Instagram Stories in Later. If you'd like to learn more about how to supercharge your Instagram Stories strategy, check out this Ultimate Guide to Instagram Stories for Business.
To schedule Instagram Stories:
Open the Calendar page on the web
Select

Stories

on the top right of the page
Choose media items from the side library by clicking the

check mark

Drag the media items to the

day and time

you want them to publish
Click the

clock

to edit the publishing time
Drag media items to rearrange the order
Select

Edit

to crop images, add text, or try a filter
Input captions or URLs to the

Add Clipboard Text

field - this text will be automatically saved to your clipboard to crop images, add text, or try a filter
Click

Save Story

And, voila! Your Instagram Story is scheduled to publish. When it's time to post, a notification will be sent to your phone from the Later app. Opening it up will save the images to your camera roll and the Clipboard Text to your clipboard. All that's left to do is head to Instagram and add a new Story.
Due to limitations with Instagram's API (the connection Later has with Instagram), at this time Stories can only be published using notifications.
Some things to consider when scheduling Stories:
Instagram Stories can only be scheduled from Later on the web
Each scheduled Stories board counts as one post
If more than one Instagram profile connected to Later, make sure the correct account is selected
Stories timeline is shown horizontally (Calendar is shown vertically)
If your story has a video longer than 15 seconds and you use the iOS app, you must publish the video separately due to iOS limitations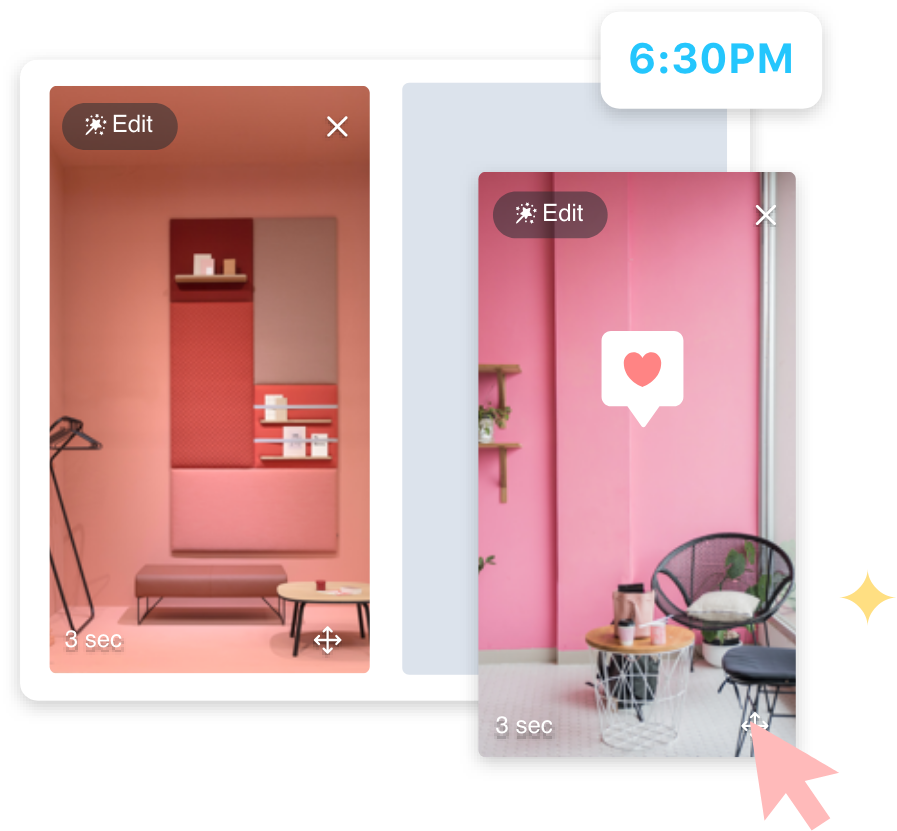 Next steps with Later
Next steps with Later
Congratulations -- you're ready to roll with Later! With the basic features in your toolbelt, you're ready to publish powerful posts across all your social media platforms.
There's a lot more that Later has to offer, from Linkin.bio , to analytics , and Conversations. Luckily there are tons of free resources available to support all your visual marketing needs.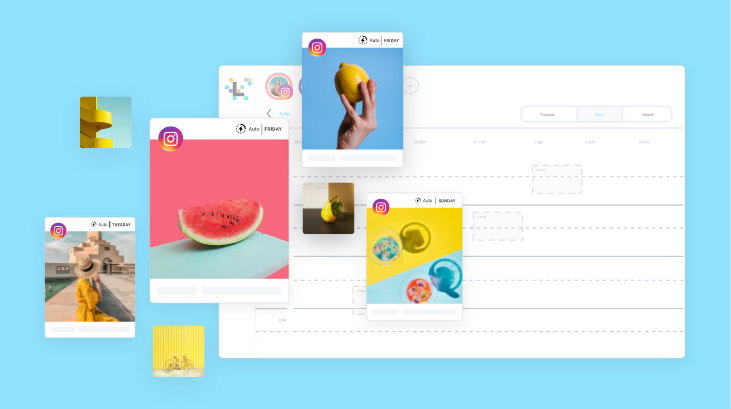 How to Save Time Planning
Your Instagram with Later
Lessons for saving time while building your Instagram strategy with Later
Contributors
Collect photos and videos from your content creators with Contributors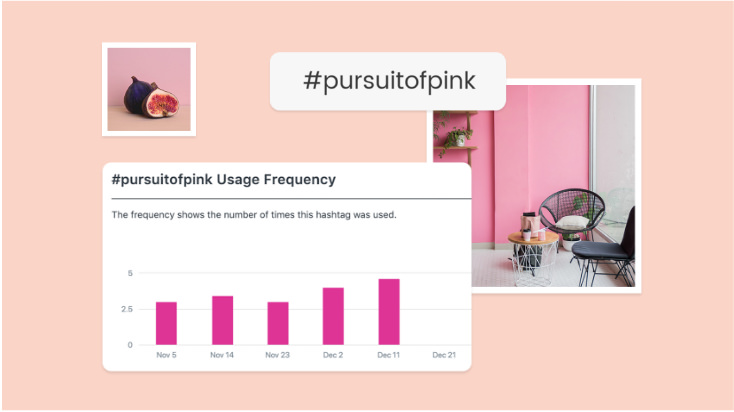 Hashtag Analytics Guide
Track which hashtags are driving the most likes, comments, impressions, saves, and reach on your Instagram posts.