Getting Started With Social Sets
When you manage the social channels of multiple brands or locations, the profiles quickly add up. With Later's Social Sets you can organize all your profiles based on identity. Scheduling with Social Sets will save time and seamlessly build all your unique brands at once.
Each Social Set includes up to one Instagram, Facebook, Twitter, TikTok, LinkedIn and Pinterest profile. You don't need to add all the social profiles for a Social Set to work, but you cannot add more than one. For example, one Social Set cannot contain two Instagram profiles.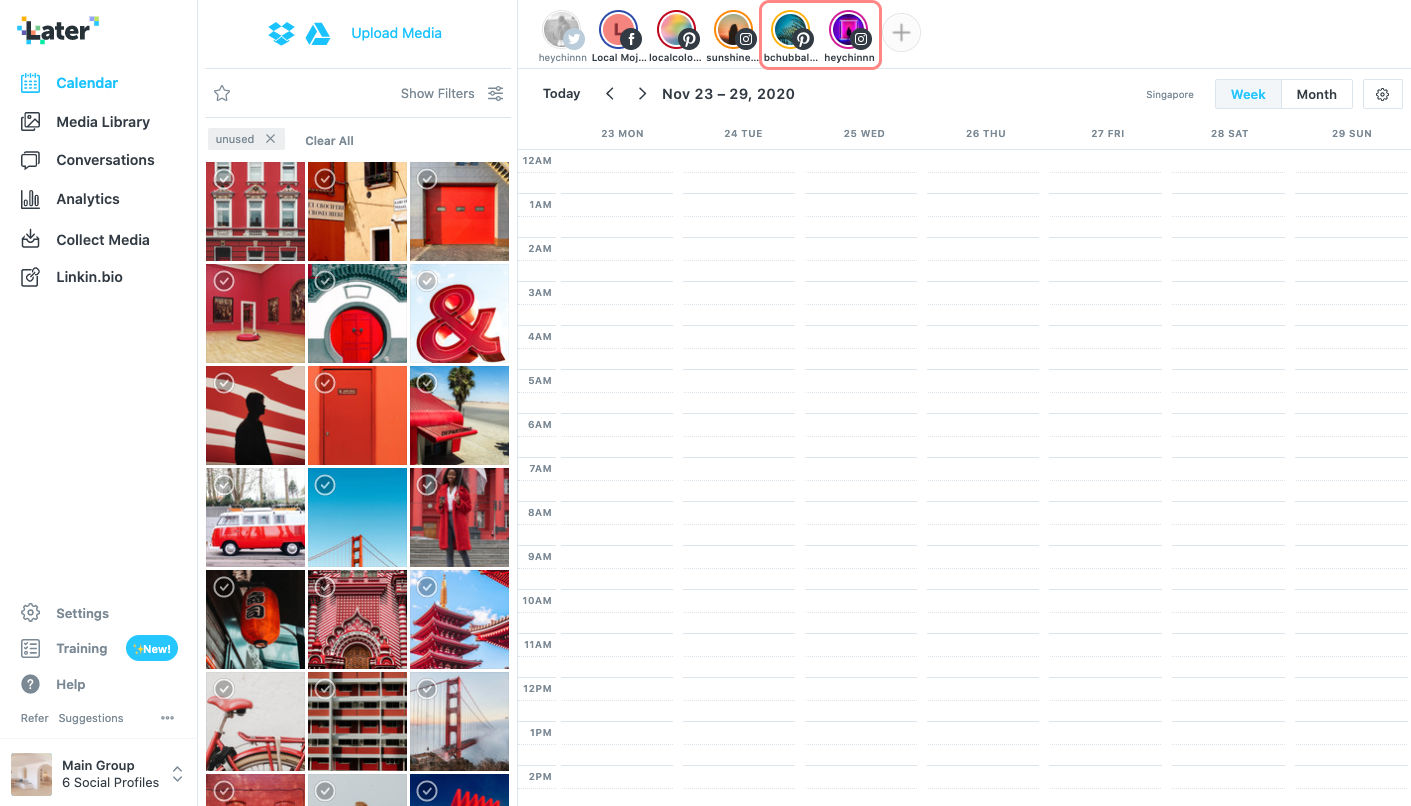 Need to visualize multiple channel's upcoming posts or schedules? Just toggle on Social Sets and profiles from the top of the Calendar page. With Social Sets, you have the power to schedule the same content across all, or some, of your profiles as long as they are in the same Access Group.
Building campaigns for your next sale or announcement can be done all at once instead of once for every profile and network. You'll save time and your consistency will build brand loyalty with your followers. Win-win.
---
Add More Social Sets
If you'd like to add Social Sets to your plan, you'll first need to purchase them. Every plan, by default, has one Social Set. Additional Social Set pricing depends on your plan. Learn more here.
To add Social Sets to your plan:
Open your

Settings

Click

Subscription

in the sidebar
Select

Change Plan

Choose a new plan if you'd like, or click

Manage Your Plan

Add Social Sets by clicking the + button
Review your order
Click

Update Plan
After you upgrade, the Social Sets will be available to use right away. You'll find them within your Social Sets & Access Groups settings and on the Calendar page.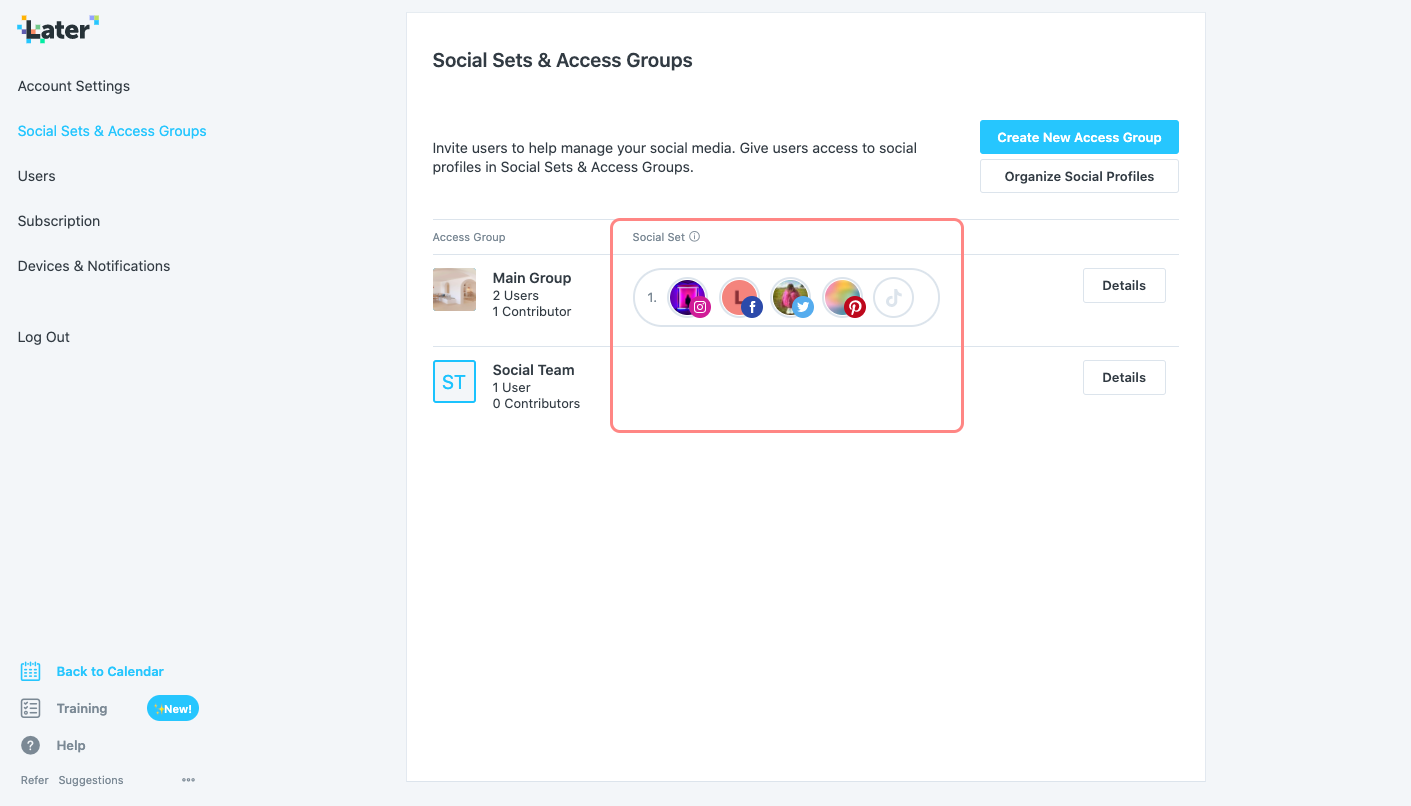 Note: 
if you remove a Social Set, they will remain active until the end of the billing cycle.
---
Add Profiles to Social Sets
Now that there are additional Social Sets available within your account, get them up and running by adding social profiles.
Adding to new Social Sets is the same process as adding any other social profile. Click the + on the Calendar page to start and follow the prompts.
Having trouble connecting your social profiles? Check out this guide.
Don't worry if you accidentally add a profile to the wrong Social Set — you can reorganize your profiles at any time.
---
Organize Social Sets
When it comes to managing multiple profiles in Later, it's essential to keep your Social Sets organized. You can move your profiles around to facilitate the best structure for working with different identities and business.
Open Settings and Social Sets & Access Groups, then click Organize Social Profiles. Drag and drop the social profile into an existing Social Set to rearrange, then click Save Changes.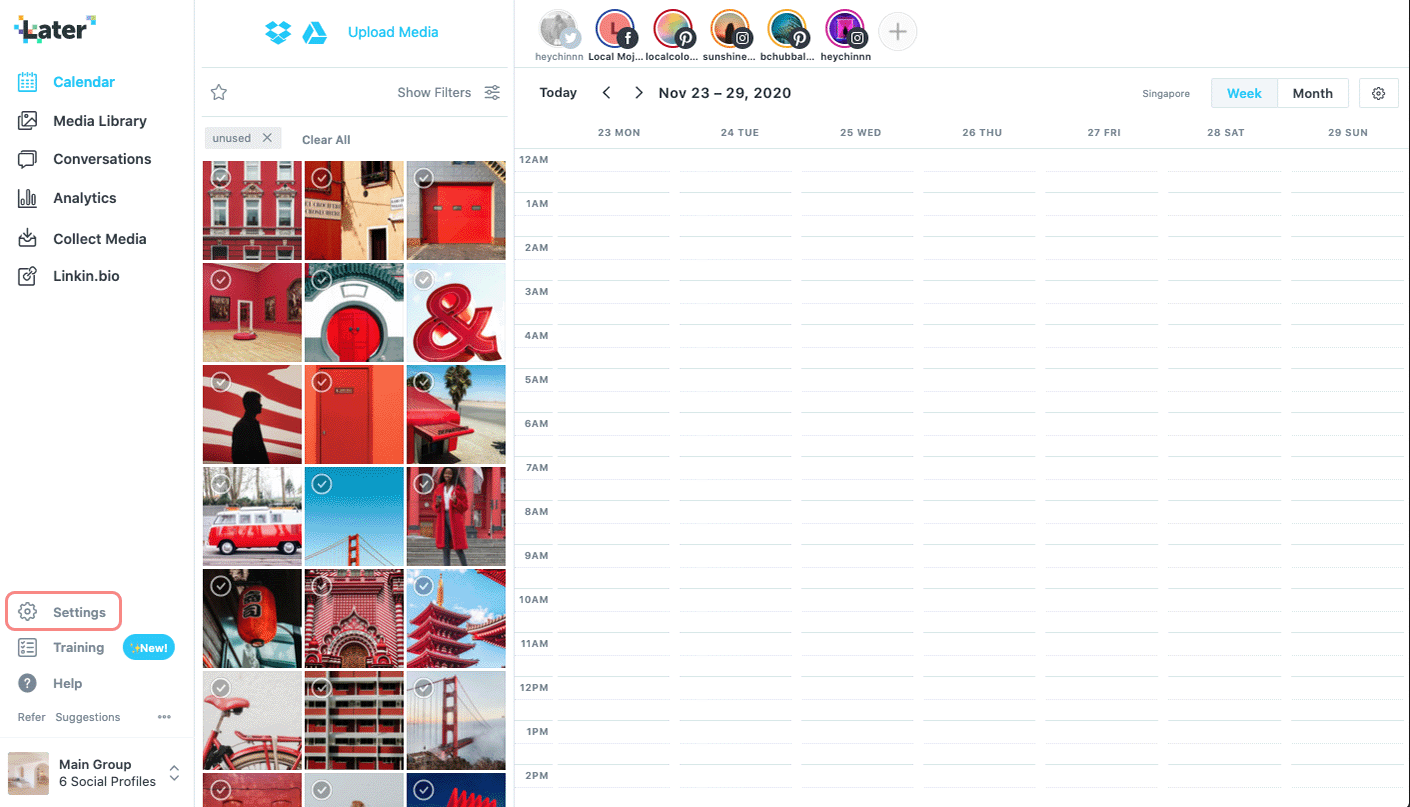 ---
Scheduling With Social Sets
Social Sets help you cross-post content to one or all of your brand social channels as long as they are in the same Access Group.
This will save you time when you have an announcement or launch destined for multiple channels, or alternatively, a profile-specific post.
Use your Social Sets to toggle on the appropriate profiles and schedule the same post all at once instead of three, four, or more different times. When the post editor opens, you can customize the content for each platform to optimize the post for audience and reach.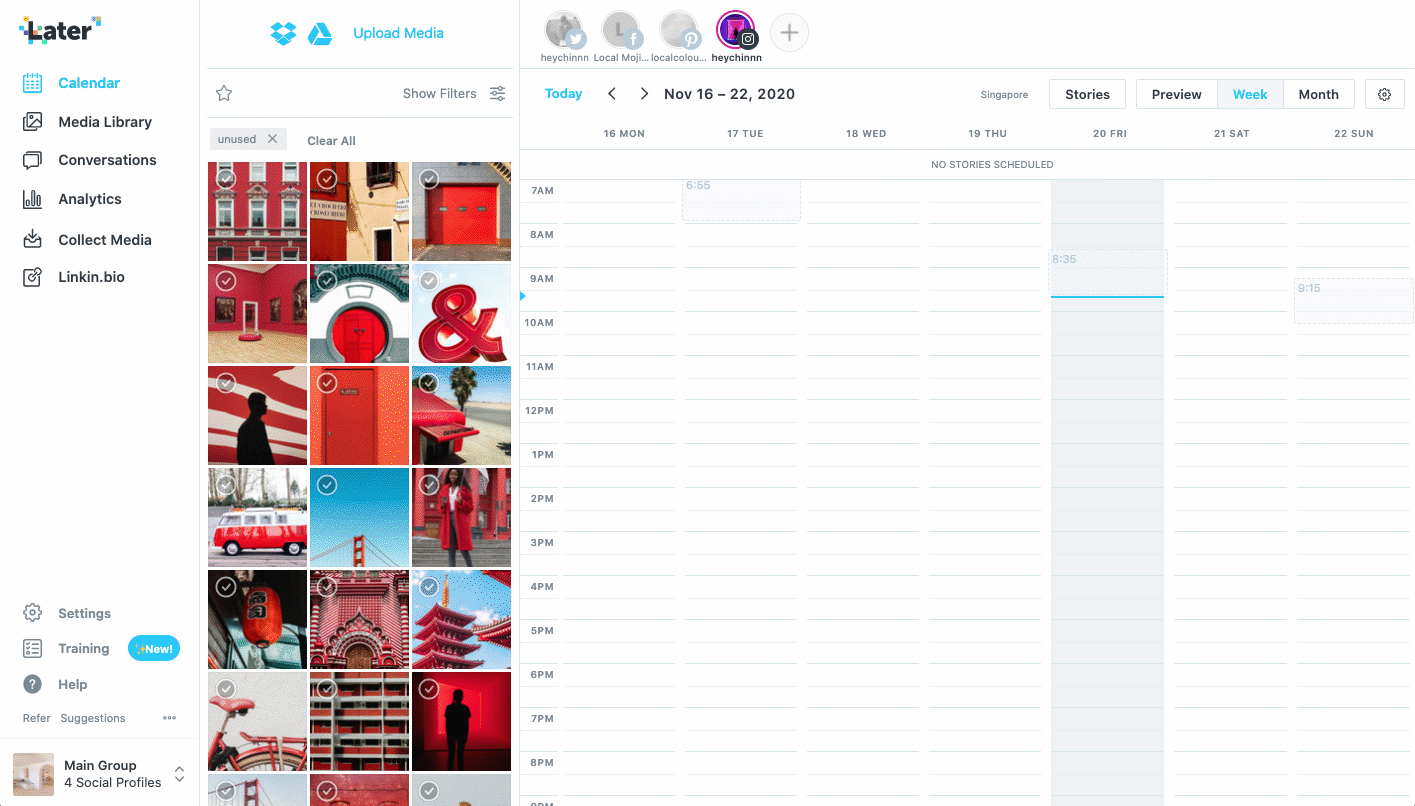 When it's time to publish, all the scheduled posts will go live on your various profiles and networks.
TIP: enable Auto Publish for Instagram and Later will publish your posts automatically without the need for a notification.
---
Save Time and Build Brand Loyalty With Social Sets
Social Sets and scheduling work hand-in-hand. They help you visualize all of your business' upcoming posts while you plan for maximum engagement.
Toggle on as many or as few profiles as you'd like, and see what's coming up for your different brands and networks.
Focusing on Instagram engagement? View all your Instagram profile schedules. Have a big sale coming up? Make sure all the brand-specific content is scheduled for a flawless launch.
Cross-posting content is a powerful way to reinforce a brand without losing each channels' unique qualities. With Social Sets, you can communicate your business' overarching message with cross-profile posts that tell your story.
At the same time, share each brand's unique value proposition with channel-specific, value-first content. This is a great way to grow a cross-brand or identity following.
---
Next Steps
Social Sets are just one tool that helps you organize your social profiles and content like a pro. Check out these guides on Access Groups and collaborate to save even more time working with your team in Later.
Learn how to use Access Groups to save time and protect your business' content.
Read More >
With this guide, learn how to work with others to save time when you are planning posts, sharing a content calendar, and analyzing analytics.
Read More >